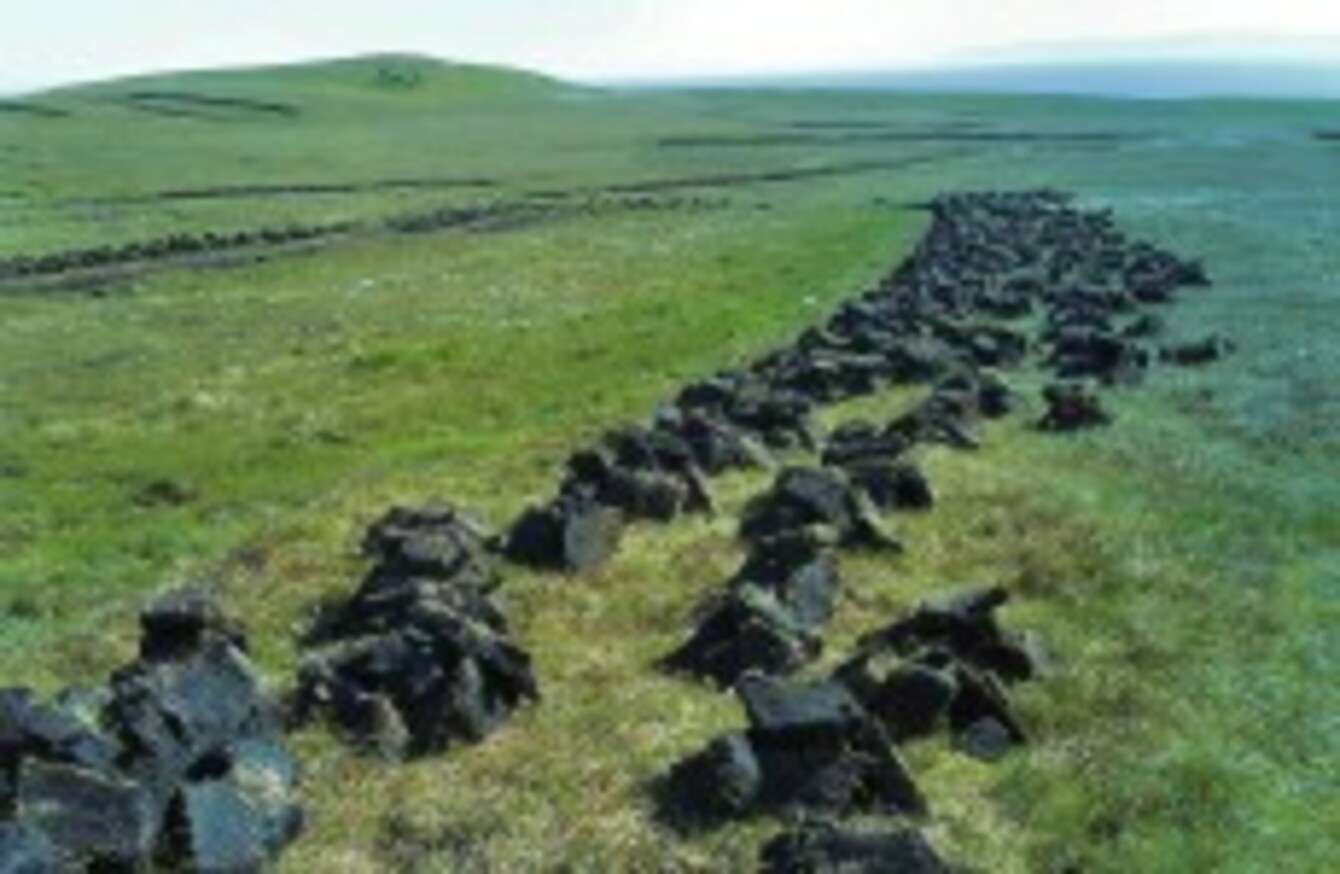 File photo of peat cuttings: the EU habitats directive demands that certain boglands be protected from turf-cutting.
File photo of peat cuttings: the EU habitats directive demands that certain boglands be protected from turf-cutting.
AROUND 150 TURF-CUTTERS have engaged in an overnight stand-off with Gardaí at a bog in Co Galway, after officers attempted to remove equipment used for cutting peat on the bog.
One man was arrested and subsequently released in the overnight dispute, which arose after turf-cutters attend to try and stop the National Parks and Wildlife Service from removing equipment seized from lands near Clonmoylan Bog yesterday afternoon.
Local independent TD Luke 'Ming' Flanagan, who has campaigned in favour of retaining turf-cutting rights, told RTÉ's Morning Ireland that turf-cutting machinery had yesterday been seized from an area close to the bog, prompting the protesters to hold a sit-down protest.
Flanagan posted one picture to Twitter showing another mechanical digging device, which had not been removed by Gardaí, which was set on fire by unknown means shortly before 4am.
"We discovered that the contractor's machine was basically like an inferno," he said, saying protesters had "no idea" how the machine had been set alight, though they "would love to find out".
The Roscommon-South Leitrim TD said the owner of the machine which was set on fire was extremely distressed, and had been removed to hospital shortly afterwards, such was his distress at seeing his machinery being damaged.
EU directive
A European Union directive requires member states to conserve peatland habitats on raised bogs, a move which has meant it has had to enforce a total ban on turf-cutting on certain bogs.
Turf-cutters have been lobbying for a 'phased transition' system where they would be permitted to continue to cut turf on protected bogland for a three-year period while their operations were moved to unprotected lands.
Flanagan said proposals put forward by turf-cutters to move on a phased basis would have ensured that 103 per cent of the protected lands would remain conserved, but accused the government of failing to lobby for this solution at European level.
"People just want to continue to cut their turf, they're not interested in compensation, and there is a solution that can satisfy everyone."
Also on Morning Ireland, justice minister Alan Shatter said Ireland was a risk of a daily fine of €25,000 if turf-cutting continued on protected lands.
"I deplore the fact that we have a member of Dáil Éirenan who has consistently misled those who have, in the past years, had access to cut these bogs, as to what the current position is," Shatter said.
The minister said it was irresponsible to encourage "illegality and breach of the law", and defended Gardaí for doing "what they can" to uphold it.