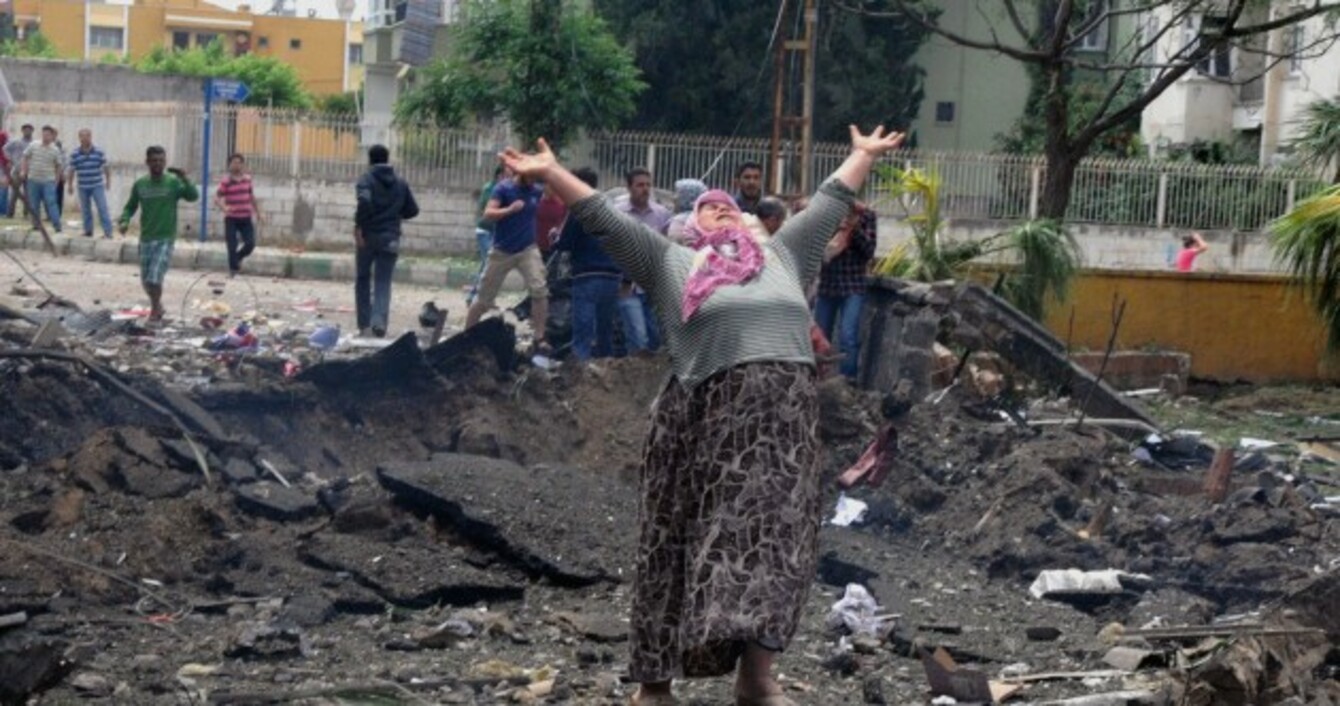 A woman cries at the scene of one of the explosion sites.
Image: AP Photo/Anadolu Agency/Cem Genco
A woman cries at the scene of one of the explosion sites.
Image: AP Photo/Anadolu Agency/Cem Genco
Updated 4.15pm
TWO CAR BOMBS have exploded in a Turkish town near the border with Syria, killing around 40 people and wounding 100 others, officials said.
Turkey's deputy prime minister said Syria's intelligence and military were "the usual suspects" behind the bombings, but said authorities were still investigating the attacks.
The blasts, which were 15 minutes apart, raised fears that Syria's brutal civil war violence was crossing into its neighbor.
One of the car bombs exploded outside the city hall while the other went off outside the post office in the town of Reyhanli, a main hub for Syrian refugees and rebel activity in Turkey's Hatay province, just across the border.
Deputy Prime Minister Bulent Arinc said about 40 people were killed and 100 others injured in the blasts and linked them to Syria.
"We know that the Syrian refugees have become a target of the Syrian regime," he said. "Reyhanli was not chosen by coincidence."
"Our thoughts are that their mukhabarat (Syrian intelligence agency) and armed organizations are the usual suspects in planning and the carrying out of such devilish plans," he said.
Arinc said Turkey would "do whatever is necessary" if proven that Syria is behind the attack.
Prime Minister Recep Tayyip Erdogan earlier also raised the possibility that the bombings may be related to Turkey's peace talks with Kurdish rebels meant to end a nearly 30-year-old conflict.
Syrian mortar rounds have fallen over the border before, but if the explosion turns out to be linked to Syria it would be by far the biggest death toll in Turkey related to its neighbor's civil war.
Syria shares a more than 500-mile border with Turkey, which has been a crucial supporter of the Syrian rebel cause. Ankara has allowed its territory to be used as a logistics base and staging center for Syrian insurgents.
Foreign Minister Ahmet Davutoglu vowed from Berlin that Turkey would act.
"Those who for whatever reason attempt to bring the external chaos into our country will get a response," he said.