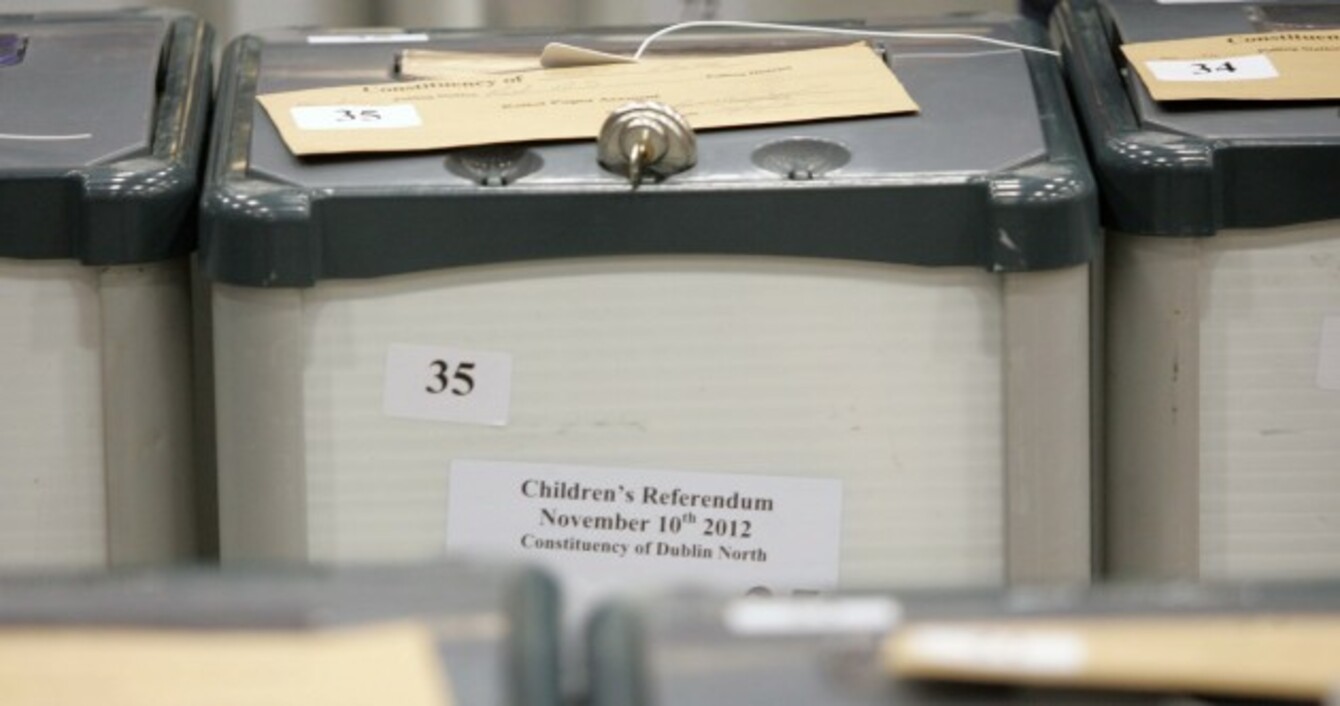 Image: Sam Boal/Photocall Ireland
Image: Sam Boal/Photocall Ireland
THE LOW TURNOUT for the Children's Referendum yesterday has been a source of much commentary today.
While Tánaiste Eamon Gilmore said today that he thought the Government might have to look at whether Saturdays suit people to interrupt a family routine to go and vote, political science experts Jane Suiter and Theresa Reidy outlined on PoliticalReform.ie their reasons for believing that Saturday voting may not be the main cause.
However, Gilmore also said that he thought the referendum "never really took fire in terms of debate about it".
There were also concerns raised that the Supreme Court ruling last Thursday – that the Government had not been impartial in their use of a website and booklet to push for a Yes vote – had put people off approaching the polling stations.
The overall turnout, according to the official record, was just 33.49 per cent, the lowest since a referendum on bail conditions in 1996.
That means that of 3,183,686 eligible to vote, only 1,066,239 went to the polls.
The constituency with the lowest turnout was Donegal South West (23.81%) and the one with the highest was Dublin North Central (42.03%).
Perhaps coincidentally, Donegal South West and Donegal North East – the two constituencies with the highest proportion of 'No' votes – are also the constituencies with the lowest proportionate turnout. Dublin North Central and Dun Laoghaire – with the highest proportion of the electoral register turning up to vote yesterday – are both in the top ten highest proportions of 'Yes' vote.
These are the constituencies in order of turnout, lowest to highest:
Donegal South West 23.81
Donegal North East 24.47
Cavan-Monaghan 27.53
Galway West 27.96
Kerry North/West Limerick 29.23
Kerry South 29.45
Galway East 29.6
Limerick 30.29
Longford/Westmeath 30.56
Sligo/North Leitrim 31.36
Meath West 31.41
Limerick City 31.62
Laois/Offaly 32
Mayo 32.11
Clare 32.3
Dublin Central 32.42
Louth 32.45
Meath East 32.49
Wexford 33.09
Kildare South 33.4
Cork North-Central 33.41
Roscommon/South Leitrim 33.81
Dublin South East 33.44
Cork East 33.72
Carlow-Kilkenny 34.02
Dublin South Central 34.61
Kildare North 35.04
Waterford 35.06
Cork South West 35.07
Cork North West 35.11
Tipperary South 35.18
Dublin Mid West 35.27
Dublin West 35.46
Dublin North 35.59
Dublin South West 35.93
Dublin North West 36.08
Cork South Central 36.23
Tipperary North 37.22
Dublin North East 38.86
Wicklow 39.67
Dublin South 40.92
Dun Laoghaire 41.54
Dublin North Central 42.03