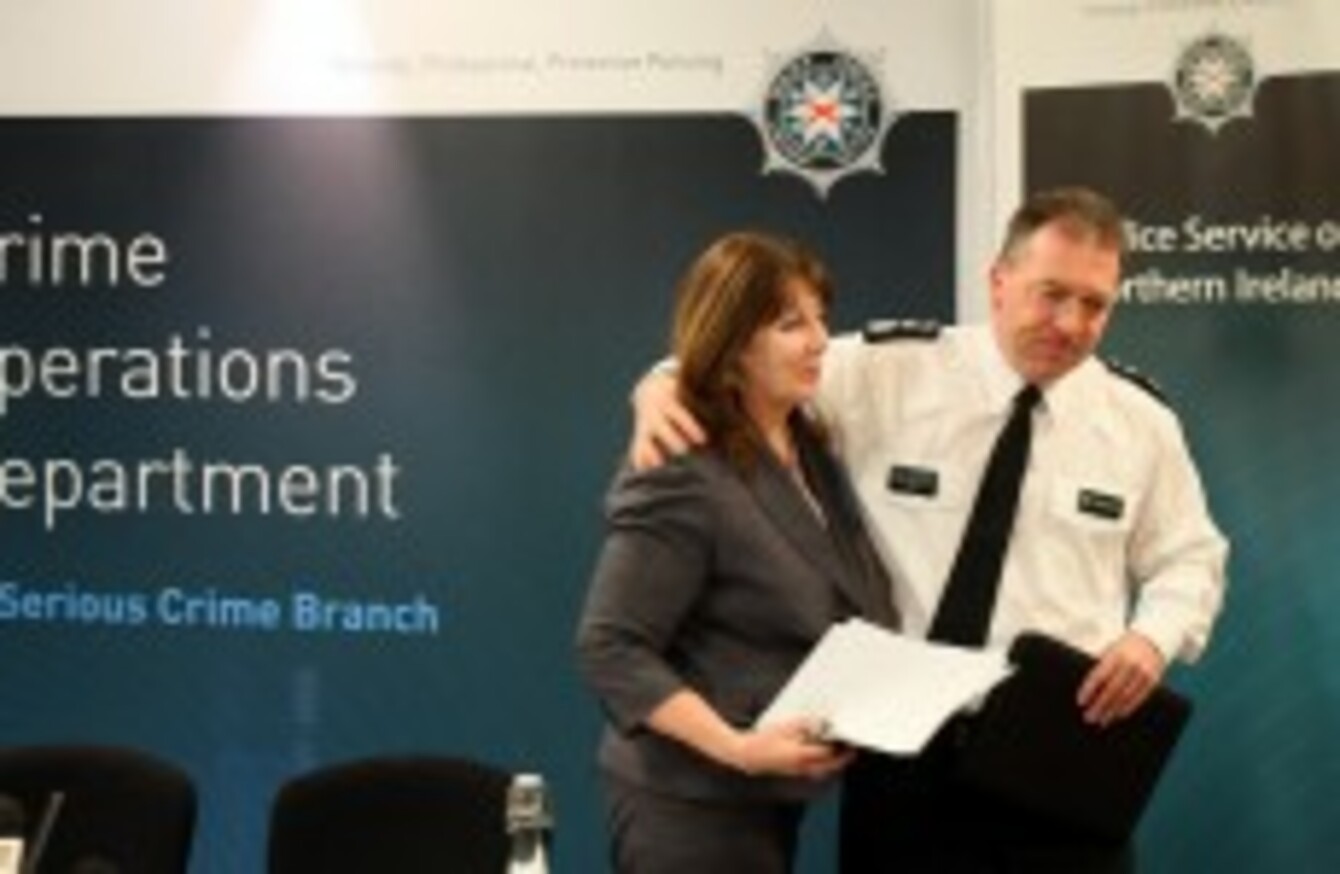 Stephen Carroll's widow Kate Carroll after speaking to the press after the verdict today
Image: Paul Faith/PA Wire
Stephen Carroll's widow Kate Carroll after speaking to the press after the verdict today
Image: Paul Faith/PA Wire
TWO IRA DISSIDENTS have been found guilty of the 2009 murder of a Northern Ireland policeman because of crucial testimony from a mystery witness.
Constable Stephen Carroll, 48, was shot through the back of the head as he sat in his patrol car in February 2009. The Continuity IRA splinter group claimed responsibility for the first killing of a Northern Ireland police officer since 1998, the year of the Good Friday peace accord.
Brendan McConville, 40, and John Paul Wootton, 20, were both found guilty after a two-month trial based on a wide range of evidence including British Army surveillance, DNA and forensic clues and key witness evidence.
Belfast High Court Justice Paul Girvan said prosecutors proved that both men were "intimately involved" in shooting Carroll. He postponed sentencing to a later date.
But IRA dissidents launched a violent protest this afternoon against the double convictions. Masked men hijacked and burned a van and two cars in Craigavon, the town southwest of Belfast where Carroll was killed and McConville lived. Police urged drivers to avoid the area.
More than 10,000 mourners, both Catholics and Protestants, attended Carroll's funeral. His background as an Irish-born Catholic was seen as particularly poignant given that a key goal of Northern Ireland peacemaking has been to transform the predominantly Protestant police into today's cross-community force with 30 percent Catholic involvement.
Witness M
Girvan said a witness to the shooting's aftermath proved decisive in securing the convictions. The man, identified only as Witness M to try to shield him from dissident IRA retaliation, testified he saw McConville at the scene and saw Wootton's car parked nearby. His face was also shielded from the court.
The witness said he'd known McConville since childhood and had been walking his dog that night when he spotted McConville near the gunman's suspected firing point and spoke to him. He said months later men came to his door and told him to keep his mouth shut.
Carroll's widow, Kate, embaced her son Shane as the guilty verdicts were declared. Afterward she praised Witness M and appealed for others to demonstrate the same willingness to defy paramilitary intimidation.
"If the bravery and commitment of this man were to be shown by more people in our community, we would all reap the benefits," she said.
She said police believe several more IRA dissidents were involved in her husband's killing. It entailed luring police into a hard-line Irish nationalist district by vandalizing a house and phoning the police for help.
And she said police still hadn't convicted anyone for the dissidents' 2011 killing of a 26-year-old Catholic police recruit, Ronan Kerr. He died when a booby-trap bomb exploded under his car.
"I feel pity and disgust for them because we are trying to move on in Northern Ireland," she said of the IRA splinter groups. "They haven't achieved anything from when Steve was killed, from when Ronan Kerr was killed. … Why do they do it? No one wants it anymore."
Police forensics experts said they recovered a jacket belonging to McConville in the trunk of Wootton's car. It contained gunfire residue linked to the Kalashnikov assault rifle used in the attack.
Members of a British Army surveillance unit testified they had hidden a tracking device on Wootton's car that recorded its presence near the shooting.
Background
McConville was a former local councilman for Sinn Fein but quit the party after it decided in 2007 to start supporting the police.
Wootton, who had a reputation as a teen troublemaker frequently involved in rioting, also was convicted of trying to collect information for use in attacking another policeman. A casual friend who was dating a policeman's daughter testified that Wootton unsuccessfully pressed him to reveal the officer's home address weeks before the Carroll killing.
The dominant Provisional IRA killed nearly 1,800 people during a failed 1970-1997 campaign to force Northern Ireland out of the United Kingdom. While the Provisionals disarmed and renounced violence in 2005, three splinter groups continue to mount sporadic gun and bomb attacks.