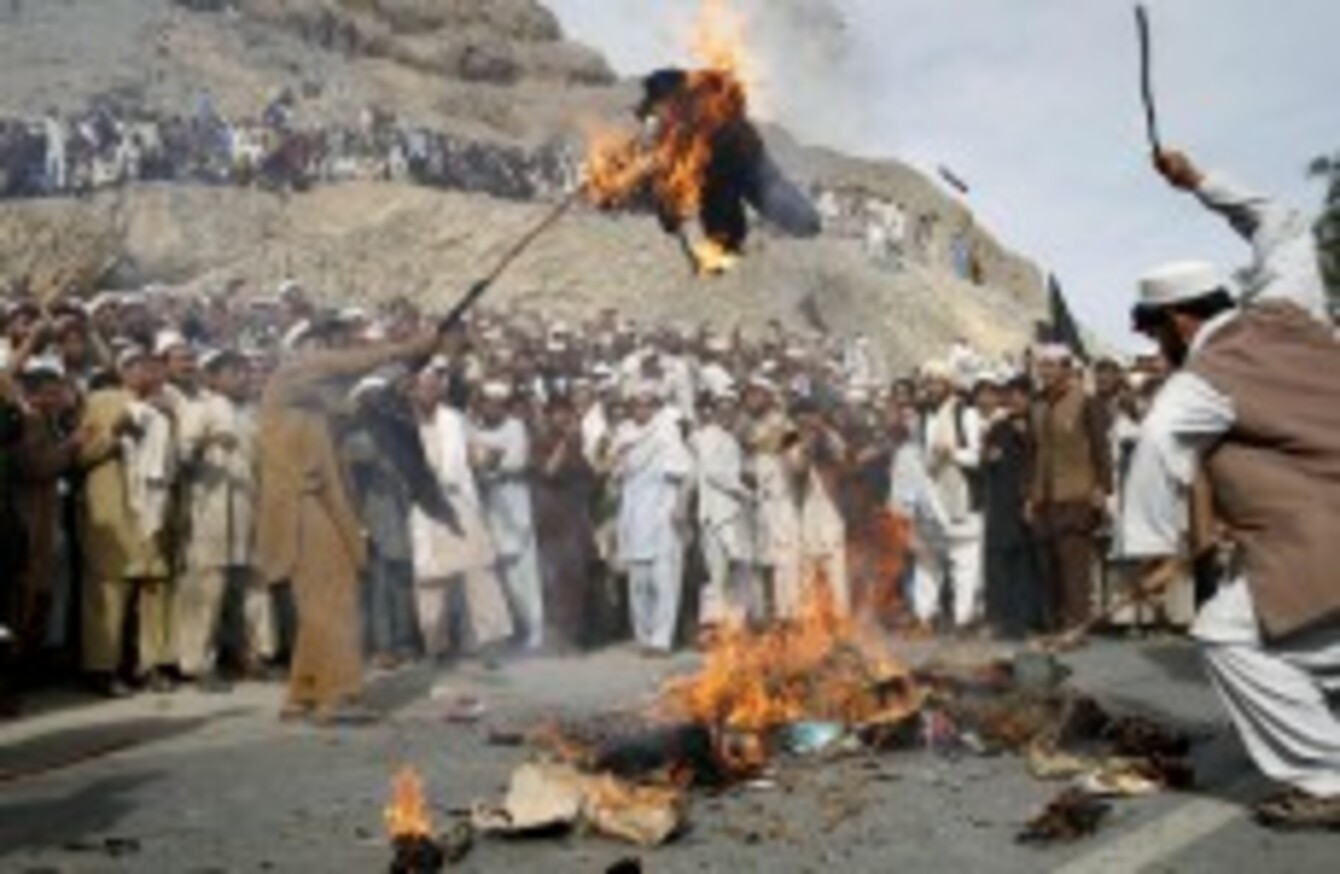 An Afghan protestor, right, hits the burning effigy of the American pastor, Terry Jones during a demonstration in Shinwar, Nangarhar province of Afghanistan on Monday
Image: Rahmat Gul/AP/Press Association Images
An Afghan protestor, right, hits the burning effigy of the American pastor, Terry Jones during a demonstration in Shinwar, Nangarhar province of Afghanistan on Monday
Image: Rahmat Gul/AP/Press Association Images
TWO US SOLDIERS have been shot dead by a rogue Afghan police officer, as thousands of demonstrators turned out for a fourth day of protests against the burning of the Quran by a church in Florida.
A man wearing an Afghan border police uniform shot dead two American military personnel tasked with helping train members of the country's security forces on Monday, reports The Daily Telegraph.
The assailant fled and it is not known whether he was a police officer who turned on his Western counterparts or an insurgent disguising himself in uniform to infiltrate the northern compound and attack from inside.
The shooting came as security forces struggled to contain days of protests set off by the burning of a Quran at a small Florida church two weeks ago.
The desecration of Islam's holy book has inflamed anti-foreigner sentiment already at high levels because of civilian causalities. Eight UN workers and four Afghans were killed at similar protests last week.
On Monday, rock-throwing crowds hundreds deep clashed with Afghan police in several places in the east.
The protests have been more peaceful in recent days but have spread throughout the country and included the burning of effigies of the US president and shouts for American troops to leave.
The Dove Outreach Center in Gainsville, Florida, is the same church whose pastor, the Reverend Terry Jones, first threatened to burn a Quran last year on the anniversary of the Sept. 11 attacks, triggering international outrage. That event was later cancelled.
The latest deaths bring to 104 the number of NATO service members killed so far this year. In the same period of 2010, 129 NATO troops died.
- additional reporting from AP