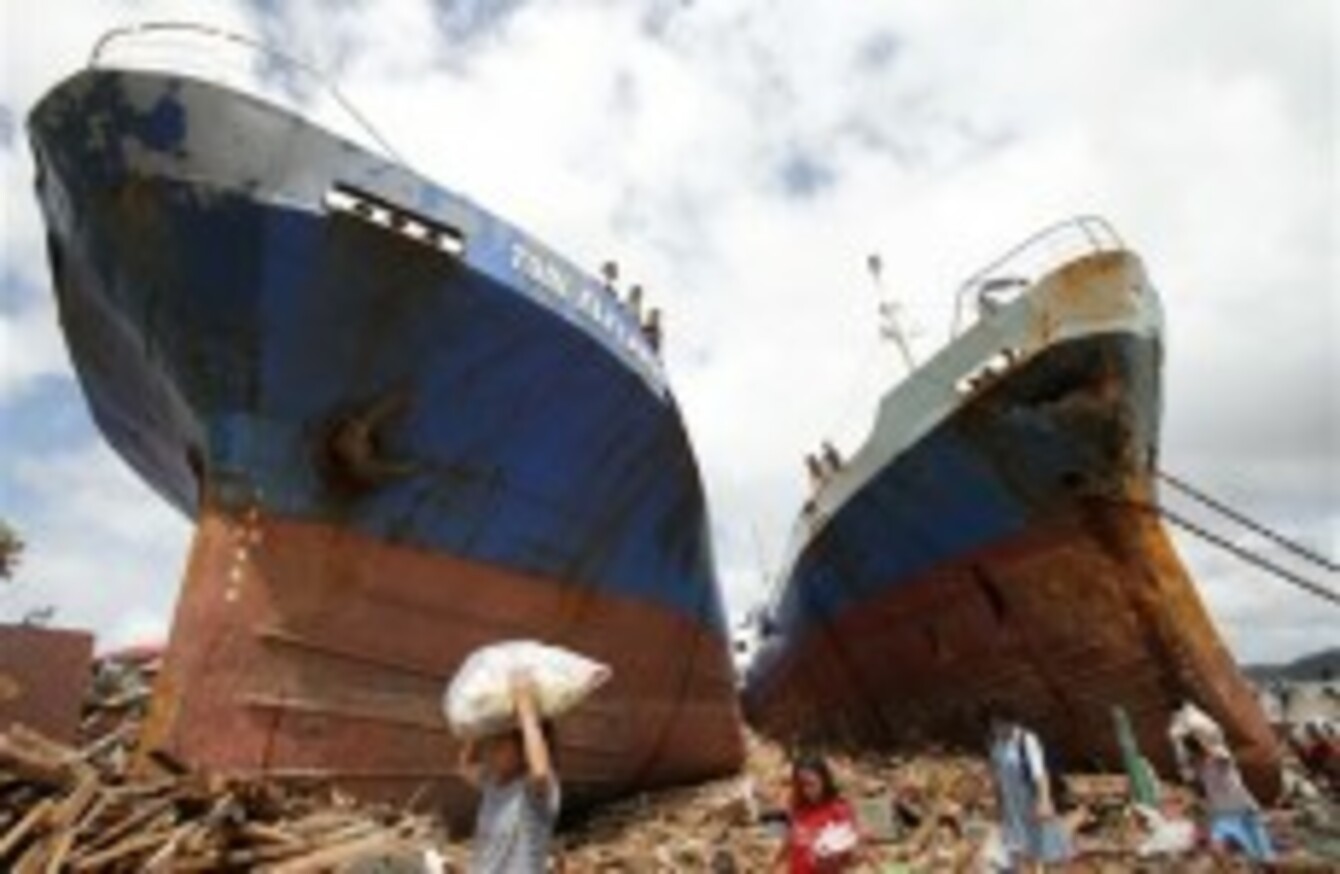 Survivors pass by two large boats after they were washed ashore by strong waves caused by Typhoon Haiyan in Tacloban city, Leyte province central Philippines
Image: AP Photo/Aaron Favila
Survivors pass by two large boats after they were washed ashore by strong waves caused by Typhoon Haiyan in Tacloban city, Leyte province central Philippines
Image: AP Photo/Aaron Favila
AS MANY AS 10,000 people are believed dead in one Philippine city alone when one of the worst storms on record sent giant sea waves washing away homes, schools and airport buildings, officials said.
Ferocious winds ravaged several central islands, burying people under tons of debris and leaving corpses hanging from trees.
The typhoon hit the eastern seaboard of the Philippine archipelago Friday and barreled through six eastern and central islands before exiting into the South China Sea, packing ferocious winds of 235 kilometers per hour (147 miles per hour) and gusts of 275 kph (170 mph).
On Leyte Island, regional police chief Elmer Soria said he was told by Governor Dominic Petilla that there were about 10,000 deaths in the province, mostly by drowning and from collapsed buildings. The figure was based on reports from village officials.
On Samar, the island facing Tacloban, Leo Dacaynos of the provincial disaster office said that 300 people were confirmed dead in Basey town and another 2,000 are missing.
He said that the storm surge caused sea waters to rise 6 meters (20 feet).
There are still other towns on Samar that have not been reached, he said, and appealed for food and water. Power was knocked out and there was no cellphone signal, making communication possible only by radio.
Apart from Leyte and Samar, reports from the other four islands were still coming in, so far with dozens of fatalities.
The typhoon weakened today to 166 kph (103 mph) with stronger gusts and was forecast to lose strength further when it hits northern Vietnam's Thanh Hoa province early Monday morning.