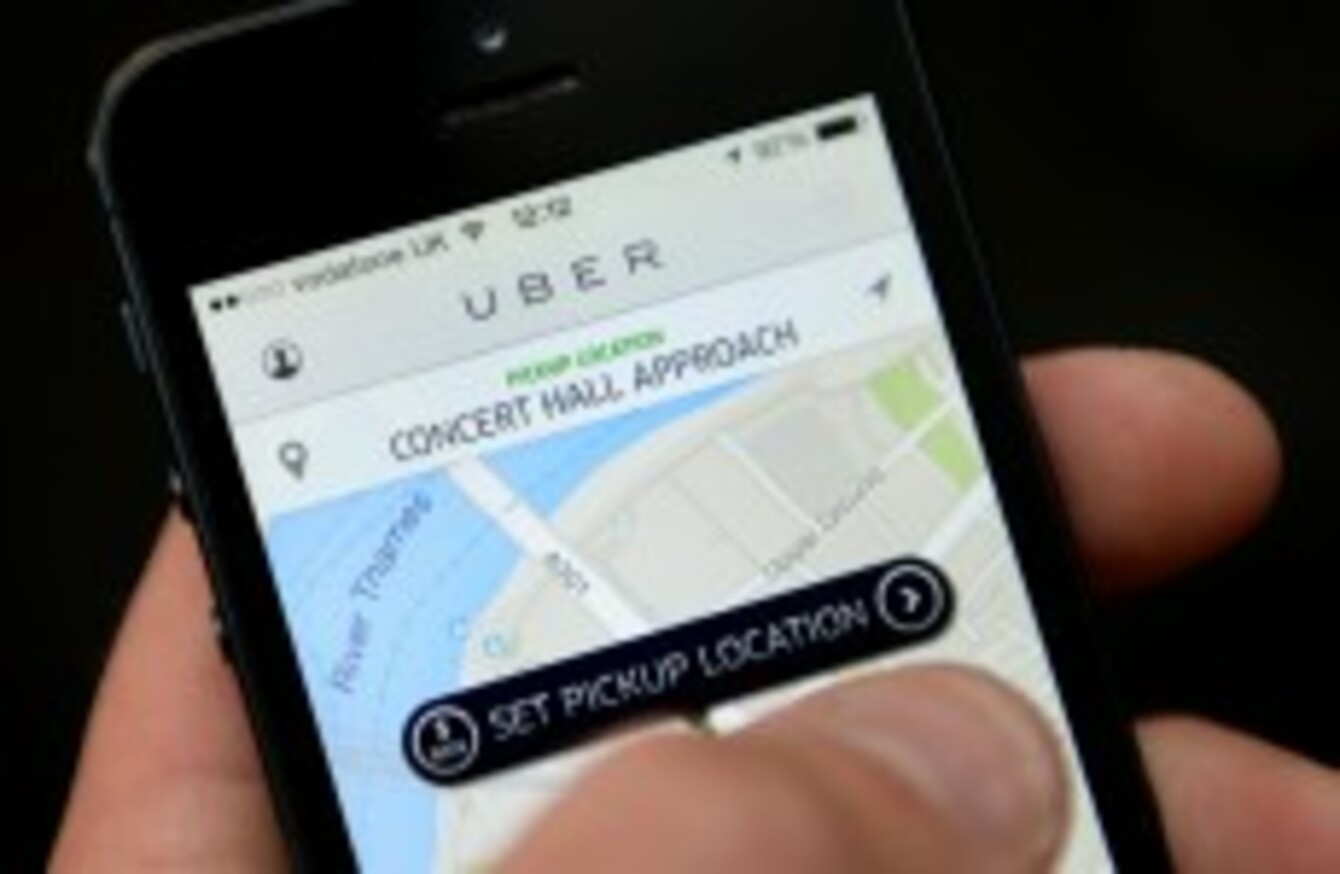 Image: Andrew Matthews/PA Wire
Image: Andrew Matthews/PA Wire
Updated 16:45
ITS BEEN ANYTHING but rosy for Uber as the company deals with a number of fresh allegations again this week.
While it has grown quickly since it started four years ago, its aggressive approach to business and competition has meant it has regularly been the source of controversy anywhere it's gone.
So what is Uber exactly?
Uber is a four-year old lift-sharing company that effectively acts as a middleman to drivers and customers. It's similar to Hailo in the sense that you order a lift from the app, but those who pick you up could be anyone who signed up to the service. Originally it offered only luxury cars for hire before launching UberX, a programme which allowed smaller vehicles to be used for Uber journeys.
It doesn't own any cars, its drivers are mainly self-employed meaning they could defect at any time, and its business model is based on people no longer needing personal transport as they'll have an Uber ride to get them from point A to B.
It has grown in popularity thanks to lower fees and its competitive nature against both traditional taxi services and newer startups like Hailo (which ended up pulling out of North America because the competition was so great)
It's a company that's growing rapidly and is currently valued between $17 – $25 billion (€13.5 – €19.9 billion) depending on who you believe – with major investors like Google Ventures and Goldman Sachs backing them – and is currently operating in 205 cities (including Dublin) across 45 countries.
Why are people criticising it?
Where do you start? Uber has been the subject of some incredibly negative publicity, the vast majority of it self-inflicted thanks to its aggressive stance. 'Disruption' is a term that it regularly uses when describing what it doing, something that many feel it's taken too far.
To begin with the most recent claims, a report from BuzzFeed revealed that one of its executives, Emil Michael, suggested that the company might smear journalists who had criticised Uber. Another situation found that the Uber journey taken by one of their journalists was tracked without her permission – something that seemed to happen before.
The major concern is its use of an internal tool called 'God View,' which would allow it to track any journeys made by its customers, and payment information. While it bad enough on its own, the associations you could make with it (such as finding out where a person lives or works) can be serious.
That on its own is bad, but it's everything else that has followed before that which adds to the problems.
Stories including a cancer patient who was abused by one driver after having to cancel her order request have emerged recently. It's also being sued in San Francisco by the family of a six-year old girl who was killed by an Uber driver – the company claimed that he wasn't performing an Uber ride at the time and is therefore not liable – and by the National Federation of the Blind for allegedly refusing rides once the driver saw the passenger had a service dog.
And during its history, it's dealt with drivers protesting over wages and working conditions while during the summer, it waged a campaign to recruit drivers from its rival Lyft, which reportedly resulted in thousands of canceled orders as Uber employees ordered and canceled trips (although Lyft has been accused of doing the same thing as well).
The service has been banned in Germany as it lacked the necessary legal permits needed to operate, and met with resistance from London taxi drivers over its introduction.
Also today, the city of Toronto is trying to shut down Uber citing concerns about its operations such as lack of driver training and vehicle inspections, inadequate insurance and increased traffic from additional cars on the road.
Also surge pricing, the practice of raising prices during peak hours, has resulted in much criticism especially during the snowstorm in New York in 2013, where it increased prices by up to eight times.
It's also been criticised for its tax structure – which includes companies and partnerships in Bermuda, Ireland and the Netherlands – a problem that was brought up when it was entering the London market.
Ok, that's a lot to take in?
Yeah, we figured as much.
And has Uber said anything about this?
Somewhat, In the case of the executive suggesting that they track journalists, Michael came out to say his comments were "wrong" and that he regretted them.
Its spokesperson Nairi Hourdajian tweeted that this was never considered and wasn't part of the company's strategy.
Soon after this, the company put up a privacy policy saying that it had "a strict policy prohibiting all employees at every level from accessing a rider or driver's data. The only exception to this policy is for a limited set of legitimate business purposes."
Its CEO Travis Kalanick tweeted 14 times which came across as an apology, especially the last part to PandoDaily Editor Sarah Lacy who had accused the company of sexism and misogyny among other things. However, when the tweets are put together as a single block of text, the message is less sincere.
One of Uber's most prolific backers, the actor Ashton Kutcher, has come out and defended the company, posting a series of tweets addressing the issue.
It didn't take long for people to respond.
Nor does it help matters that one of Kutcher's site, Aplus.com, which was billed as "the fastest growing site in the history of the internet," was found to republish large quantities of material without permission from sites like Buzzfeed, Cracked, and the Huffington Post to name a few, or for causing offence.
So will Uber change its approach?
Unlikely. Kalanick (and by extension Uber) is famous for its aggressive and uncompromising approach to business and while it can say it will update its privacy policy and learn from its mistakes, there's little optimism that it will change for the better.
Uber has a lot of work ahead of it if it wants to clean up its image, if for no other reason than to protect its high valuation, otherwise it could see things going sour very quickly among shareholders and customers.
[Originally published 15:40. Added Ashton Kutcher tweets & Toronto court asking for Uber to be shut down]