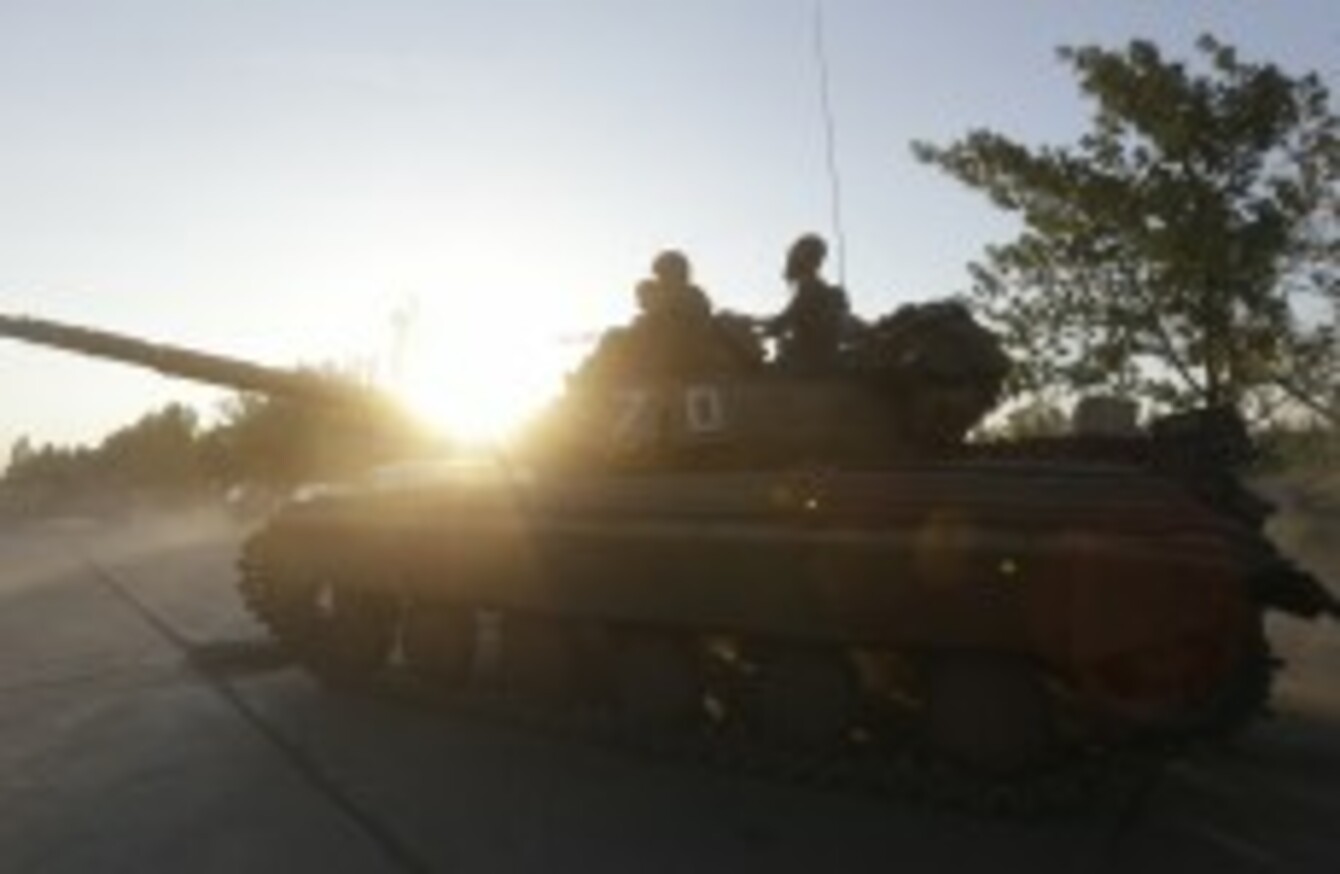 Members of the Ukrainian army ride on tanks in the port city of Mariupol on Friday.
Image: Sergei Grits/AP/Press Association Images
Members of the Ukrainian army ride on tanks in the port city of Mariupol on Friday.
Image: Sergei Grits/AP/Press Association Images
Updated 2pm
STRONG EXPLOSIONS WERE heard early this morning on the outskirts of the main rebel-held city in eastern Ukraine near the airport, raising new fears that a cease-fire signed two days ago is on the verge of collapse.
The airport in Donetsk has been under the control of government troops since May and has come under unremitting attacks from pro-Russia separatist rebels since then.
The cease-fire had appeared to be holding for much of the day on yesterday, but shelling took place on the edge of the port city of Mariupol late at night. Witnesses there told The Associated Press by telephone that heavy explosions were coming from the city's eastern outskirts, where Ukrainian troops retain defensive lines against the rebels.
First death
A woman was killed in the heavy fighting that erupted overnight in the Ukrainian port city of Mariupol, the local authorities said.
This is the first reported death since a ceasefire was signed two days ago.
Another three residents were also wounded when pro-Russian rebels opened fire on a government-held checkpoint at the eastern edge of the city, Mariupol town hall said in a statement.
The city council said one serviceman was wounded when a checkpoint was hit and the volunteer Azov Battalion said on Facebook that their positions were hit by Grad rockets, but did not give details.
Truce
Ukraine, Russia and the Kremlin-backed separatists signed the cease-fire deal in the Belarusian capital Minsk on Friday in an effort to end more than four months of bloodshed in the region.
The negotiators also agreed on the withdrawal of all heavy weaponry, the release of all prisoners and the delivery of humanitarian aid to devastated cities in eastern Ukraine. Western leaders voiced skepticism over Russia's commitment to the deal. A previous 10-day cease-fire, which each side repeatedly accused the other of violating, yielded few results at the negotiating table.
'Stable character'
Ukrainian President Petro Poroshenko's office said yesterday that he and Russian President Vladimir Putin had discussed steps "for giving the cease-fire a stable character" in a telephone conversation.
But, it said, both leaders assessed the cease-fire as having been "fulfilled as a whole."
Fighting between pro-Russian rebels and Ukrainian government troops has ravaged the already teetering Ukrainian economy, claimed at least 2,600 civilian lives and left hundreds of thousands homeless, according to United Nations estimates.