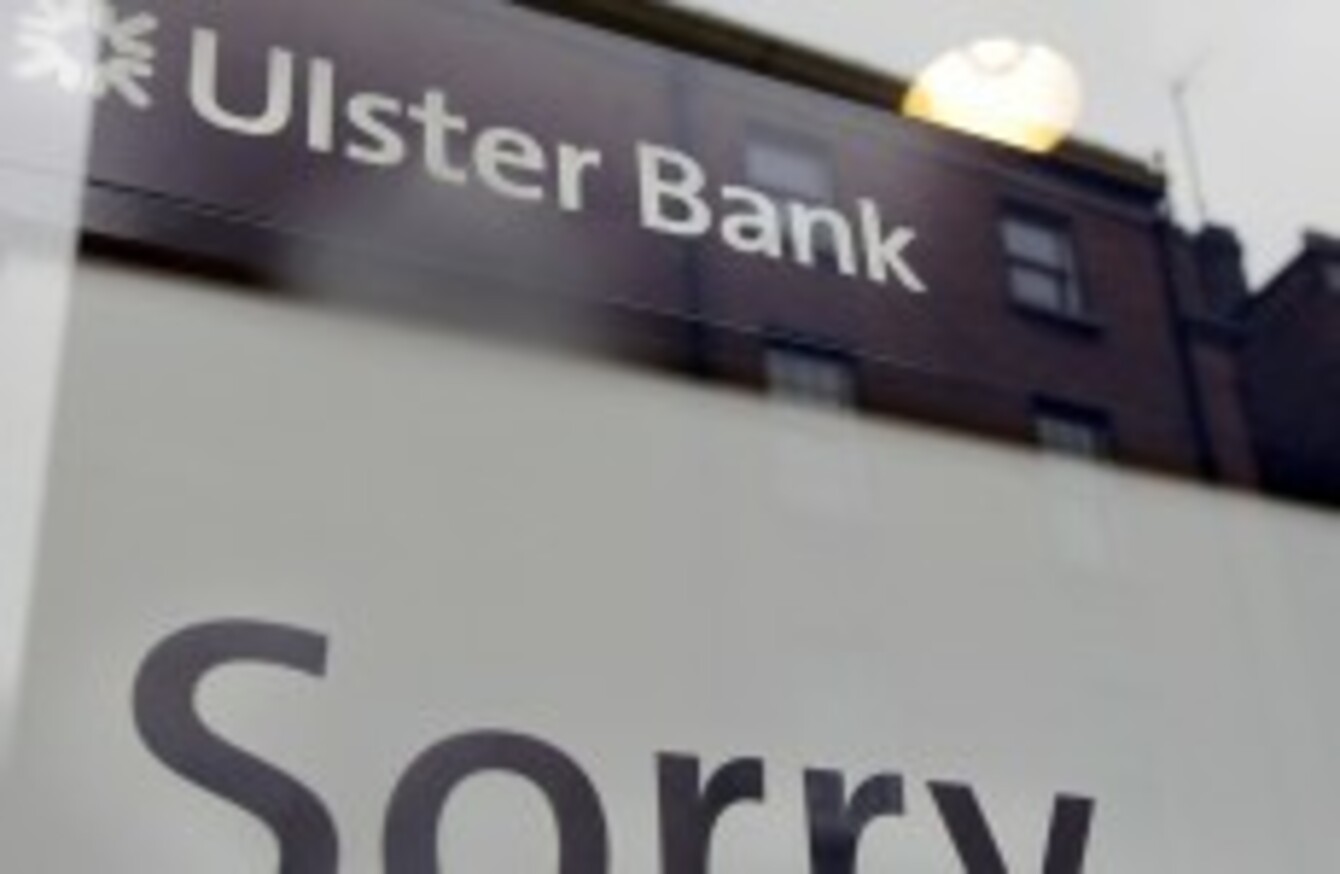 Image: Photocall Ireland!
Image: Photocall Ireland!
ULSTER BANK HAS announced its compensation package for the hundreds of thousands of customers who were negatively impacted by its prolonged 'technical glitch' this summer – and it was met with a greatly mixed reaction.
The bank said it would make a one-off payment of €25 to each account holder who had to visit a branch more often than usual between 19 June and 18 July. Reimbursements for any "reasonable out-of-pocket expenses", such as bus trips and phone calls, will also be paid along with a 20 per cent goodwill top-up.
Savings account holders will see an automatic credit in their account, while the bank has also promised to refund any charges made in error. Certain other fees and surcharge interest will be waived for a three-month period and a commitment has been made to not introduce account maintenance fees until at least July 2013.
Were you affected by the Ulster Bank technical glitch? Are you happy with the compensation package? Let us know in the comments section.

Fianna Fáil's finance spokesperson Michael McGrath welcomed the announcement, stating the deal seemed fair and reasonable. However, he called on Ulster Bank to continue to be fair when deciding on claims.
I expect the bank to be fair in its assessment of expense claims by customers and not to be petty and challenge the validity of every item being claimed.
ISME, the small and medium enterprise representative body, disagreed. It called the offer a "penny-pinching insult" to business and described the group as "miserly". CEO Mark Fielding said:
The redress proposed by the Ulster Bank will be seen by all SME owners as a miserly sop, and a measure of the esteem that SMEs are held in Ulster Bank, adding insult to the damage already caused to business by their own inept handling of the IT system fiasco and their 'Paddy Last' solution.
Sinn Féin was also not happy with the package, deeming it "too little, too late". MLA Phil Flanagan said that senior management at Ulster Bank still have questions to answer and encouraged people who were dissatisfied to contact the Financial Ombudsman. He added:
This is not a compensation scheme by any stretch of the imagination, but simply a reimbursement scheme for people that have been charged as a result of the bank's failure to carry out its primary function.
Senator Lorraine Higgins, who had initiated an Oireachtas petition calling on Ulster Bank to waive all customer charges until the end of January next year, called the scheme "insulting and derisory". She said a one-off payment of €25 did not adequately address the stress, inconvenience and hardship endured over the summer months.
It's also quite significant that Ulster Bank is not disclosing a detailed costing of the restitution as they are clearly hoping to get out of this fiasco on the cheap.
The Consumers Association of Ireland, which had launched a 'group action' initiative against Ulster Bank to help consumers recoup money, said it wants to hear from customers before giving a recommendation on what to do next.
Meanwhile, customers have been having their say in the comments section TheJournal.ie:
Chris Gardiner questioned how the figure of €25 was arrived at: I wonder how they come up with a figure of 25 euro. The massive disruption,being left without any money for food. Late direct debit payment and interest charges imposed. Ok you can question these and probably get them refunded but does anyone else think that 25 euro compo for all this hassle inadequate.
Neil McAuley was considering joining Ulster Bank but not anymore: I was going to switch my account to Ulster Bank the week this calamity took place. The reason being I wanted to avail of VISA debit, which AIB don't have and look like they won't be launching anytime soon. In any case glad I didn't join Ulster as I heard that their customer service during the farce was laughable. €25 compensation is a despicable 'gesture'.
Eoin O'Beara is a bit confused by it all: I'm not sure what I was expecting, but €25 is a joke and an insult.
Pierce2020 had an idea about what to do with his compensation: Got €25 as well this morning, it was a bit of a pain at the time, but they did their best in my opinion. I just donated the money to Barnardos.
Buffy had a comparison to make: When Blackberry services went down for just 3 days, users were given $100+ worth of apps as compensation. People who couldn't use BBM and browse the internet received this compensation, while Ulster Bank customers who missed out on wage payments, missed paying bills, spent forever waiting for the helpdesk to answer the phone only to be told "we don't know anything", and generally had to deal with the stress of their financial lives being turned upside down are offered €25 (but only if they queued in the bank more times that month than the last month).
It's a disgracefully poor offer which doesn't begin to account for the stress and unhappiness caused by having no access to any money, having to borrow money from my mother just to put petrol in the car, missing university fees payments, and being delayed in other banking that I was engaged in because I needed 6 months of statements, and couldn't get them online or in any branch.
Dave Moran also questions the logic: If I miss a direct debet by a couple of days,Ulster Bank charge me a 10e late fee,they miss several payments and it's 25e.Something doesnt add up?
Chris Lynch and Irish Red were much happier with it all: 25 euro because I had to visit a branch once to take out money, considering I walk pass it everyday anyway. Easiest €25 I've ever earn I think.
Agreed Chris. I think this is pretty fair, if a customer was not *seriously* inconvenienced.
David Kelly was thinking along a whole different line though: I was holding out for a free Henri the Hippo Pen!
Twitter was also full of talk about the compensation package yesterday, with some enterprising companies making the most of it:
The Central Bank, which was shown the remediation plan before it was announced yesterday, said it wants to see Ulster Bank providing clear and timely information to all of its customers about the restitution deal. The regulator said it will be monitoring the implementation of the scheme.
Director of Consumer Protection Bernard Sheridan encouraged all account holders to be proactive and contact the bank to ensure their issues are properly addressed. He added that customers of other banks should get in touch with their own bank to seek redress for loss and inconvenience.
If customers are not satisfied with the outcome, they can make a formal complaint.
Ulster Bank are not bound by Central Bank's regulatory standards when it comes to goodwill gestures – those are a business decision – said Sheridan. However, where customers are not happy, a complaint can be made to the Financial Services Ombudsman,