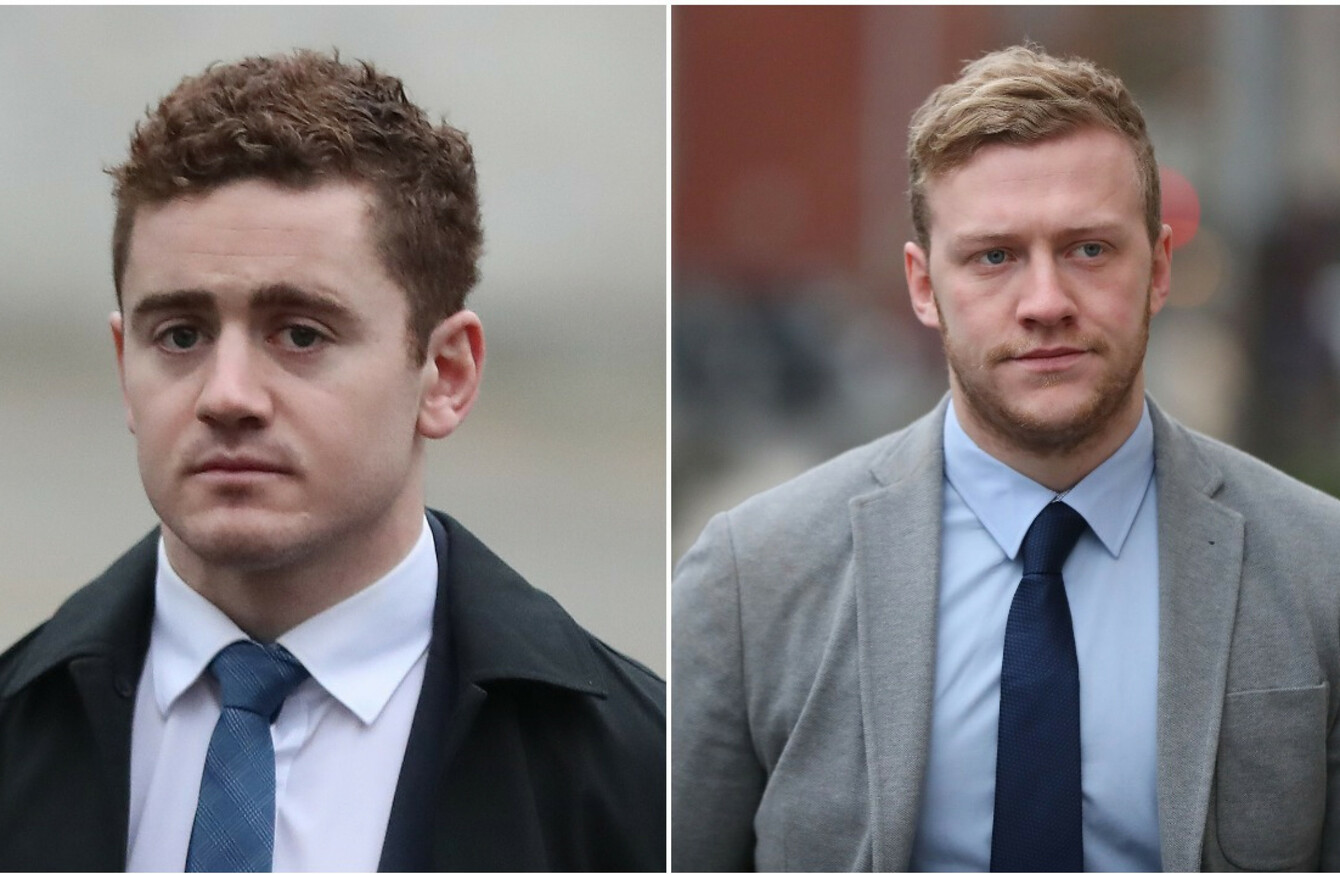 Paddy Jackson and Stuart Olding
Image: PA Images
Paddy Jackson and Stuart Olding
Image: PA Images
Updated at 6.10pm
A WOMAN WHO claimed she was raped by Ireland and Ulster rugby teammates Paddy Jackson and Stuart Olding has today denied suggestions she had "sex with a number of men after going to their home without an invitation."
Both 25-year old Jackson, of Oakleigh Park in Belfast, and his teammate Stuart Olding, aged 24, of Ardenlee Street in the city, have both been charged with rape, while Jackson is facing a further charge of sexual assault. They deny all the charges.
A third man – Blane McIlroy, aged 26, from Royal Lodge Road in Belfast – has been charged, and denies, exposing his genitals during the same incident.
The 21-year old student, who started her seventh day in the witness box at Belfast Crown Court, was cross-examined by McIlroy's barrister, Arthur Harvey QC, who suggested that rather than rape, she engaged in consensual sex.
Suggesting her memory was "clouded by drink or an unwillingness to acknowledge what happened", Harvey accused the woman of "moving from truth to truth, or falsehood and self-delusion".
The woman claimed Jackson then Olding subjected her to a serious sexual assault in the bedroom of Jackson's home in the early hours of 28 June 2016 after a night out at Ollie's nightclub.
She also claimed that after being raped by the sportsmen, a third man – Blane McIlroy, aged 26 – walked into the bedroom, naked and with his penis in his hand.
As she sat behind a blue curtain, Harvey suggested that her memory of the evening – including the consensual kiss with Jackson and the "alleged rape" – was "fractured".
When it was put to her "Your memory is frayed and ragged throughout this whole incident, from the beginning of the evening to the end of the evening, isn't that right", she said: "I wouldn't use the words fractured or frayed, but yes, they are slightly hazy.
There are moments that I can't remember. No-one remembers exact moments from a night out. You can't be expected to remember each thing you have done.
When she was asked by Harvey about both getting a taxi outside Ollie's, and how exactly she ended up at Jackson's home, she again accepted she couldn't remember everything – but said she believed she was invited back by three girls.
Telling the woman that the girls didn't invite her back, Harvey said: "I suggest you have the capacity to start off with a basic fact such as 'I was in the taxi' to create a narrative which you believe personally serves the case you are seeking to make."
Kiss
The jury has already heard that the woman, who was 19 at the time, had a consensual kiss with Jackson in his bedroom before going back downstairs to the party. She said that a short time later she went upstairs to retrieve her bag – and that's when she was raped by Jackson and Olding.
Harvey also questioned the woman about texts she sent to her friends in the aftermath of the alleged rape.
In one text, she told a friend that the three girls at the party were displaying slutty behaviour. She has already given evidence that she felt the "mood shifted" at the party when McIllory started pulling the girls onto his knee and taking selfies.
When she told Harvey that sitting on boys knees and taking selfies was "not something I was interested in", he asked her: "Being upstairs in a bedroom indicates behaviour which is more proper than three girls taking selfies. Is that what you are saying?"
She replied: "Those are not my words, they are yours."
When the barrister asked again "is that what you are saying?", she responded, "I am saying I didn't want to take photographs sitting on those guys knees."
Harvey then said, "those photographs are of three girls saying 'look at me', it's nothing more than that, isn't that right?" She replied "yes."
As the cross-examination continued, Harvey asked her about what she told both medics and police about McIlroy's behaviour in the bedroom.
The woman said he appeared in the doorway, naked and holding his penis – and at this point, she got off the bed, pushed past him and fled.
When Harvey presented a very different version of events to her, in which she instigated sexual activity with McIlroy and performed oral sex on him "for a short period", she replied: "None of that ever happened. I don't know why your client is stating that it did."
And when Harvey said at one point McIlroy left the room to look for condoms, she answered: "None of that happened. Mr Harvey, I was raped. This is a rape case. If Mr McIlroy had touched me I think I would have made that abundantly clear to police."
Regarding the alleged sex attack – which occurred when three girls were partying downstairs – the woman reiterated her claim that she didn't call out for help as she "froze."
Earlier in her cross-examination, Harvey asked why, when she was recalling what happened to her, she used the term "you" instead of "I", to which she said: "I am trying to make it applicable to everyone."
In a tense exchange, Harvey asked her "If you called out for help or assistance, it would have been heard by the three girls downstairs". As she started to reply by saying "that's not how you react when you have been raped", the barrister interrupted and said she was using the term "you" instead of "I" again.
At this point, she said: "Mr Harvey, I am not going to argue with you about grammar. You are not going to put words in my mouth, thank you very much."