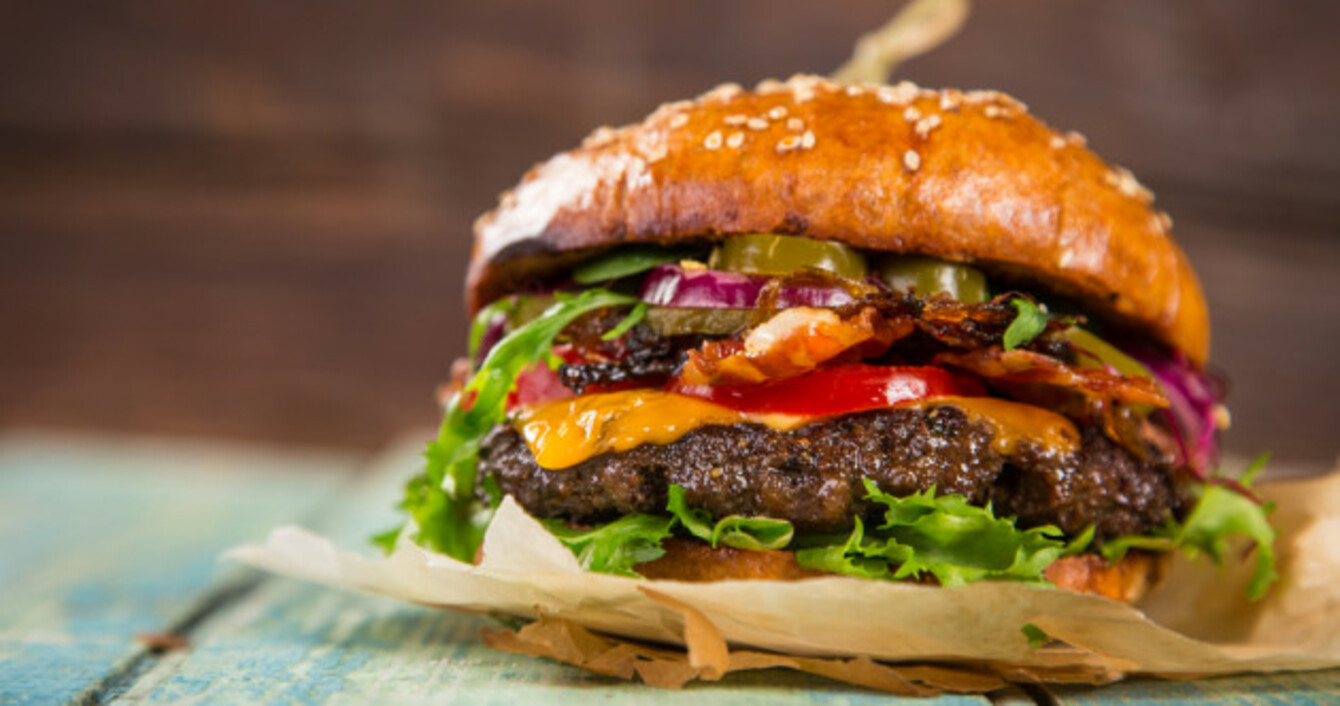 Image: Shutterstock/Lukas Gojda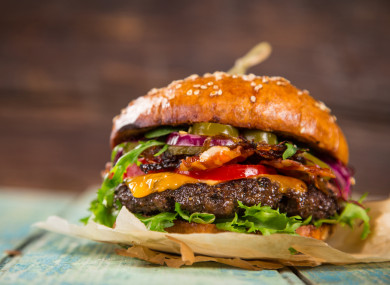 Image: Shutterstock/Lukas Gojda
BURGERS ARE BRILLIANT. And a classic hamburger is to me, is perfection. Biting into all those textures at once, juicy meat with a bit of char, perfectly proportioned condiments and a soft, just toasted bun. Yum.
Burgers, like most foods, are very subjective. Chefs, restaurants, cafes, takeaways all do their own versions and no doubt you've found your favourite for eating out. But what about homemade versions – how do we achieve burger greatness in our own kitchens? What makes this seemingly simple sandwich so damn tasty?
I've done a bit or research here to help you recreate the dream bite at home by testing, tasting and of course asking a few experts for their advice.
The Beef
It all starts with the beef, and I believe it should only be beef in a classic burger. No mixing with pork mince here, it's not a meatball – although chef Hilary O'Hagan tells me she sometimes adds some pork cheek for the fat. It seems burgers are all about the meat to fat ratio with 80% beef to 20% fat a golden rule
"No fancy stuff, 80/20 is just 80% meat and 20% fat. No extra ingredients, just salt each side of the burger patty before cooking."
Hilary is a fan of mincing her own beef and reminds us "The better the beef, the better the burger".
Her favourite high street burger is without doubt Bunsen – "squishy bread and burger juice dribbling down your wrists" – so it's no surprise their advice for making the perfect burger at home mirrors Hilary's. Tom Gleeson, owner of the chef's favourite burger joint, tells me: "We grind all our beef fresh every day. We have a mincer in each restaurant. We use Black Aberdeen Angus, three specific cuts from the forequarter. However, if you don't have your own mincer, your best bet is to get some freshly ground chuck. Then, like us, all you need to do is add salt and pepper at the last minute."
There were no suggestions of adding egg or breadcrumbs to hold the patty together or adding onions for flavour from anyone I consulted – so you can forget those old tricks. The chef's consensus seems to be, use the right meat and little else needs to be done.
Grainne O'Keefe, head chef at Clanbrassil House and creative director of the brilliant Bujo Burger in Sandymount has done a lot of research working on her burger menu for two years to perfect it. Her foolproof patty? "Grass-fed Irish beef minced from the whole muscle cuts, no trimmings and nothing added to the beef apart from some salt just before it hits the grill."
The Bun
There's no denying burgers taste better with the right bun. The potato or Amish roll, an American diner classic, has garnered many fans in recent years thanks to Danny Meyer's Shake Shack exporting their perfected roll around the world. Both soft and sturdy they are perfect partners for juicy meat – if you've enjoyed a Bunsen Burger, you've tried an Amish roll.
They are easily recreated, it's just bread with mashed potato or potato flour replacing a portion of the regular wheat flour and there are plenty of copycat recipes online. Brioche buns though seem to be the most popular and they are easier to track down. Grainne O'Keefe favours a light brioche bun with "slightly less sugar and butter than a regular brioche. The bun should stay intact for the entire time you're eating the burger but also be light and compliment the beef".
Hilary O'Hagan is in agreement: "Buns need to be really soft, brioche style and glazed". Brioche buns can be easily tackled at home from scratch but you'll also pick them up in most bigger shops.
The Garnish
Now here is when it gets tricky, garnish is the most subjective part of the burger build.
Surely it's each to their own? Not so, says O'Hagan, outlawing one of my favourite toppings. "No mustard. The spiciness kills all the other flavours." Fair enough, but what does she add? "Special sauce! Ketchup, mayo, Worcestershire sauce and pickle juice mixed in."
Grainne O'Keefe tends to agree with holding back here "If you have really good quality beef then that should be the prevailing flavour. I like to keep it simple with pickles, cheese and a slightly hot burger sauce."
Everyone agrees lettuce is a yes, anything crunchy and green, with iceberg getting a few shoutouts. With tomatoes, express some caution, says Hilary: "Sometimes the tomato makes it too watery and bland so no bad, out of season tomatoes that taste like nothing. If you can't find a big juicy, beef tomato just skip it."
And then there is the pickle, pickle. I love them and want a good few in there while I know others who will pick them straight out. But pickles have been standard on American burgers for a long time and I think with good reason, they cut through the fattiness of the meat. I think the rules here are, there are no rules.
The Cheese
This also causes a bit of debate. For me, a burger has to have cheese and I tend to agree with the chefs here who tell me they've no time for anything fancy, it's all about meltability.
"Cheese must be American style, think easy singles. If it's not broke don't fix it! It melts so perfectly and covers the whole burger. Which is what you want," says O'Hagan. At Bujo, Grainne advocates American style cheese along with a few more adventurous options: "You can't beat the classic American style burger cheese for a great classic. But there are some beautiful Irish cheeses that work really well too like Knockanore and Cooleeney."
Cooking Techniques
You've got all your ingredients ready, now to perfect that technique. Firstly, your burgers should be coming straight from the fridge. If you made them at home get them chilled before cooking, burgers are one of the few meats you want to cook cold.
As mentioned earlier a simple seasoning of salt and pepper before cooking is advised or else season as you add them to the pan – but never too long before cooking. When you're trying to recreate the diner or restaurant burger a heavy, cast-iron pan is ideal, slicked with oil or fat and get it nice and hot. Grainne O'Keefe cooks her burgers over flame always, but for the uninitiated, you could use a cast iron pan on the fire or barbecue.
Your main aim when cooking is to render the 20% beef fat around the rest of meat as it cooks, sort of a high-heat confit effect. And you'll want a bit of char on the edges but still juicy and plump in the middle. O'Hagan advises you "put a little bit of a depression in the middle of the burger. It contracts in from the sides and expands up when cooking so this keeps it even."
And don't forget the buns need a bit of attention. Hilary is a fan of toasting hers and she likes to smear a bit of mayonnaise or butter on the bun first. She is also a fan of the Bunsen technique where they finish the assembled burger with steam: "They use steam on them at the end by putting a metal bowl or cloche style thingie on them with a splash of water." There are lots of how-tos for this online, practice makes perfect here.
Eating
So the burger is made, now you think you just tuck in? Think again. A few years ago one of those 'You've Been Eating This Wrong Your Whole Life' headlines sucked me in and I'm happy it did. The story claimed that 'science says' you should employ the 'flip method' when eating a burger. I flipped, and I've never looked back. Basically, I eat my burgers upside down.
I still serve them upright for aesthetics, but then flip them around before they go near my mouth. It works for so many reasons. The juices flow, the top bun is usually bigger so it makes a better stronger bottom, the mess is less. Trust me, flipping is life changing.
That's my ultimate burger guide. What do you think?