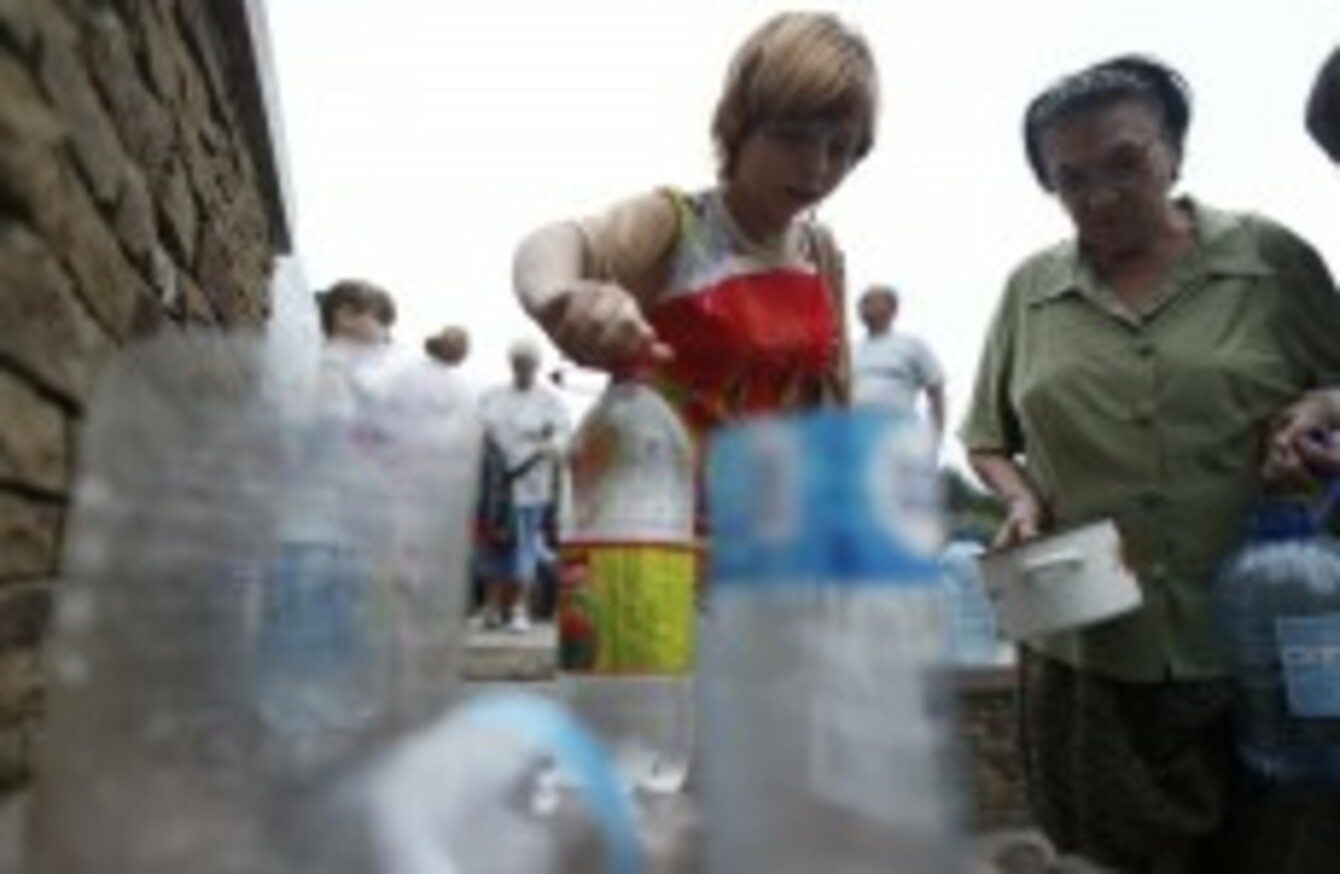 Locals queue to collect water in Donetsk, Ukraine yesterday.
Image: AP/Press Association Images
Locals queue to collect water in Donetsk, Ukraine yesterday.
Image: AP/Press Association Images
UKRAINIAN TROOPS ARE pushing ahead with an offensive aimed at reclaiming the east of the country from pro-Russian separatist fighters.
Ukraine has accused the fighters of killing fleeing civilians during an attack on the rebel-held city of Luhansk (Lugansk).
Rebel fighters denied the allegations, which have not been independently verified, and claimed that civilians were killed in strikes launched by Ukrainian forces.
UN Secretary-General Ban Ki-moon said he was deeply disturbed by the reports of attacks on a convoy of displaced persons fleeing the violence at Luhansk.
His spokesperson said Ban Ki-moon urges "all sides to respect the rules governing the status of IDPs and refugees and to allow safe passage to anyone attempting to leave areas of active military operations".
"This tragic incident makes the urgency of a ceasefire and a diplomatic solution even more stark," the spokesperson added.
Over 2,100 people have died in four months of fighting in eastern Ukraine, and over 340,000 have been displaced.
In Luhansk, water, electricity and phone connections have been cut for more than a fortnight and food supplies are scarce.
The city hall said in a statement today that Luhansk and its city center came under fierce shelling overnight. An unspecified number of civilians were killed or wounded. Residents are standing in lines to buy bread as food supplies are running out, the city hall said.
Authorities also raised the alarm about a potential outbreak of infectious diseases since household waste has not been taken out of town for more than two weeks amid sweltering heat.
Aid delayed
A controversial Russian aid convoy was meanwhile still stuck waiting to be checked near Ukraine's restive border as haggling dragged on about letting it across. Red Cross representative Laurent Corbaz is due in Moscow today to discuss with Russian officials the delivery of humanitarian aid to east Ukraine.
The Red Cross – which is meant to oversee the delivery of the cargo – says they have not yet received security guarantees on how it will cross rebel territory.
"We have no date, no hour" for when the convoy may go to the Ukrainian side, Paul Picard, a monitor for the OSCE at the border, told journalists.
Kiev and the West fear the shipment is a ploy to bolster the rebellion or provide a pretext for Russia to invade, allegations dismissed by Moscow.
- Additional reporting by the Associated Press and AFP