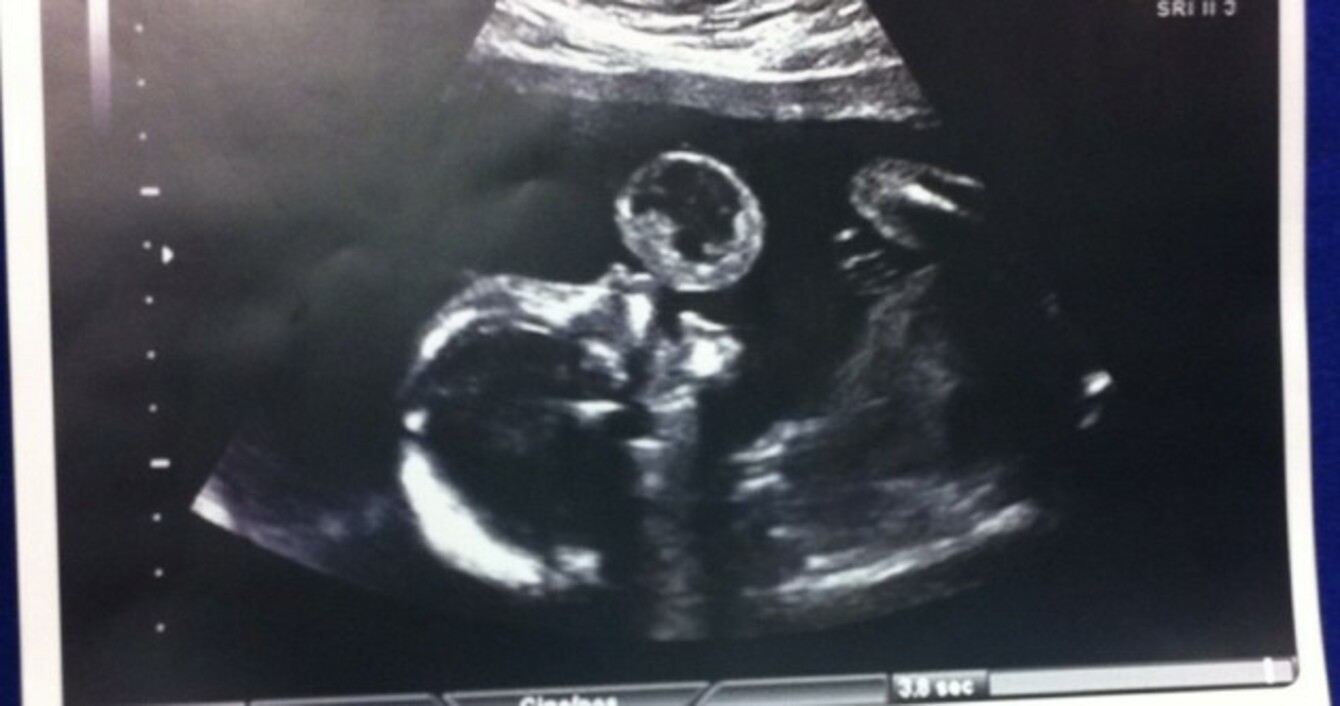 A 17-week ultrasound showed this 'bubble' - a tumour - growing from Leyna Gonzalez's lip.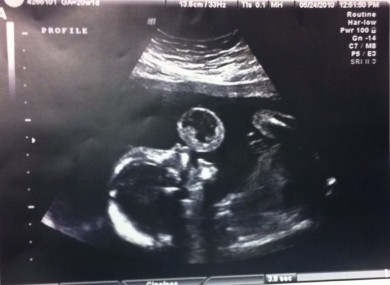 A 17-week ultrasound showed this 'bubble' - a tumour - growing from Leyna Gonzalez's lip.
SURGEONS IN MIAMI have announced the achievement of a medical first – the successful removal of a tumour from a unborn baby through in utero surgery.
Doctors at the Jackson Memorial hospital yesterday revealed details of the surgery for the first time, over two years after the surgery was originally carried out.
At the conference, Tammy Gonzalez revealed how she had gone into the hospital for a routine ultrasound at 17 weeks – when the scan showed what looked like a large 'bubble' being blown from her daughter's mouth.
The bubble, the size of a peach, was diagnosed as a foetal oral teratoma – which had grown at an alarming rate, having not shown up on a scan a few weeks earlier.
The Guardian summarises that there were two options for treating the difficulty – either to take affirmative action immediately, on a level which had never been done before, or allow the baby to grow further before having it delivered early and undergo corrective surgery.

(YouTube: JacksonHealthSystem)
Given the risks of the former – which would have involved a series of surgeries, and the possibility that the tumour could continue to balloon in the meantime, resulting in fatal bleeding – it was decided to attempt a radical in utero surgery.
Dr Ruben Quintero, who carried out the surgery, described the surgery relatively simply – saying doctors made a quarter-of-an-inch incision in Tammy's womb and used a precision laser to essentially slice the tumour off her daughter's lip.
The Huffington Post said the surgery had an immediate effect – as Tammy, who only underwent local anaesthetic for the surgery, was able to watch the 'bubble' literally float away and disappear from view.
"It was like this huge weight had been lifted off me. It just floated away and I could finally see her face," it quotes her as saying.
The tumour, safely removed and neutralised, was allowed to remain in a cavity in Tammy's womb where it was removed after her daughter Leyna was safely delivered at full term.
Leyna was born at a healthy 8 lb, 1 oz weight – and doctors say given the progress she has made in the two years since then, they are satisfied the tumour will not grow back.
The Miami Herald said the tumour was so rare that it would occur only once in every 100,000 pregnancies – and that while the hospital carries out 150 'minimally invasive' surgeries every year, this was the first time any oral teratoma has been successfully removed before a child was born.