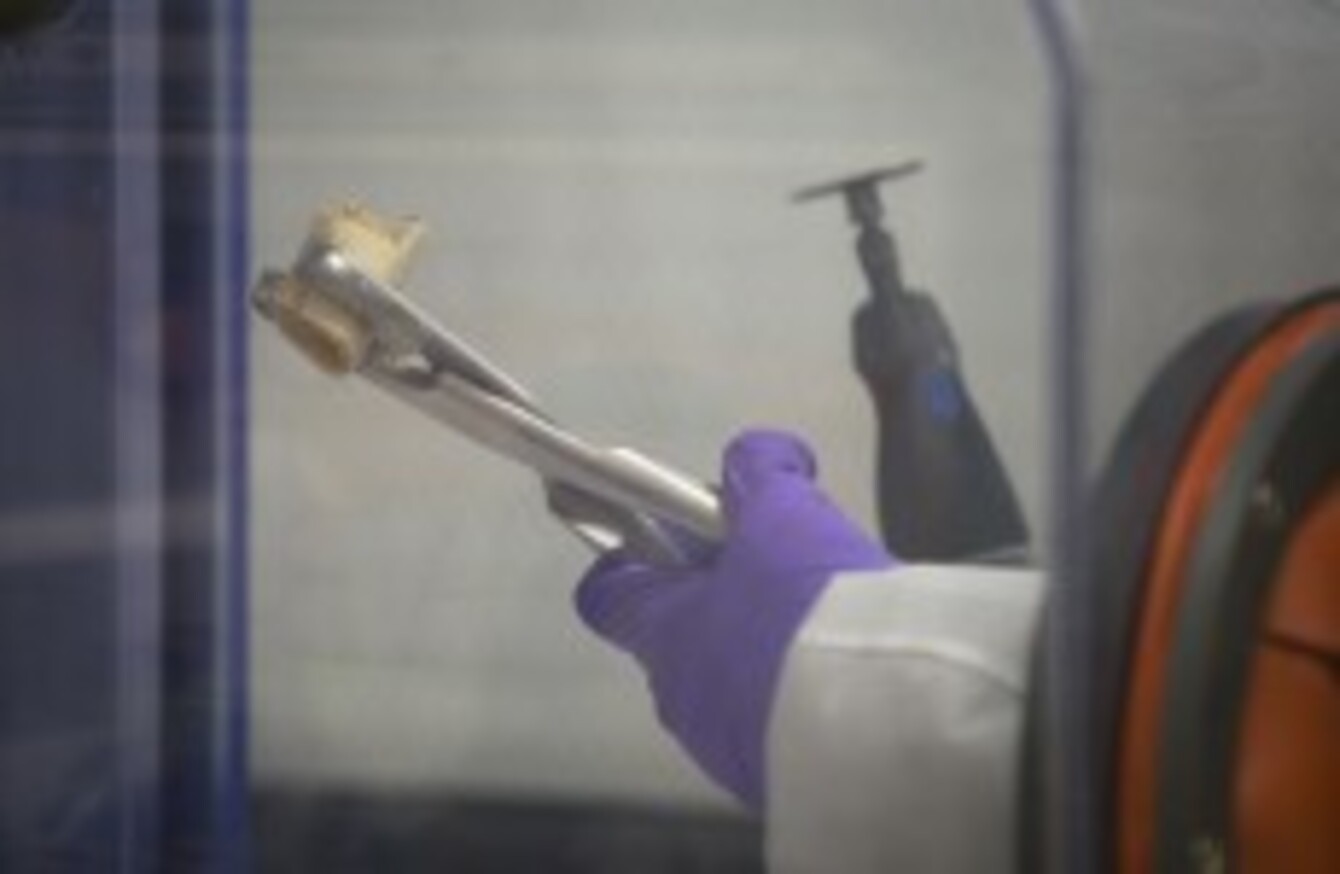 File: A scientist for the City of New York Office of Chief Medical Examiner handles a human bone fragment in preparation for DNA testing
Image: John Minchillo/AP/Press Association Images
File: A scientist for the City of New York Office of Chief Medical Examiner handles a human bone fragment in preparation for DNA testing
Image: John Minchillo/AP/Press Association Images
A NEW GROUP has called for a database to be created in order to log information on unidentified remains of people found in Ireland.
The Committee for the Forgotten will meet tonight in Waterford to discuss the issue, and founding member Sinn Féin councillor John Hearne told TheJournal.ie that the group wants the database to be set up so that families can look at details of people who are found in order to help identify them.
Unidentified
He said that there are currently unidentified body parts in two coroners' offices that families urgently want to have tested. These bones were found in the sea, and require special testing which costs thousands of euro.
There are four main people involved in the committee: Cllr Hearne, Jim Griffin who works for the coastguard, ex-Garda diver Tosh Lavery, and Caitlín Uí hAodha, who lost her husband in a fishing boat tragedy and who is the spokesperson for the Irish Fisherman's Organisation.
Hearne said they are looking for testing of the DNA of all bones that are found in the sea and for body parts that are currently unidentified to be tested.
Hearne said the group are concerned about giving people found a dignified funeral, and the group would ask the State to hand the person over them, so they could bury them with respect, and also record the burial to be given to family members if the person is later identified.
Database
A database could contain information such as identifying marks, tattoos, jewellery, clothing and trinkets found on or with the body, said Hearne. Families could then look for such information in the database and match it against information they have on the missing person.
He said it would have "respectful and basic" information on the people found.
In Ireland unidentified remains found on land are generally brought to the coroner and then the city or town's mortuary.  A spokesperson at the Dublin city morgue said they currently don't have unidentified body parts in storage.
Co Wexford
Seventeen years ago the body of a woman washed up in Co Wexford. She was never identified and was buried in a graveyard. Prime Time recently revealed that part of her body, her skull and jawbone, was lost by the State in 1996 and has never been found.
She is one of six unidentified remains in the South East. Efforts to extract DNA have been unsuccessful in Ireland, but other types of tests are available abroad.
The Department of Justice told Prime Time that it may not be possible to extract DNA material from some remains for testing because of the length of time the bones were in the sea.
Prime Time said there are unidentified bodies in at least 11 counties and all but one are male. Three men are in the morgue in Galway for more than 10 years. The committee is asking if the families of Spanish fishermen who were lost off the west coast gave DNA samples, given that remains have been found off the Aran Islands.
Laverty said the committee would be happy to aid, guide and help the State with remains. He also said that families have noted a lack of information around this issue.
The committee will hold a meeting in Dáil Eireann on 4 December and all TDs and Senators are invited. They are also requesting a private meeting with the Minister for Justice Alan Shatter. They are to write to all the coroners in Ireland to canvass for their support on these issues.
There will be a meeting of the committee in the IFO offices, 18 the Mall, Waterford at 5pm today and all are welcome to attend.