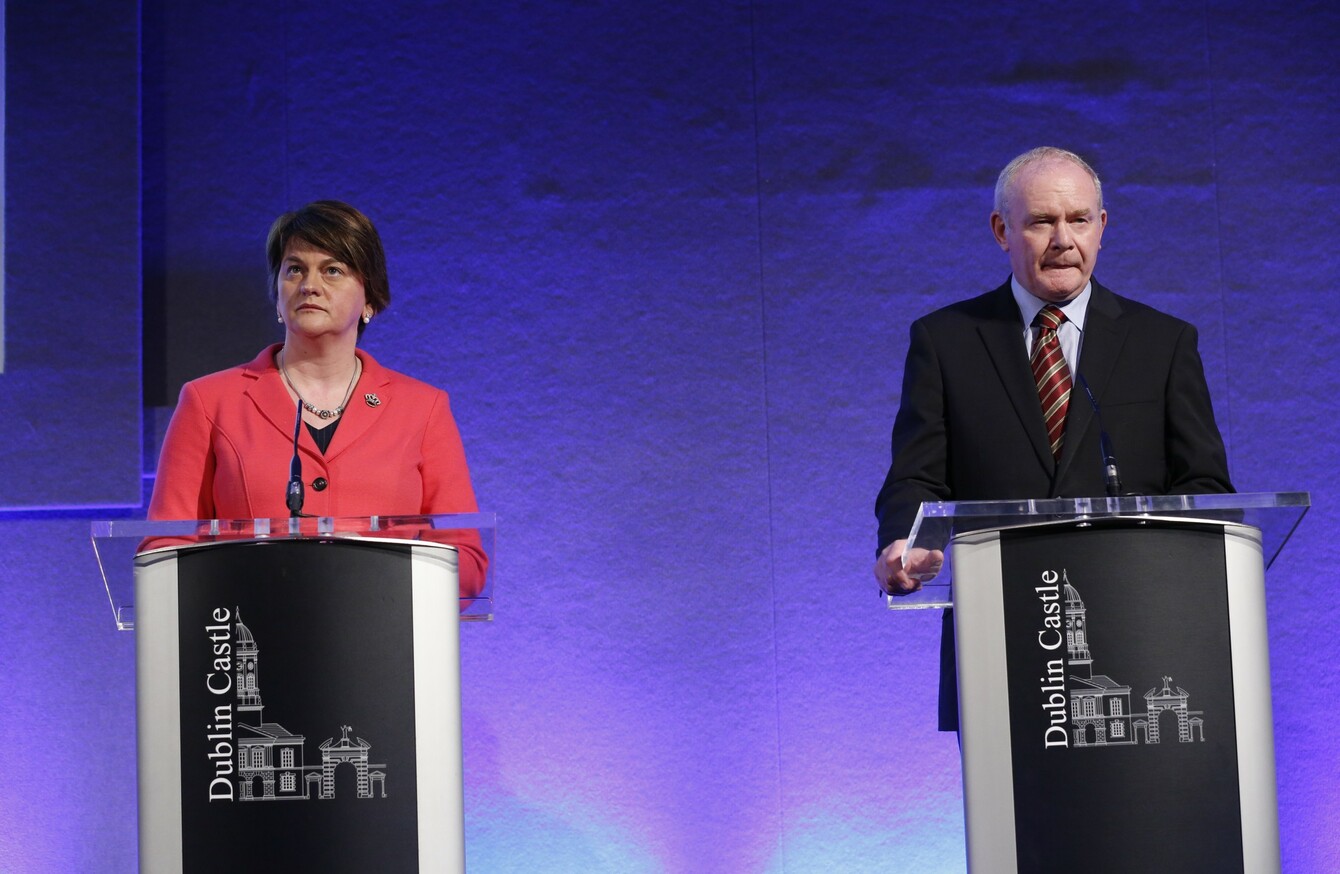 First minister and deputy first minister Arlene Foster and Martin McGuinness at the North South Ministerial Council earlier this month
Image: RollingNews.ie
First minister and deputy first minister Arlene Foster and Martin McGuinness at the North South Ministerial Council earlier this month
Image: RollingNews.ie
A NEW POLL has found that big majority would back a united Ireland if a referendum was held tomorrow, a new poll has found.
The Paddy Power/ Red C research has found that 65% would vote in favour, an increase from a similar poll conducted by Red C for the Sunday Times in 2010 that showed support at 57%.
The result is significant in the wake of Britain's vote last month to leave the European Union.
Voters in Northern Ireland and Scotland voted to reject the United Kingdom leaving the EU, something that has cast doubts over their future within the United Kingdom.
Since the vote, both Taoiseach Enda Kenny and Fianna Fáil leader Micheál Martin have both floated the possibility of supporting a united Ireland in recent weeks.
What were the other poll results? 
Fianna Fáil will welcome today's poll, with it edging out Fine Gael as Ireland's most popular party – a result carried over from a poll in the Sunday Business Post just under two weeks.  
Sinn Fein saw a slight increase in their support, up two percentage points to 15%.
Here is how the support for the parties broke down:
Fianna Fáil 28% (-1)
Fine Gael 27% (+1)
Sinn Féin 15% (+2)
Labour 4% (-2)
Independents 10% (+3)
The poll also found a growth in confidence since the last Red C poll conducted in May, showing an 8% increase in people saying they were confident in the government, up to 56%.
There was also an increase in the number of people who said that they thought the government would last more than a year, up to almost two-thirds (63%).
Michaél Martin was also shown to be the party leader with the most support from the general public (55%.)