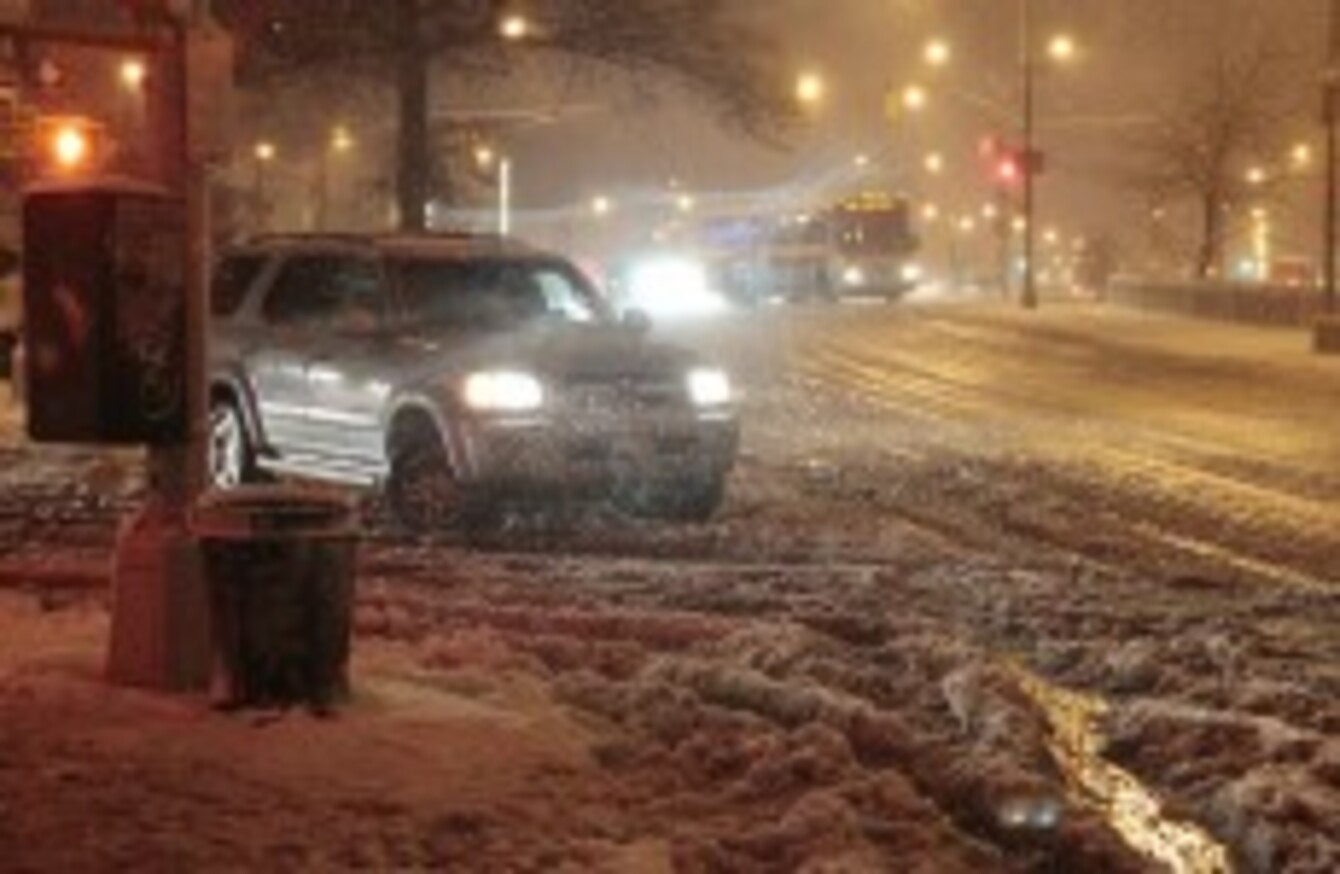 Cars navigate Queens Boulevard, New York, during a snow storm yesterday.
Image: Associated Press
Cars navigate Queens Boulevard, New York, during a snow storm yesterday.
Image: Associated Press
AS PROMISED, THE second major storm to hit the north-east coast of the United States brought gusting winds, rain, snow and the threat of flooding. It menaced travellers with icy roads, snarled the Long Island Rail Road and knocked out power to people who had only recently gotten it back after Superstorm Sandy.
But for the weary, relief is on the way. Joey Picca, a meteorologist with the National Weather Service, says the unwelcome snow and high winds are slowly moving out of the New York City area. Commuters, though, may have to brave some lingering snowfall this morning.
Faced with more bad weather, some in the storm-ravaged Northeast just shrugged, dug in and stayed put.
"This is nothing"
Elena McDonnell didn't waste energy worrying about the newest storm, not after living through Sandy last week and still without power in her Staten Island home.
"It isn't scary at all," the 42-year-old said. "This is nothing."
Under ordinary circumstances, a storm of this sort wouldn't be a big deal. But large swaths of the landscape were still an open wound, with the electrical system highly fragile and many of Sandy's victims still mucking out their homes and cars and shivering in the deepening cold. As the storm picked up in intensity yesterday evening, lights started flickering off again.
Residents from Connecticut to Rhode Island generally got slammed with 3 to 6 inches of snow yesterday. Worcester, Mass, had a whopping 8 inches of snow, although a number of other communities threatened to exceed that accumulation.
(Image: Associated Press)
Meteorologist Frank Nocera says all is not lost: temperatures over the next couple of days will be in the 50s in southern New England, and on Sunday it could edge into the 60s.
In New York and New Jersey, rain and 60 mph wind gusts yesterday evening and overnight carried the potential to swamp homes again, topple trees wrenched loose by Sandy, and erase some of the hard-won progress made in restoring power to millions of customers.
"I am waiting for the locusts and pestilence next," New Jersey Governor Chris Christie said. "We may take a setback in the next 24 hours."
Ahead of the storm, public works crews in New Jersey built up dunes to protect the stripped and battered coast, and new evacuations were ordered in a number of communities already emptied by Sandy. New shelters opened.
(Image: Associated Press)
In New York City, police went to low-lying neighborhoods with loudspeakers, urging residents to leave. But Mayor Michael Bloomberg didn't issue mandatory evacuations, and many people stayed behind, some because they feared looting, others because they figured whatever happens couldn't be any worse than what they have gone through already.
"I'm staying," said 61-year-old Staten Islander Iliay Bardash. "Nothing can compare to what happened Still, authorities urged caution. The city manager in Long Beach, NY, urged the roughly 21,000 people who ignored previous mandatory evacuation orders in the badly damaged barrier-island city to get out.
City at a standstill again
All construction in New York City was halted — a precaution that needed no explanation after a crane collapsed last week in Sandy's high winds and dangled menacingly over the streets of Manhattan. Parks were closed because of the danger of falling trees. Drivers were advised to stay off the road after 5 pm and part of the busy Long Island Expressway was shut down in both directions because of icing.
About 6:30 pm, the Long Island Rail Road suspended service in and out of Penn Station.
Airlines canceled at least 1,300 U.S. flights in and out of the New York metropolitan area, causing a new round of disruptions that rippled across the country.
By the afternoon, the storm was bringing rain and wet snow to New York, New Jersey and the Philadelphia area. Huge waves pounded the beaches in New Jersey. Firefighters in New York City responded to reports of tree branches falling into buildings, blocking streets and knocking down electrical wires.
(Image: Associated Press)
By early this morning, more than 292,700 homes and business in New York state were without power, and another 403,000 in New Jersey lacked electricity.
The storm could bring repairs to a standstill because of federal safety regulations that prohibit linemen from working in bucket trucks when wind gusts reach 40 mph.
Authorities warned also that trees and limbs broken or weakened by Sandy could fall and that even where repairs have been made, the electrical system is fragile, with some substations fed by only a single power line instead of several.
"We are expecting there will be outages created by the new storm, and it's possible people who have just been restored from Sandy will lose power again," said Mike Clendenin, a spokesman for Consolidated Edison, the main utility in New York City.