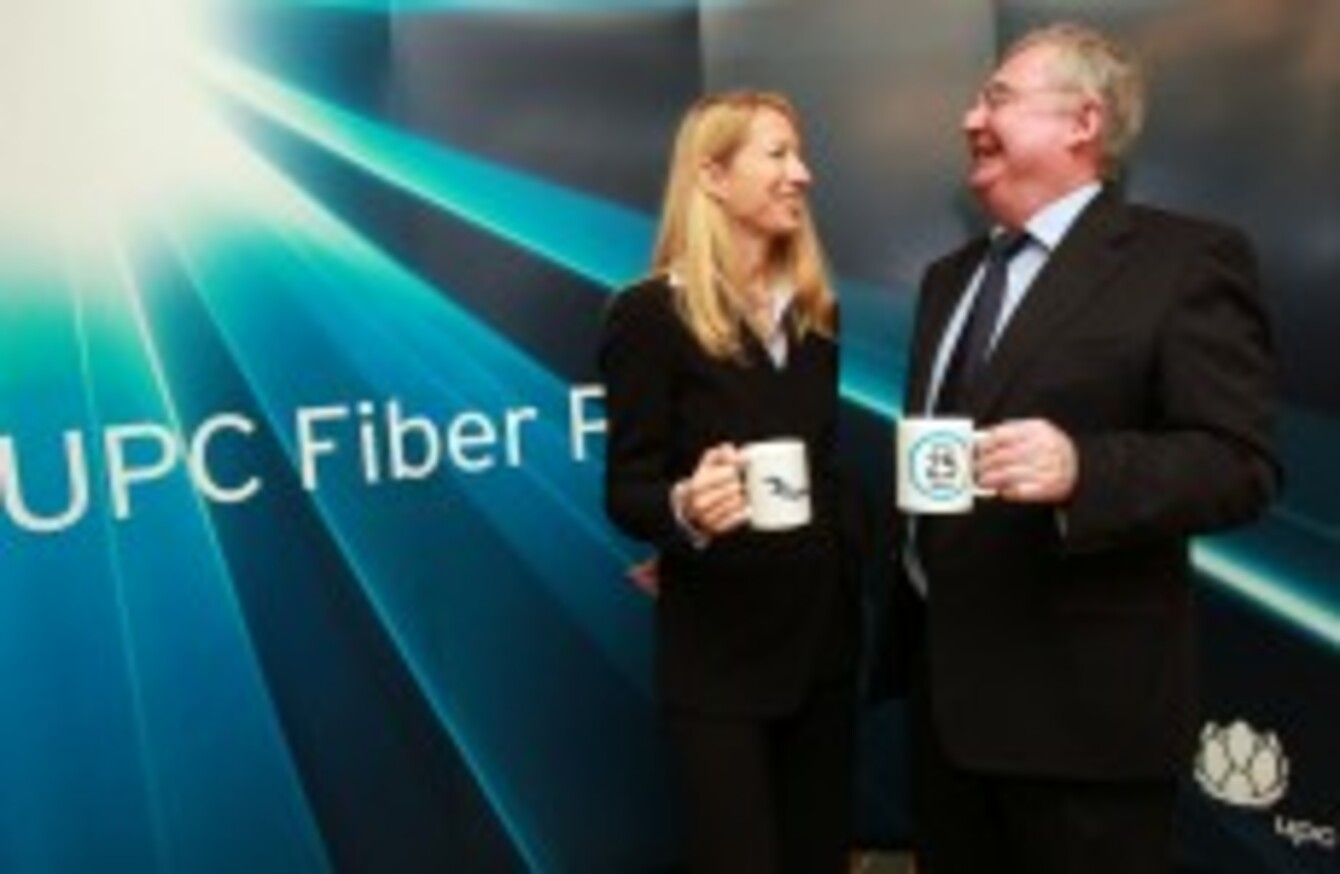 CEO of UPC Ireland Dana Strong with Minister for Communications, Energy & Natural Resource Pat Rabbitte TD
Image: Leon Farrell/Photocall Ireland
CEO of UPC Ireland Dana Strong with Minister for Communications, Energy & Natural Resource Pat Rabbitte TD
Image: Leon Farrell/Photocall Ireland
UPC HAS ANNOUNCED a record 13 per cent year-on-year growth in it service subscriptions in 2011.
It saw 100,800 new subscriptions to its broadband, phone and digital television services last year.
The greatest growth was seen in its phone services, at a 68 per cent. This was followed by 28 per cent year-on-year increase in broadband subscriptions and a 1 per cent growth in digital TV customers.
Dana Strong, CEO of UPC Ireland, described it as "one of Ireland's leading multinational partners".
Our strategy is to offer superb products and this is clearly resonating as we gained over 100,000 subscriptions to digital TV, broadband and phone in 2011.  We're delighted that we are meeting our customers' expectations and they have rewarded us with their custom, which we are very pleased to acknowledge.  We can look forward to further progress and development in 2012.
The business says the overall stimulus for growth remains with the group's sustained investments over six years in Next Generation Infrastructure reaching €500 million at year end.
UPC provides direct employment to 845 people and more than 1,000 jobs via sub contractors.
During 2011, the company recruited a further 90 people to fill positions across customer services, sales, administration and managerial roles.
The company revenue grew by 16 per cent last year. In 2011, it added a new remote record function to its TV service, as well as the channels Food Network and True Movies.
Earlier this month, UPC was ordered to drop the 'fastest broadband' claim from its adverts, after a complaint to the Advertising Standards Authority Ireland by Magnet Networks, another broadband provider.
The UPC said that its service was being advertised to the mass market.
The ASAI upheld Magnet's complaint, saying that while UPC's offerings were the fastest services to the majority of Irish homes, it was inappropriate to make an absolute claim when other providers – including those who were not accessible to the mass market – had faster services.