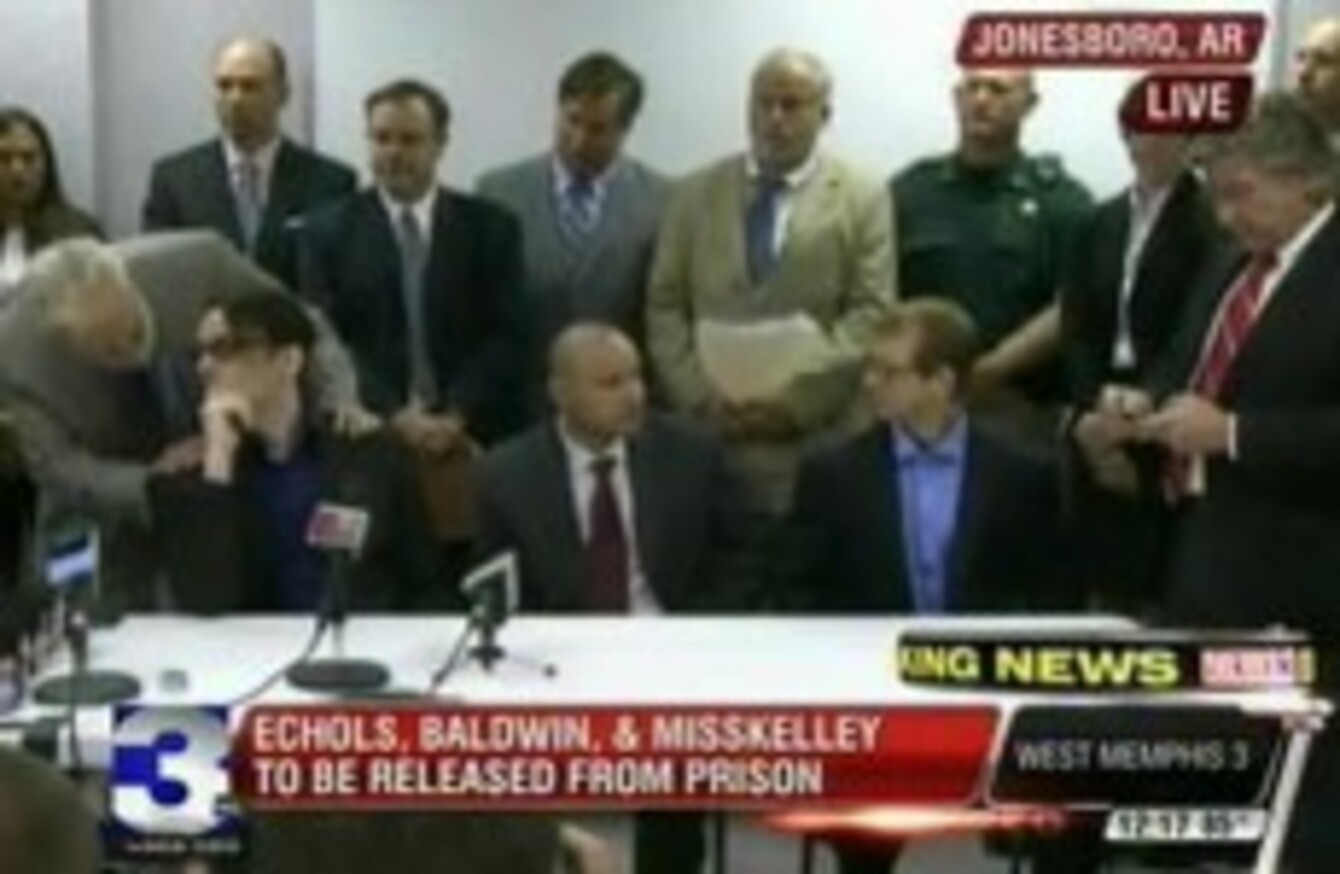 The three men, seated, preparing to be released after serving 18 years for the children's deaths.
The three men, seated, preparing to be released after serving 18 years for the children's deaths.
THREE MEN sentenced to death and life sentences for the killing of three young boys 18 years ago are set to be released after agreeing a plea bargain with US authorities.
Damien Echols, Jason Baldwin and Jessie Misskelley Junior were all convicted of killing three 8-year-old boys in West Memphis in 1993. Echols was sentenced to death, while the other two were serving life sentences.
The men still maintain they are innocent, but say they pleaded guilty to first degree murder because it was the best thing for them.
Speaking at a press conference today, Echols said he was a little overwhelmed at being among so many people again having spent so long in 'virtually' solitary confinement. He said the group would "still try to clear our names. The only difference is now we can do it from the outside instead of having to sit in prison and do it."
Jesse Miskelley Senior said he wasn't sure what his son has planned for after his release, but that they would be having a party that night. He said he wants ten buckets of chicken when he gets out, he told WREG.com.
Misskelley said he was worried about his safety in prison every single day. Baldwin said justice had not been done and said the authorities are still not trying to find who really murdered those boys.
Baldwin's lawyer said his client had resisted going through with the agreement "as a matter of principal", but that he had done an honourable thing by helping to take another person off death row (meaning Echols).
A lawyer for Echols said that today's decision indicates the state's acceptance that the men were innocent. He said that no reasonable jury would convict these defendants at a new trial, given the new evidence that had turned up since the original case.
The three men are being released on ten years' probation. The AP reports that a legal move known as the Alford Plea means that despite changing their plea, the three men can maintain their claims of innocence.
The trio were the subject of a 1996 HBO documentary, Paradise Lost, which generated support for a campaign calling for their release.