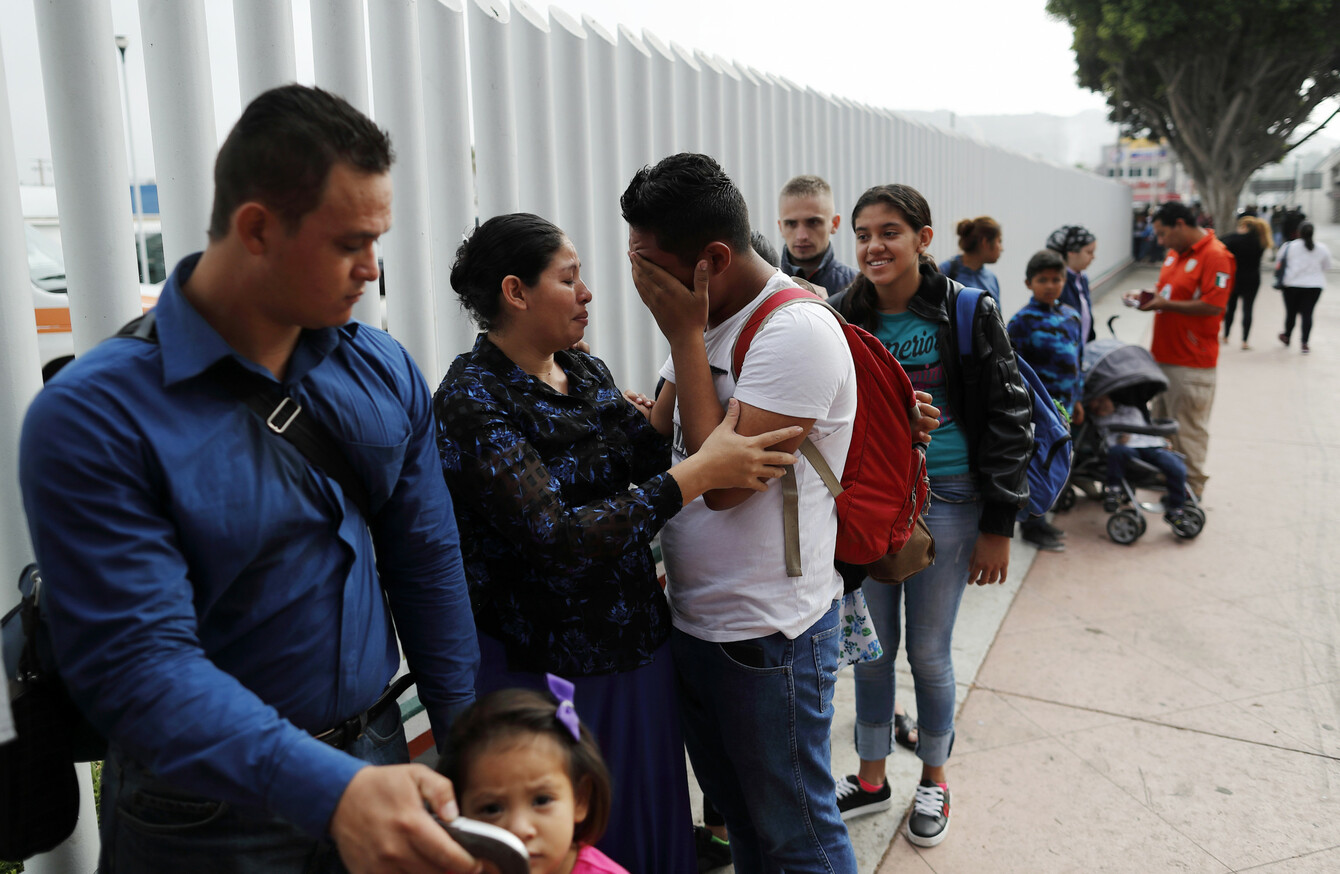 Calet Garcia, center in white shirt, of Honduras, cries once he realizes he will be able to apply for asylum in the U.S. with his friend Daisy Avelar, second from left, of El Salvador, Thursday, July 26, 2018, near the San Ysidro port of entry in Tijuana, Mexico
Image: Gregory Bull/Associated Press
Calet Garcia, center in white shirt, of Honduras, cries once he realizes he will be able to apply for asylum in the U.S. with his friend Daisy Avelar, second from left, of El Salvador, Thursday, July 26, 2018, near the San Ysidro port of entry in Tijuana, Mexico
Image: Gregory Bull/Associated Press
AROUND 700 CHILDREN at Mexico's border with the US remained separated from their parents after a San Diego court's order to reunite them passed.
Officials say the figure includes 431 children whose parents have been deported, as authorities continue to complete paperwork to return the children to Guatemala, El Salvador and Honduras.
It comes as more than 1,800 other children over the age of 5 prepared to travel to locations around the US to be reunited with their parents or sponsors.
That included 1,442 children who were returned to parents who were in US Immigration and Customs Enforcement custody, and another 378 who were released under a variety of other circumstances.
US District Judge Dana Sabraw, who ordered the reunifications, must now decide how to address the hundreds of children whose parents have been deported, as well as how much time, if any, reunified parents should be allowed to file asylum claims.
Lee Gelernt, a lawyer for the American Civil Liberties Union representing separated parents, said yesterday that it was unclear how long it might take to find the parents who have returned to their homelands.
"I think it's just going to be really hard detective work and hopefully we're going to find them," he said.
Sabraw will also consider the ACLU's request to give reunified parents at least a week to consider if they wish to seek asylum.
However, the government opposes the waiting period, and Sabraw has put a hold on deporting reunified families while the issue is decided.
On another legal front over the treatment of immigrant children, US District Judge Dolly Gee in Los Angeles will be asked to appoint a special monitor to oversee detention facilities today.
Children described horrid conditions in a report filed this month over whether the Trump administration is meeting its obligations under a long-standing settlement governing how young immigrants should be treated in custody.
The federal government was supposed to reunify more than 2,500 children who were separated from their parents under a new immigration policy designed to deter immigrants from coming to the US illegally.
However, the policy backfired amid global outrage over images of crying children being taken from their parents.
President Donald Trump subsequently ended the practice, and Sabraw ordered the government to reunite all the families by the end of yesterday, although some flexibility was allowed due to the enormity of the effort.
Some children who had not seen their parents in weeks or months seemed slow to accept that they would not be abandoned again.
Jose Dolores Munoz, 36, from El Salvador, was reunited with his 7-year-old daughter last Friday, nearly two months after they were separated, but he said his daughter cries when he leaves the house.
"She is afraid," Munoz said. "Yesterday I left her crying, she is telling me, 'You are not coming back.'"