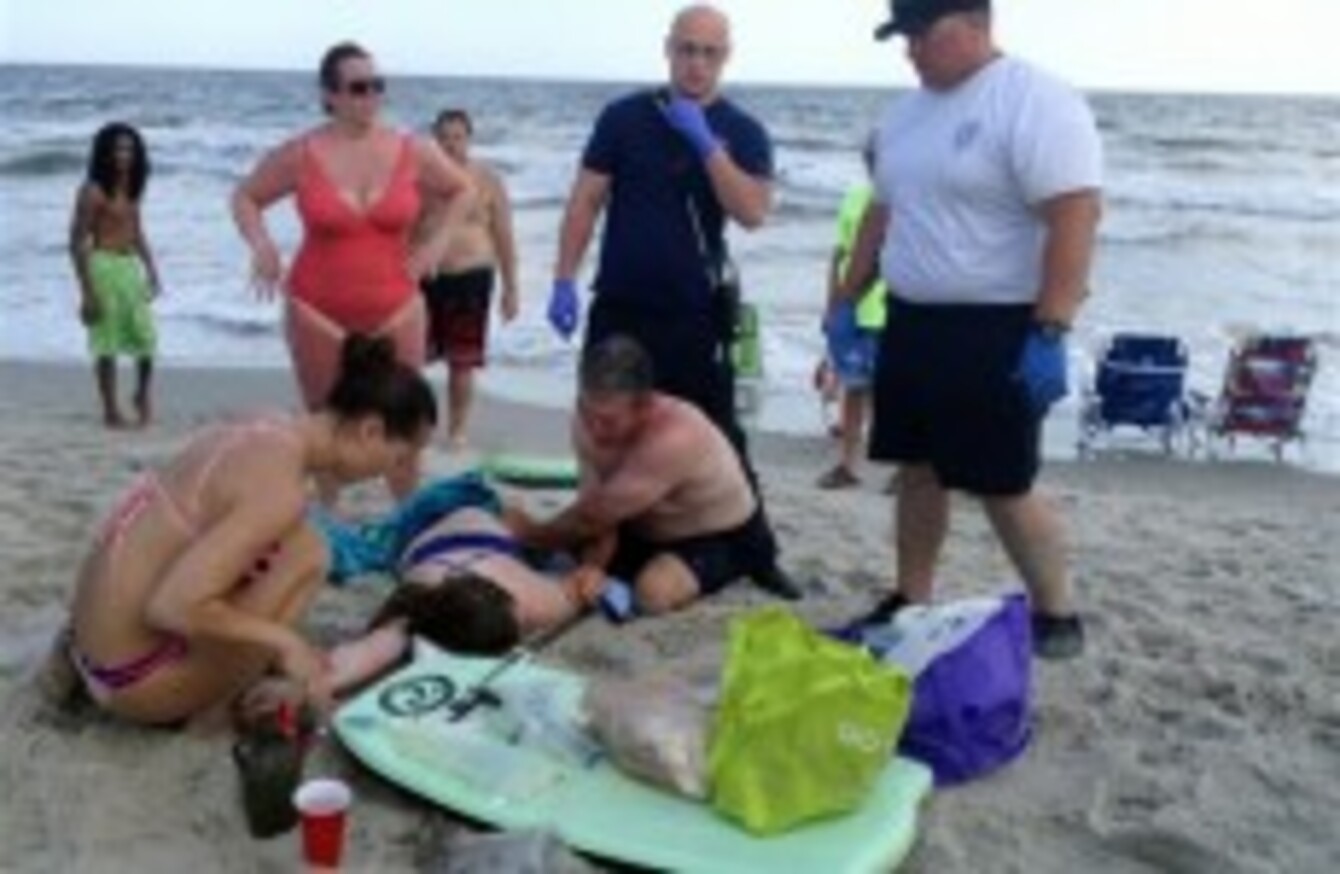 People help a teenage girl at the scene of a shark attack in North Carolina.
Image: Steve Bouser/The Pilot/AP
People help a teenage girl at the scene of a shark attack in North Carolina.
Image: Steve Bouser/The Pilot/AP
Updated 2.08 pm
THE BEACHES IN the North Carolina town of Oak Island remain open today after two teenagers lost limbs in two separate shark attacks.
A 12-year-old girl was attacked just after 4 p.m. yesterday and a 16-year-old boy was attacked less than two hours later about two miles away.
The girl lost part of her arm and suffered a leg injury, and the boy lost his left arm, officials said. It was unclear whether the same shark attacked the victims.
Oak Island Mayor Betty Wallace said today that she didn't think workers had enough time to decide to close the beach between attacks. Beaches were closed after the second attack.
"Our local police ATVs and the sheriff's boat and helicopter patrolled immediately after the second one, getting everyone out of the water," Wallace said in an email.
Wallace says that even if the beach had closed after the first attack, the order might not have reached the area of the second incident.
"I don't know if it would have extended between the two (locations)," she wrote.
Officials say the two young people were in waist-deep water about 20 yards offshore when they were attacked.
Terrified beach goers were forced to tend to the injured swimmers and prompting one shocked witness to compare the scene to the movie Jaws.
Source: Associated Press/YouTube
"I saw someone carry this girl (out of the water) and people were swarming around and trying to help," said Steve Bouser, who was just beginning his week-long beach holiday. "It was quite terrible."
The girl was bleeding heavily, and people applied makeshift tourniquets while asking her questions to try to keep her conscious.
It was "quite nightmarish," Bouser said.
"It was so much like a scene from Jaws," his wife Brenda Bouser added.
Local officials sent an all-terrain-vehicle to get everyone out of the water, and the Brunswick County Sheriff's office was planning to have a helicopter patrol the coastline, the mayor said.
Beaches were open today with officials encouraging people to stay only in shallow water, Oak Island town manager Tim Holloman said.
"When something like this happens, everyone is on edge, but this is the first time in memory we've had an occurrence of this sort," Wallace added.
Fire Chief Christopher Anselmo told NBC's "Today" show that Sunday's attacks were his first such experience in 16 years with the department.
"We can't guarantee anything — these are ocean waters," Anselmo said. "There's a lot of fish and sharks that are in the ocean. There's nothing we can do to control that. We can only education people to be careful in the water."
Brunswick County planned to have a boat and a helicopter patrolling the water, Holloway said.
"Oak Island is still a safe place," Holloman said. "We're monitoring the situation. This is highly unusual."