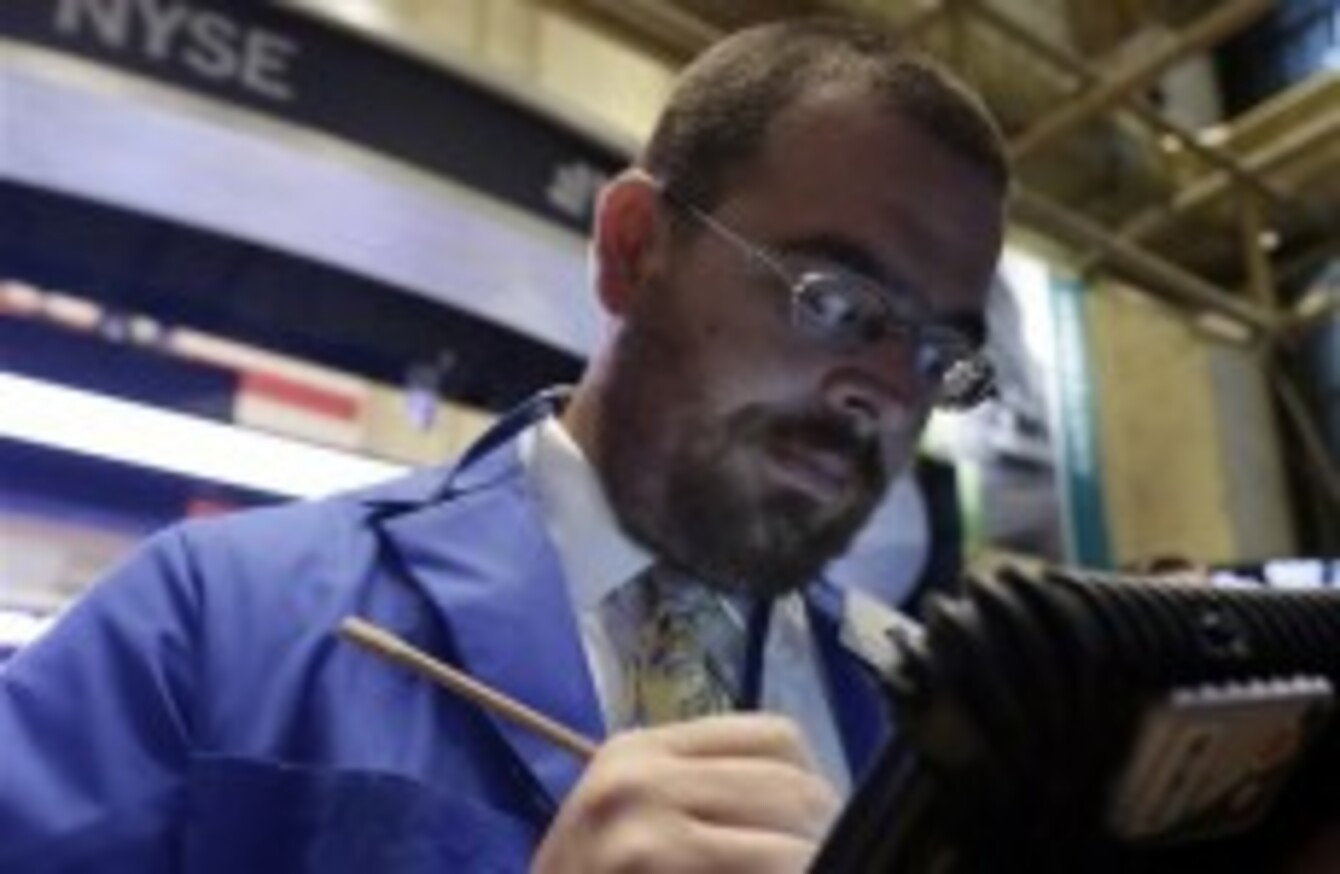 Trader Richard Scardino works on the floor of the New York Stock Exchange
Image: AP Photo/Richard Drew
Trader Richard Scardino works on the floor of the New York Stock Exchange
Image: AP Photo/Richard Drew
INVESTORS SENT THE Standard & Poor's 500 index to its lowest close in a month today as few signs emerged of a deal to end the US government shut down and raise the nation's borrowing limit.
Senate Democrats moved to introduce legislation to raise the nation's debt limit without the unrelated conditions Republicans have said they are seeking.
The White House signalled it would accept even a brief extension in borrowing authority to prevent an unprecedented default by the United States.
Yesterday, speaker John Boehner had ruled out a vote in the House of Representatives on a straightforward bill to increase the government's borrowing without concessions from President Barack Obama.
Lawmakers have until 17 October to reach a deal on increasing the nation's debt ceiling.
Failure to strike a deal could cause the United States to miss payments on its debt. The Treasury warned last week that a default could push the economy into a downturn even worse than the Great Recession.
"Everything now is predicated on Washington," said Quincy Krosby, market strategist for Prudential.
"That is what the market is focused on completely, getting a deal done to avoid a default."
The Standard & Poor's 500 index dropped 14.38 points, or 0.9 per cent, to 1,676.12.
The Dow Jones industrial average dropped 136.34 points, or 0.9 per cent, to 14,936.24.
The Nasdaq composite fell 37.38 points, or 1 per cent, to 3,770.38.
The losses were broad. Nine of the 10 industry groups in the S&P 500 dropped, with phone companies the only sector to advance.
Until now, the stock market has mostly moved sideways since the shutdown began at the start of the month, indicating that investors still expect lawmakers to come up with a deal. The S&P 500 is down 0.3 per cent in October.
The dollar fell against the euro and the Japanese yen.
The stock market climbed to record levels in September after the Fed said it would keep buying $85 billion of bonds a month to support the U.S. economy.
Many investors had expected the central bank to start reducing its stimulus.