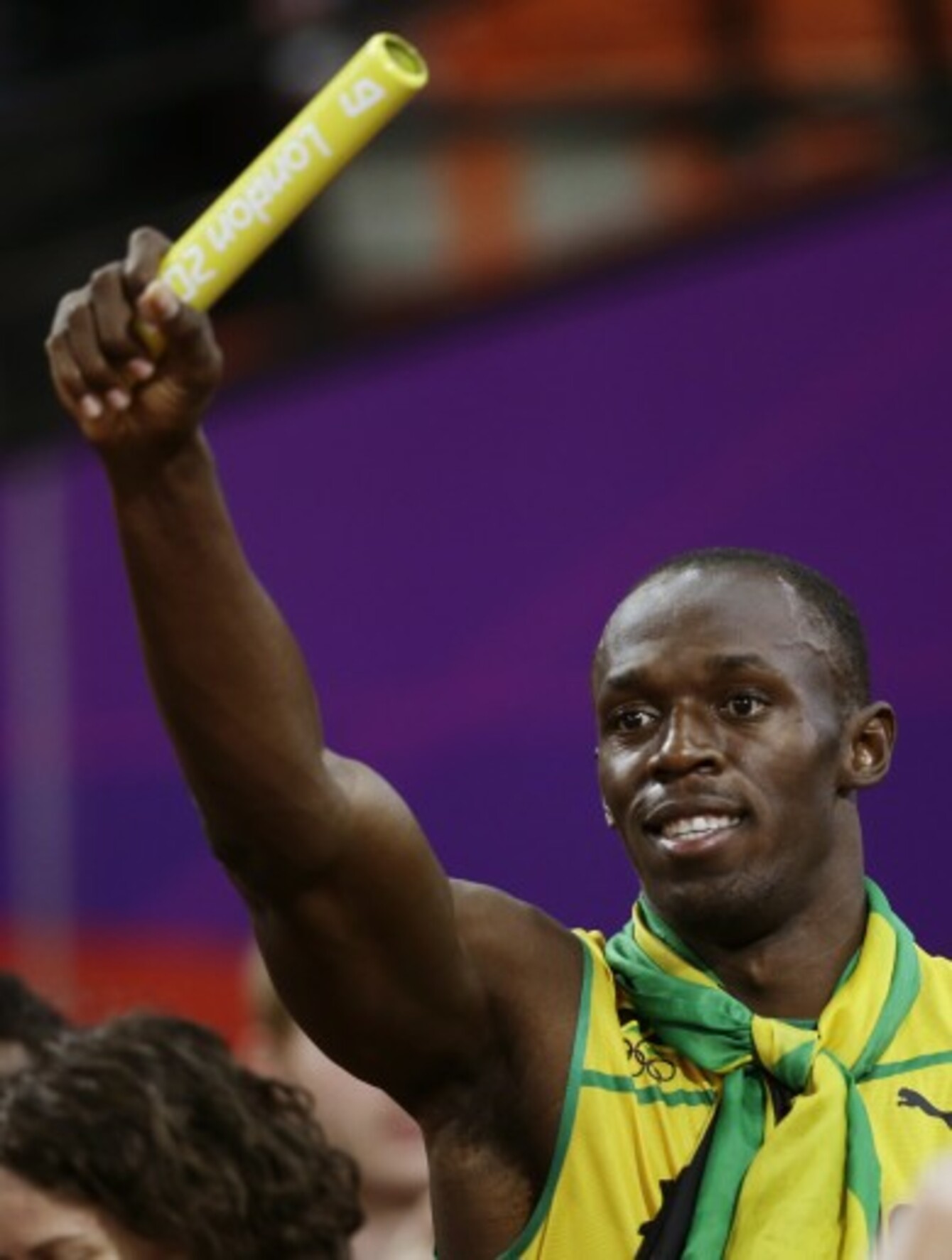 Usain Bolt had been ordered to return the Jamaican team's baton - but has now been let keep it.
Image: David J. Phillip/AP
Usain Bolt had been ordered to return the Jamaican team's baton - but has now been let keep it.
Image: David J. Phillip/AP
SIX-TIME OLYMPIC sprinting champion Usain Bolt has told a Donegal radio station that he'd love to visit Ireland – and admitted he would love to turn his attentions to mastering the long jump.
The Jamaican superstar told Highland Radio that he was very keen to take up the discipline – saying he 'really wanted to try it'.
Sprint athletes traditionally excel at the long jump given their ability to accelerate over short distances – while the Jamaican's 6'5″ frame could give him a lethal advantage over his opponents in trying to break the world record, which has stood since 1991.
The fastest man on Earth also said he was keen to visit Donegal, the home county of his long-time agent Ricky Simms, and hoped to be able to pop over to Ireland in the coming months.
"I've been asking him the same question for a while," Bolt told the station's Sunday Sport programme at the end of a telephone interview with Simms, ahead of last night's formal Closing Ceremony.
"Probably next season, maybe," he added. The athletics season typically runs from May to September.
The 25-year-old sprint superstar also affirmed that he was not at 100 per cent fitness ahead of the Games, in which he took gold in the 100 metres, 200 metres and 4x100 metres relay – setting a world record in the latter with a star-studded Jamaican line-up, while also becoming the first man to retain the Olympic 200 metres title.
His less-than-perfect fitness had not been an impediment, though, as Bolt remarked:
When I know I'm in good enough shape, I'm always confident in what I can do.
He also said that after a renewed plea to London 2012 organisers, Bolt had been allowed to keep the relay baton that officials had confiscated from him after the 4x100m relay.
"I asked a couple of different people… It's just my souvenir: I let all the guys sign it, and I put it in a case with my t-shirt and stuff," he said.
London 2012 had "certified my legend status, so it's really big for me," he said – adding that while he would continue to race for the remainder of this season, he would likely "go through the motions" and not apply himself too rigorously.
"I've made my goal already," Bolt affirmed.