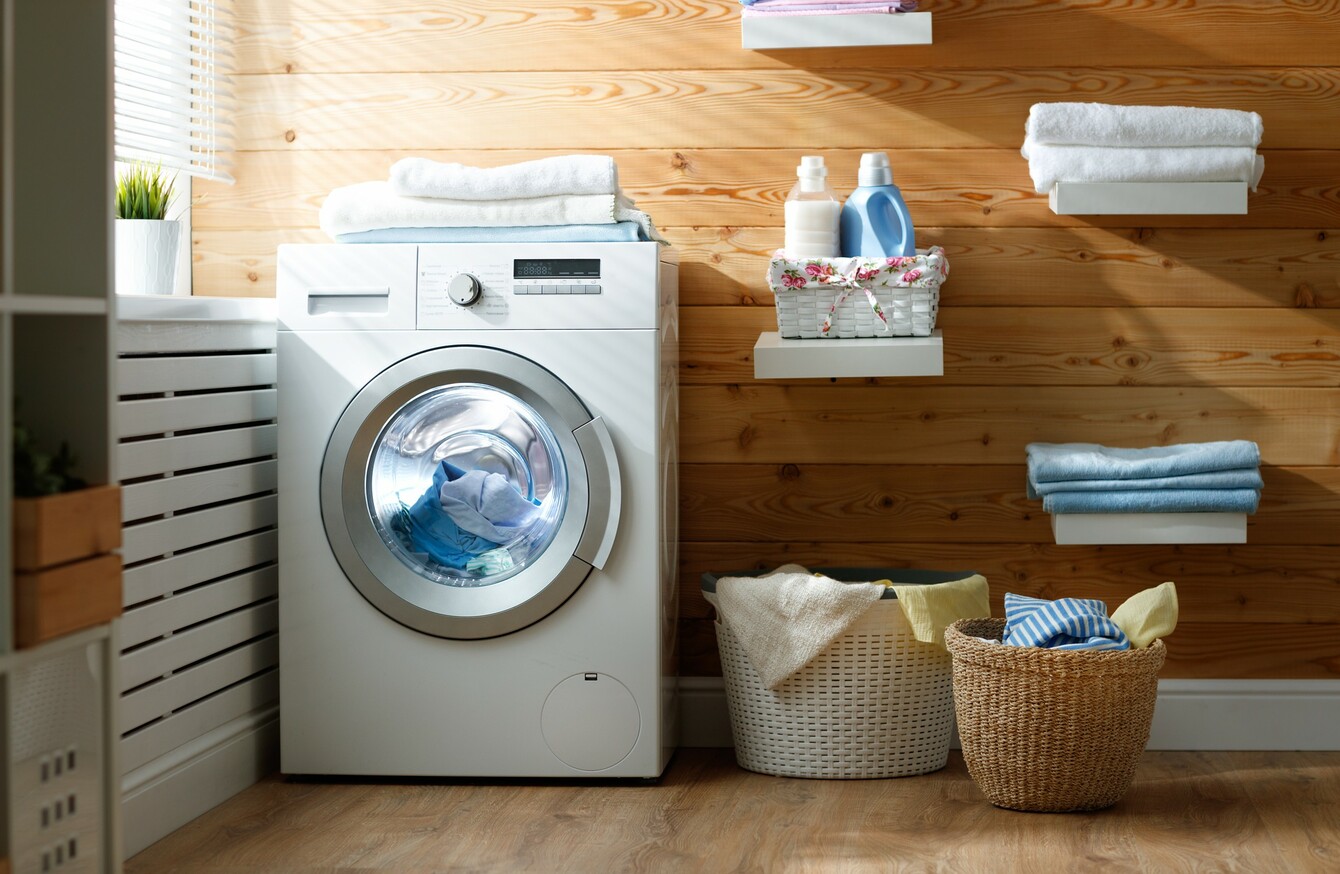 Image: Shutterstock/Evgeny Atamanenko
Image: Shutterstock/Evgeny Atamanenko
THE UTILITY ROOM is a bit of a funny one in Irish homes. Depending on what part of the country you live, it could either be the main entrance, or a hidden corner that only the householders ever see!
Whichever is the case – and however you use your utility, laundry room, or back kitchen – this is one space where function should take priority over form so that you get the full usage from what is often a small area.
So, what should be in there, what shouldn't, and how can you maximise what you get out of it?
1. Plan your space based on usage
Firstly, ask yourself what do you use your utility for? Is it a mud room? Then you'll want shoe storage and a really absorbent mat. A laundry room? Space for drying clothes and ironing. Is it where you rinse off the dogs after walkies and where they sleep? Consider a built-in dog tub or dog bed.
And if the back door is the main access to the rest of the house then you'll want plenty of neat and tidy storage so that it's welcoming and inviting. No matter the main function of your utility room, you can always make this space both useful and attractive.
2. Think vertically
I wouldn't always recommend floor to ceiling storage in a small room as it can feel claustrophobic, but in a utility, this can make sense.
Try and incorporate a really tall, slim cupboard when planning built-in units, so your mop, broom, and ironing board can be stored tidily. Also, make use of those high up, hard to reach spaces with storage for all the things you rarely use or only need seasonally – Christmas dining ware, summer picnic rugs, that waffle iron you were sure you would get use out of. Keep a little folding stool handy so that you can get things down when you need them.
A word of caution though, don't cram everything you don't have a daily use for into the utility room or you'll soon find it packed to the gills. If you haven't used something for a while, ask yourself whether you really need it. If you don't, pass it on to someone who does.
3. Create a butler's pantry
If you're into cooking and baking, and your utility room mainly serves as overflow for all your kitchen bits and bobs, then turn it into a butler's pantry.
Traditionally, a butler's pantry was where serving items and silverware were stored, but in a modern home you could use this space to store tableware, small appliances like mixers and blenders, spices and long-life foods, and you could move your fridge and dishwasher out here.
This gives you a complete food prep and clean up space, keeping your kitchen tidy for entertaining.
4. Have fun with it
Just because function trumps form with utility rooms, it doesn't mean you should overlook the interior design. Utility rooms are not as frequently used as other rooms in the house, so this can be a really fun place to try out that bold wallpaper, a hand painted design, or some crazy colours.
It's also a great space to try your hand at a bit of DIY decorating because if it doesn't really go the way you expect it to then it's not on display as much as your other rooms. So feel free to experiment – if you give this little room a big personality, you'll enjoy using it so much more.
5. Stack your appliances
Some built-in units allow for appliances to be stacked one on top of the other, which can free up floor space or make room for additional cupboards. It's quite common for a front-loading washer and dryer to be stacked one on top of the other, but you could also stack a fridge or freezer above other appliances if your built-in units or countertop allow for the weight.
You can also buy a kit to stack your washer dryer yourself, or brackets to wall mount your microwave.
6. Elevate your clothes airer
Even in a spacious or well laid out utility room, you can suddenly find yourself very stuck for space once you've set up the clothes airer or drying rack. There are lots of ways to get it out of your way though.
Ceiling mounted is great – heat rises so your clothes will dry quicker – but you can also get wall mounted airers, drawer style components that work with your units, or it can be as simple as a rail beneath a shelf.
There are a multitude of things that can be upcycled into airers too – I've seen ceiling mounted ones made from ladders, and wall mounted ones made from the side of an old cot bed.
7. Use it for your hobbies
Your utility room doesn't just have to be for laundry and cleaning stuff – make it work for your lifestyle and hobbies. If you're outdoorsy, turn your utility into a space to store the tools and equipment you use for gardening, cycling, or hiking – it'll save you traipsing muddy feet all over the house.
Or if you have a hobby that needs counter space or sink access, like model making, furniture upcycling, or flower arranging, then the utility room could be the ideal place to create a dedicated workspace for your passion.
Follow Gráinne O'Reilly (@parsekus) on Instagram for more home hacks and décor inspiration.