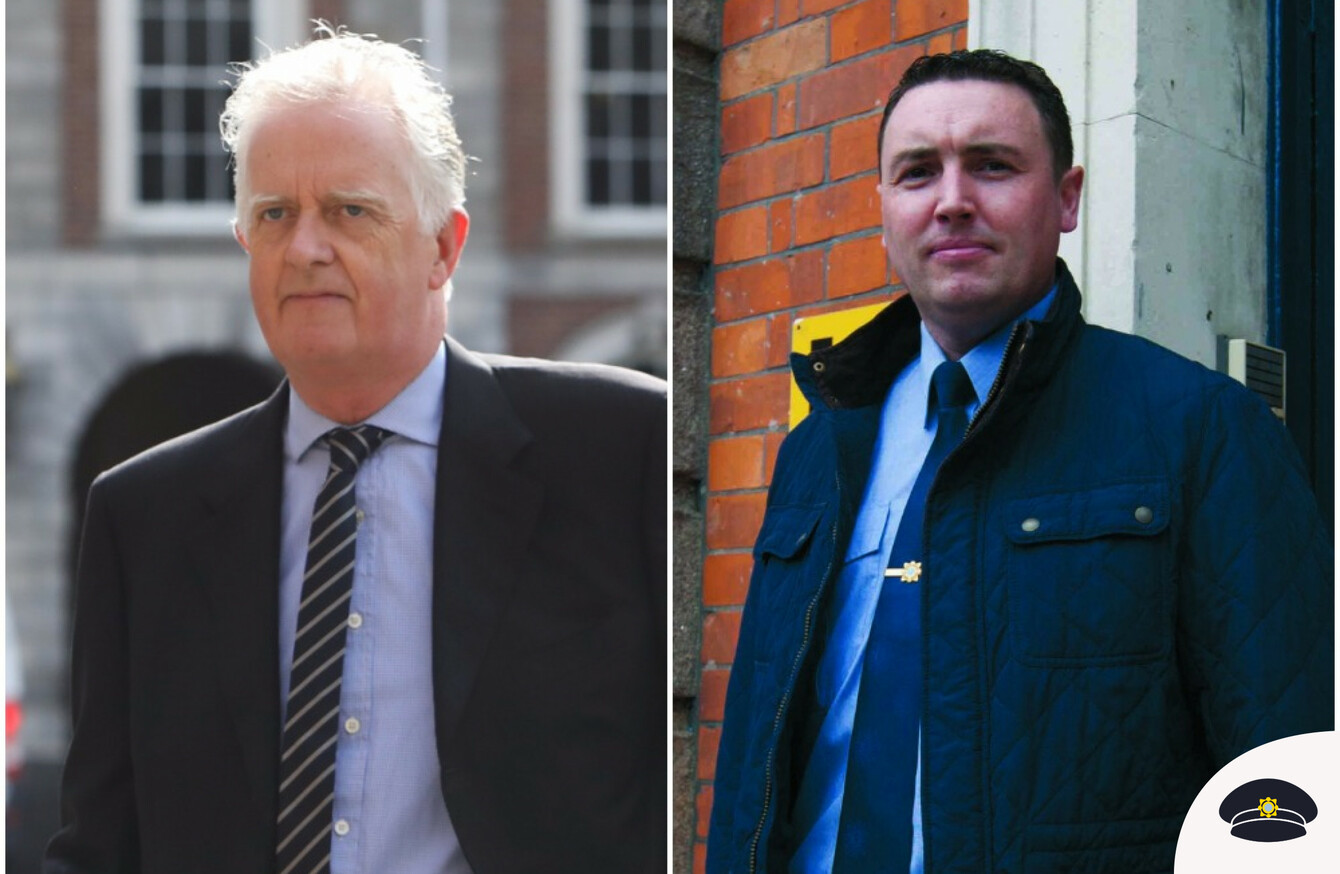 Mr Justice Peter Charleton (left) dismissed all of the claims made by Garda Keith Harrison (right) in a scathing report.
Image: Rollingnews.ie
Mr Justice Peter Charleton (left) dismissed all of the claims made by Garda Keith Harrison (right) in a scathing report.
Image: Rollingnews.ie
THE WORD "NONSENSE" appears in Mr Justice Peter Charleton's report on the allegations made by Garda Keith Harrison four times over the course of the 97-page report.
The judge forensically examines the evidence brought before the tribunal related to claims made by Harrison. He alleged that gardaí conspired with child and family agency Tusla to directly interfere in his family life in Donegal, as a result of his whistleblowing activities some years previously in Athlone.
Having sought the aid of politicians, with Labour's Alan Kelly and independent Mick Wallace among those who had publicly supported him, Harrison's case was included in the terms of reference for the tribunal, alongside Maurice McCabe.
He met with Minister Katherine Zappone at the beginning of the year, and outlined his case to her in the strongest terms – yet almost all of those claims were dismissed by Mr Justice Peter Charleton in tonight's interim report.
In a statement in February, Harrison said: "The treatment of Sergeant McCabe and myself bear similarities." He goes on to say that the "striking similarities" show that this "formed part of an orchestrated system and culture within senior management of An Garda Síochana".
Mr Justice Charleton, however, disagreed. After 19 days of evidence, given in public at Dublin Castle, he found that the allegations made by Harrison and his partner Marisa Simms "simply collapsed".
Background
Harrison's case was that he was mistreated by gardaí, bullied by colleagues and, crucially, that the gardaí colluded with Tusla by coercing a statement from his partner Marisa Simms and directing social workers to visit their family home in Letterkenny.
The pair had an argument at the end of September 2013. Both Simms and Harrison told the tribunal that angry words were exchanged, and that it resulted in Simms leaving the house with her children.
A week later, Simms visited Letterkenny Garda Station and gave a statement to two gardaí about the incident. In that statement, she claimed that Harrison threatened her and members of her family.
She would later retract that statement before Christmas of that year.
Gardaí insisted to the tribunal that they followed proper procedures in dealing with the original complaint made by Simms and that they referred the matter to Tusla because the children were present when this argument took place.
A Tusla social worker visited the family on one occasion in February 2014, and recommended that no further action be taken. Harrison would describe this as "the ultimate invasion" into their family lives.
At the tribunal, however, both Harrison and Simms rolled back on their original claims that the social worker told them that she was directed to visit them after pressure from gardaí.
'Nonsense'
The judge goes through Harrison's and Simms' claims very thoroughly.
In a number of instances, he is sharply critical of Harrison's testimony in particular. He said that there were a number of instances where Harrison was involved in "tailoring his evidence to what suits his purpose at the time".
One such instance is Harrison's account of his relationship with Sergeant David Durkin.
Harrison said that a serious level of malice had built up towards him at Donegal Garda Station. Justice Charleton said that "he ascribes this to the oversight of Sergeant Durkin, saying that he would treat other gardaí differently to him and that 'as the months went on there was always a hostile reception' where he was discriminated against by not being offered overtime".
The tribunal is satisfied that this is nonsense…. He [Durkin] was put in the unfortunate position of having Garda Keith Harrison under his command. He did absolutely nothing wrong and all of the allegations of Garda Keith Harrison are rejected.
'Not reliable'
On the claims that Simms was coerced into giving her garda statement in October 2013, the judge was similarly dismissive.
He said that Inspector Goretti Sheridan and Sergeant Brigid McGowan, who took the statement from Simms, were accused of "distorting her words or putting words into her mouth, or changing her literal words with a view to making Garda Keith Harrison seem bad, or worse than he was".
All of this was done, so they assert, for the purpose of undermining their family life. This is nonsense.
Instead, the judge said that the truth of the matter is borne out by text messages sent by Simms herself. He said that Simms "made a lengthy and frank statement of complaint about Garda Keith Harrison".
"There is a regrettable tendency to exaggerate in her evidence," he said. "Her evidence was not inherently reliable.
The allegations against two diligent garda officers by Marisa Simms are exploded by the relevant text communications between her and Garda Keith Harrison in the aftermath of his conduct on 28 September 2013. These make shocking reading.
Mr Justice Charleton said that, at this point, it was better to let the texts do the talking for him.
A week before she made the statement to the officers, Simms told Harrison by text: "U r so full of shit, u make me sick.. Love! U don't know the meaning of the word… U have threatened me for the last time."
Looking at the actions of the gardaí in investigating Simms' complaint, the judge found that "there is no such evidence" that the garda authorities "acted maliciously".
"They [the gardaí] did not create this situation," he said. "The responsibility for that is clear."
Death threats
Another aspect of Harrison's testimony is that he felt intimidated by gardaí who would frequently pass by his home.
He outlined two separate occasions where an anonymous person rang into the local garda communications centre to say that they had overheard a plan to murder him.
Mr Justice Charleton said: "One of the allegations made by Garda Harrison during the hearing was that this was not taken seriously enough, though curiously in his statement to the tribunal he complains of garda activity near his residence.
This was designed to protect him. He regards it apparently as some form of harassment or intimidation. This is nonsense. The reality is that threats were reported.
"Because of the vulnerability of gardaí in the community, the threats were taken seriously and action was taken. The matter continued over several months to be discussed at high level. Garda Keith Harrison was put on indoor duties. He was less vulnerable in that position."
'Unfounded allegations'
Towards the end of the report, Mr Justice Charleton said that "despite the amount of time taken by Garda Keith Harrison at the tribunal hearings in pursuing these unfounded allegations, they can be dealt with concisely".
"Firstly, it was right to treat the allegations of Marisa Simms seriously," he said. "The plain reality is that serious action needed to be taken, and quickly."
Secondly, it was appropriate to refer the allegations to the HSE… The relevant social workers had no doubt that these allegations were properly referred by the gardaí.
"Thirdly, the referral to the Garda Síochana Ombudsman Commission was not done in bad faith… This was not a case where serious risk of death had occurred through injury to Marisa Simms. That, however, does not mean that the referral was in bad faith or was done for the purpose of abusing power against Garda Keith Harrison.
To any objective person, the statement of Marisa Simms makes grim reading. She complains of a litany of abuse over some two years. It is possible for a reasonable person reading that statement to conclude that she must have been substantially harmed.
The judge's language is even stronger on the question of whether there should have been a criminal investigation into Simms' original allegations. It was decided at the time that there should not be.
Harrison had complained that there was a "malicious investigation to cause further upset to his family" – but the judge ruled that it was a legitimate matter for Garda watchdog body GSOC to investigate.
Harrison was not informed of the investigation because, at the time it was being done, he had entered into the confidential recipient process – the whistleblowing process whereby a garda can report corruption or malpractice within An Garda Síochána.
A senior garda told the tribunal that to have contacted Harrison at this stage may have "been seen as a form of harassment" or may have been seen as an effort to "hinder him or prevent him from engaging with the process".
Charleton said:
It is an extraordinary irony that in consequence of kindness shown to Garda Keith Harrison and as a result of a conscious decision to enable him to make whatever complaints he wished to make that holding off on interviewing him is now to be blamed on the organisation which treated him humanely. This allegation is rejected.
'Not the same'
As well as being very critical of both Harrison and Simms in his conclusions, the judge also had some tough words for Harrison in his recommendations at the end.
"Imposing and maintaining proper discipline is not the same as bullying or harassment," he said.
An astonishing aspect of this section of the tribunal's work has been the extent to which it has been regarded as tolerable by Garda Keith Harrison that he should be entitled to complain about his superior officers taking the view that… he should not be transferred to Letterkenny just because he wanted it for his own convenience… it was inappropriate to use the garda Pulse system to check up on an ex-girlfriend… when he fails to adhere to discipline, his commanding officers should be entitled to speak to him, remonstrate with him in strong terms and offer him advice.
He cited the example of when one of Harrison's superiors found out that Simms and Harrison were in a relationship while he was stationed in Buncrana in 2011, and that he he had not informed them about it.
This would have been of great importance to colleagues there because Simms' brother had been found guilty of the manslaughter of a garda who'd been stationed there in the recent past.
"Chief Superintendent Sheridan would have been perfectly entitled to have called him 'underhanded' and 'deceitful'," the judge said.
Instead, apparently, even in such serious issues as this, senior officers are expected to feel for the sensitivities of those who infringe discipline rather than thinking about the duty that the police forces owes to the country.
Looking to the future
Keith Harrison had insisted his case bore striking similarities to McCabe, but it is apparent that Mr Justice Peter Charleton thinks otherwise, having chosen to publish a report on Harrison's case separately, before hearing the full witness accounts in relation to McCabe's case.
The tribunal was set up in February of this year to investigate claims that members of the gardaí sought to discredit Sergeant Maurice McCabe because of complaints he made about members of the force.
"This is an entirely different matter," the judge said at the close of his interim report.
There is no fact found in this part of the enquiry that has any impact on those matters that are listed in the terms of reference as raising public disquiet as to his [McCabe's] treatment.
The judge said that the tribunal would resume in January, starting with an examination of the O'Higgins Commission controversy (which almost brought down the government this week).
Alongside that, it will hear about a protected disclosure made by former garda press officer Superintendent David Taylor, who alleges that he was directed by former Commissioner Martin Callinan to smear McCabe in the press.
The tribunal will then wrap up by Easter 2018, the judge said.
"The tribunal again feels it necessary to earnestly ask for the help and cooperation of all those who can assist in getting to the truth behind all these matters of serious public disquiet," he added.
Pending some sort of legal challenge by his solicitors, that's the last time the tribunal will look at the case of Garda Keith Harrison.
'Without validity'
Unequivocally, confidently, and often brutally, Mr Justice Charleton has dismissed the claims made by Garda Keith Harrison.
"All of the allegations… are entirely without validity," he said.
With Martin Callinan, Nóirín O'Sullivan, Frances Fitzgerald and David Taylor set to give evidence to the Tribunal in the near future, the judge has set the tone with this report for how he will deal with claims set before him.
The government mantra over the last few weeks has been to let the tribunal get on with its work. After decisively dismissing Harrison's claims, it will now do just that, starting 8 January 2018.