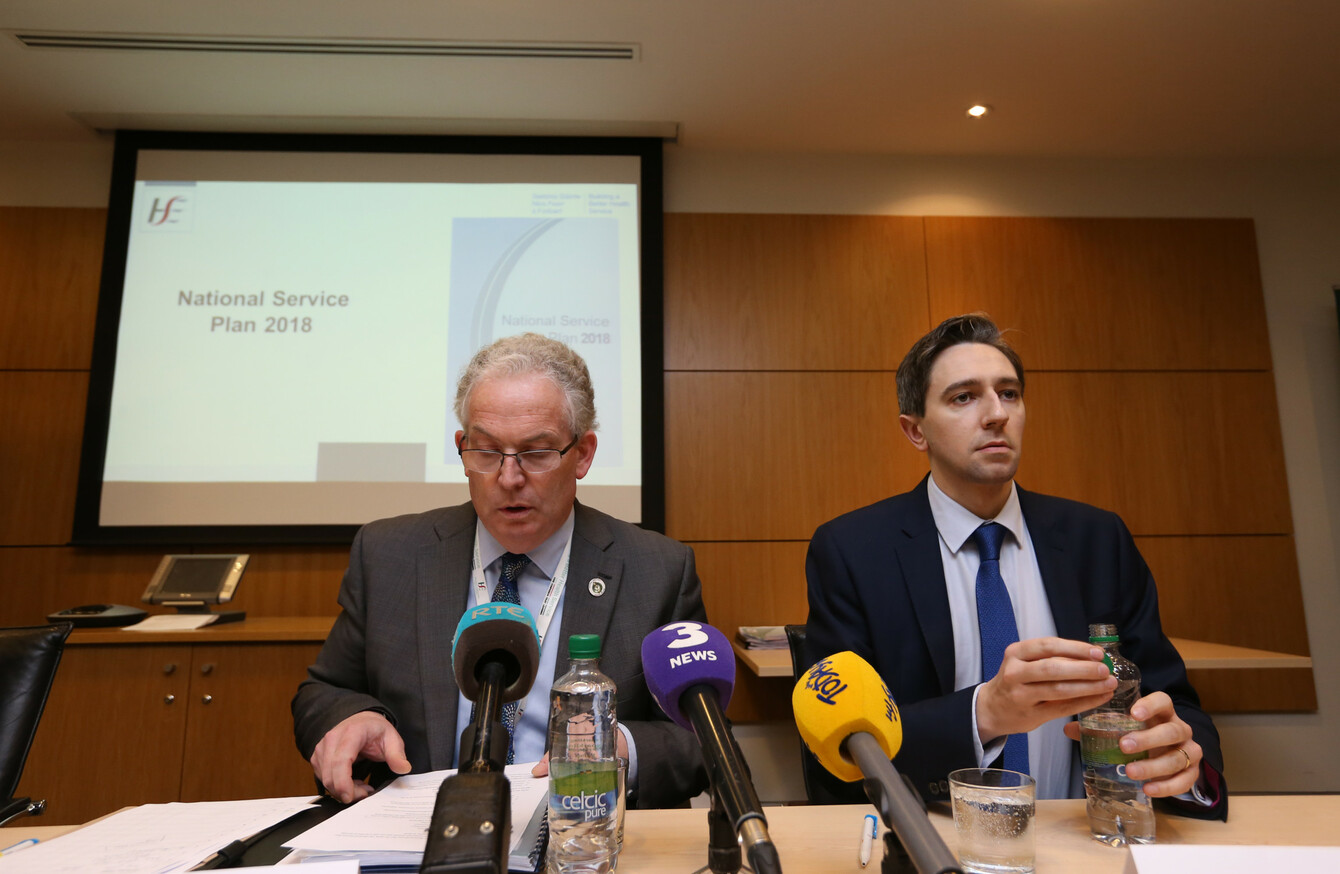 Image: Sam Boal
Image: Sam Boal
Updated Nov 5th 2018, 4:46 PM
HEALTH MINISTER SIMON Harris has said he'll continue to hold people to account, after the former HSE CEO Tony O'Brien called him a weak minister and a "frightened little boy".
In an interview with the Sunday Business Post yesterday, O'Brien criticised Harris as having been scared of headlines, made criticisms and recommendations about the health service and said that the Public Accounts Committee was a "kangaroo court". 
It's not the first time he's criticised the health service: during his tenure as HSE chief, he called the organisation an "amorphous blob".
O'Brien stepped down from his role in May following pressure over the CervicalCheck controversy. 
In recent months it has emerged that the results of earlier smear tests of at least 221 women who were subsequently diagnosed with cervical cancer could have been interpreted differently. 
O'Brien said he disagreed with Harris's decision to offer another smear test to every woman in the country, describing this as a "panicked response" as "their original smear tests could be reread".
Today, while announcing 60 additional beds in Limerick, Simon Harris was asked about the interview. 
My reaction to that today is going to be the same as it was yesterday. It will be the same as my reaction tomorrow, the next day and every other day. I do not engage in the politics of personalised attacks.
He said that announcing measures like additional beds was what people cared about, "not name calling".
He added that he appreciated the comments of Vicky Phelan in response to the article, who retweeted messages of support for Harris, as well as an opinion article that said Tony O'Brien should "get off the stage".
Phelan said last night that although she doesn't question O'Brien's achievements, on the response to the CervicalCheck controversy: "You got it wrong, Tony. And you were judged on getting it wrong".
O'Brien admits in the interview that the HSE's response to the CervicalCheck scandal was a "trainwreck".
"It was a very frightening time for women in this country," Harris said of the CervicalCheck controversy.
My priority was always making sure the needs of those women came first and I will never apologise for holding people to account, for asking officials the hard questions and demanding people do better.
Earlier today, Taoiseach Leo Varadkar defended Harris, saying that people should "not forget the circumstances under which [O'Brien] decided to step down early". 
"That was the HSE's very bad handling of the CervicalCheck controversy, which he admits himself was a trainwreck. I think he was right to step down," Varadkar said. 
Defending Harris, he said: "All I'd say to people is look at that guy's record.
"In the past six months alone, he brought through the referendum to repeal the Eighth Amendment and at long last he enacted the Public Health Alcohol Bill legislation that's going to save a lot of lives. 
"That's two pretty big achievements by a Health Minister in six months."
Varadkar added that he believes that anything Harris "may lack in terms of experience or age, he makes up in his commitment and compassion". 
'Fall from grace'
Yesterday, Harris was also defended by his Fine Gael colleague Charlie Flanagan on RTÉ Radio 1′s This Week, who said: "This is Tony O'Brien, head of the HSE, who stepped down following a pretty rapid fall from grace himself when he admitted that his own HSE, which he led, treated the tragedy of the cervical cancer issue as a trainwreck – they're the words of Tony O'Brien himself…
#Open journalism No news is bad news Support The Journal

Your contributions will help us continue to deliver the stories that are important to you

Support us now
"I have no doubt, and I sit beside Simon Harris at Cabinet, that he is a very dynamic health minister and that he is very committed. In, for example, cervical cancer, women are coming front and centre to all of the actions that Simon Harris undertakes in that regard."
In a statement, a spokesperson for Harris said the minister "doesn't believe in engaging in the politics of personalised attacks" and thinks O'Brien made the right decision in stepping down.
"The CervicalCheck situation was a very difficult time for women in Ireland. They felt let down. The women were and are the minister's priority."
Social housing
Taoiseach Leo Varadkar made his comments whilst speaking to reporters following the opening of 42 new social housing homes in Stormanstown, Ballymun Road, Dublin. 
The development has been constructed by Oaklee Housing Trust in partnership with Dublin City Council. 
The development comprises of 31 one, two and three-bedroom apartments and 11 townhouses. 
With reporting by Órla Ryan and Gráinne Ní Aodha