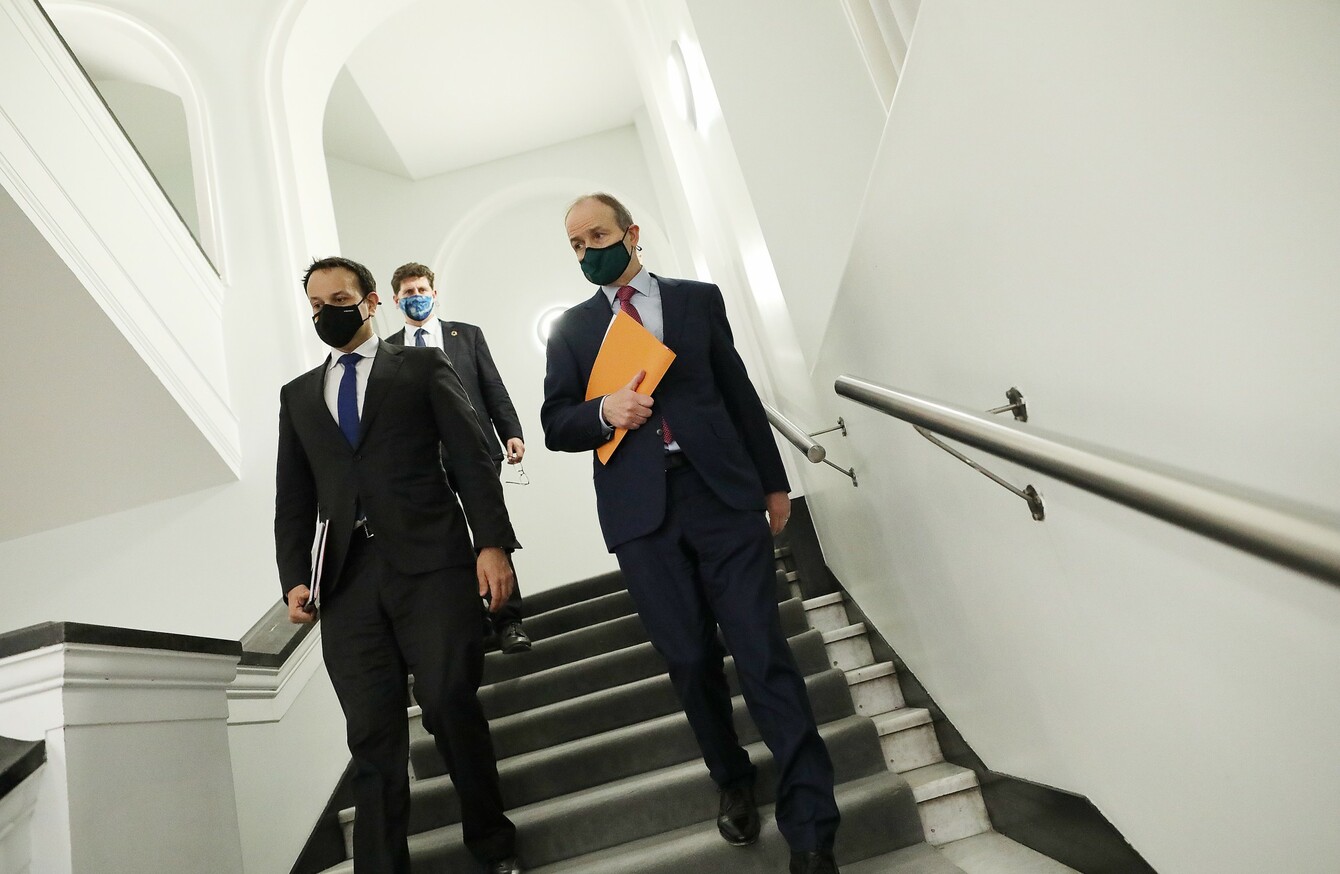 Image: Julien Behal Photography/RollingNews.ie
Image: Julien Behal Photography/RollingNews.ie
Updated Feb 24th 2021, 2:06 PM
THE GOVERNMENT'S REVISED Living with Covid plan is a "wing and a prayer" strategy that contains nothing to give people hope, the Dáil has heard.
Taoiseach Micheál Martin unveiled the new plan yesterday , which will see Level Five restrictions continue until 5 April at the earliest.
But Labour leader Alan Kelly attacked the plan during Leaders' Questions today, saying it contained nothing new and is entirely reliant on vaccines.
He said: "It's a hope and see strategy. There's nothing in it. There's nothing new in it that we didn't know already, it's basically a wing and a prayer and it's totally reliant on vaccines.
"There's nothing there to give people hope. The people are in despair.
"I have never in my political career felt the despair I have over the last number of weeks, particularly given all the communications failures that you've had.
"And my real issue is that there are no new tools to suppress the virus, nothing in the plan to suppress the virus. Let's just wait for the vaccines."
The Taoiseach responded by saying the tools needed to suppress the virus have not changed, regardless of the emergence of new variants of Covid-19.
He said: "The suppressing of the virus, irrespective of form, doesn't change in terms of what we must do as a society.
"It doesn't actually change according to the public health experts. What I mean by that is the social distancing, the avoidance of congregation.
"That's what drives down virus levels. We should be driven by data and not dates. You haven't specified any metrics this morning in your contribution."
Vaccines are working, says Taoiseach
Martin also defended the reliance on vaccines, saying there is already evidence that they are working.
He said: "Vaccination is working already in our hospital care settings. It is having a dramatic effect on reducing infection among frontline health care workers.
"(We are) One of the few countries that targeted that area, in terms of the vaccination programme and it is working.
"It's having a real impact, and it will have an impact on older people, and on those who are most vulnerable."
Earlier today, Social Democrats co-leader Roisin Shortall criticised the lack of targets in the government's roadmap.
"We're continuing to say we'll do this until April and we'll see what we do after that. I think that's the wrong approach – to work on the basis of target dates – we should be talking about target case numbers and then we also should be putting in place, I believe, concrete measures to drive down numbers. They're staying stubbornly high at the moment, mainly because of the new variant."
Shortall said it should not be "a matter of wait and see".
"It should be a case of the government saying 'these are the steps now that we're all going to take in order to drive those down those numbers', so we can be confident that the schools will open – and stay open.
She said there are "major areas" that were not addressed in the plan such as resourcing public health so that more intensive contact tracing can be done.
She said from traffic levels it appears that a lot of people have gone back to the workplace and employers should be "directed to ensure that wherever possible workers should work from home".
I think there are also issues in relation to low paid workers, those in meat factories, for example, who are in high-risk situations, and some clusters developing there and I think better financial support needs to be provided to people in those circumstances so they don't feel under pressure to go in to work and they have symptoms.
Cork nursing home
In the Dáil today, the issue of nursing homes was also raised with the Taosieach.
Solidarity/People Before Profit TD Mick Barry has called for a full investigation into an outbreak of Covid-19 at the Ballynoe Nursing Home in Co Cork.
A group of five families affected by the outbreak have joined forces and sought legal advice in a bid to find out why and how the outbreak happened.
The outbreak began on 8 January this year and resulted in all residents and staff contracting the virus, leading to 21 deaths, Barry said.
The Ballynoe home is part of a chain of facilities owned by a fund, he said.
The Taoiseach said he will engage with the Minister for Health on the issue, adding questions about the outbreak deserve "full and comprehensive answers".
He added: "HIQA (Health Information and Quality Authority) have been engaging regularly with the provider, prior to and since they were notified of the outbreak on 9 January.
"It's understood that the provider did not request any additional support or ask for any issues to be escalated.
#Open journalism No news is bad news Support The Journal

Your contributions will help us continue to deliver the stories that are important to you

Support us now
"Following receipt of the statute notification of 14 deaths between February 7 and 9, HIQA carried out a risk inspection on February 11.
"Its inspectors review the arrangements in place for visiting, as well as records heads in relation to visiting and family engagements.
"The chief inspector will prepare an inspection report now, proclaiming its findings and this report then will be published when the full process concludes."
Martin said he understands that relatives are anxious for engagement, and he will discuss this with the Minister for Health prior to the conclusion of the HIQA report.
As of last night, there were 642 people with Covid-19 in hospital, with 149 people in ICU and a further 103 Covid-19 patients on ventilation. 
Yesterday, 575 new cases of Covid-19 have been confirmed in Ireland, and a further 45 people confirmed to have Covid-19 died.
As of 21 February, 353,971 doses of Covid-19 vaccine have been administered in Ireland:
222,073 people have received their first dose
131,898 people have received their second dose
- With reporting from Press Association, Michelle Hennessy and Chrstina Finn