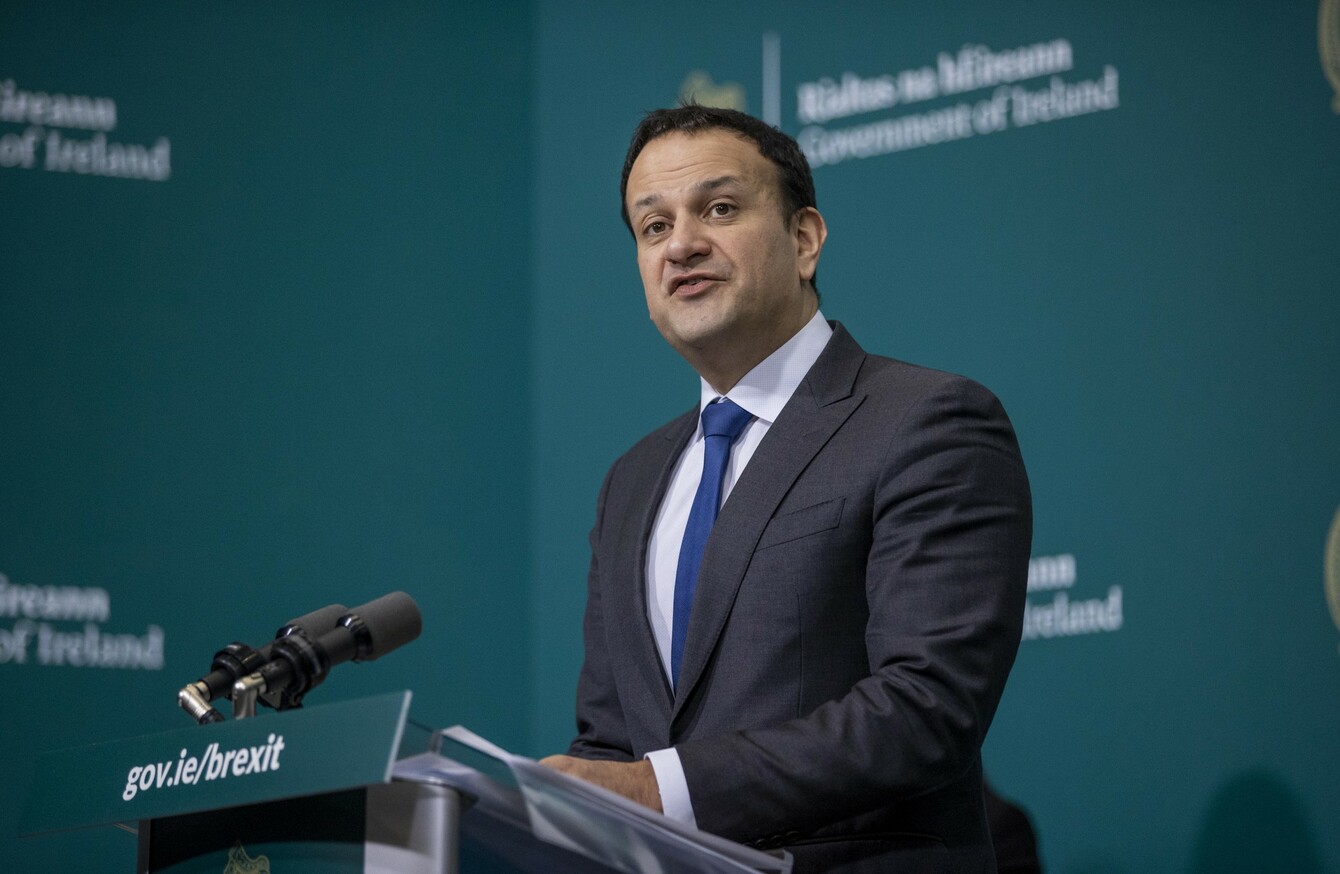 Image: Julien Behal Photography
Image: Julien Behal Photography
Updated Apr 21st 2021, 2:51 PM
TÁNAISTE LEO VARADKAR has said he hopes the single-shot Johnson & Johnson vaccine is recommended for use in the under-60s in Ireland because there are "enough vaccines for the over-60s". 
Yesterday, the European Medicines Agency (EMA) said that the "overall benefits" of the J&J vaccine outweighs any potential risks, following reports of rare blood clotting events. 
The EMA previously approved the J&J jab for use in the EU and Ireland's National Immunisation Advisory Committee (NIAC) is now considering its advice in terms of how it will be used here. 
Ireland is due to receive over 600,000 doses of the J&J vaccine before the end of June. 
With the AstraZeneca vaccine now only being used in Ireland for over-60s, Varadkar told reporters today that he hopes J&J will come on stream for younger age cohorts. 
NIAC is said to be considering the question tomorrow but it is unclear when their advice will be presented. 
"I really hope that they will allow us to use it in people under 60 because we have enough vaccines for the over-60s," Varadkar said.
You can use all four licensed vaccines now in the over-60s, it's the under-60s that I'm concerned about and I just hope they'll make that decision on balance to allow us to use it in a younger age group. 
Varadkar said that such approval would mean 600,000 people fully vaccinated by the end of June. 
He added that the decision on the use of the J&J vaccine would have an influence over the decision on whether Ireland would increase the gap between the first and second doses of mRNA vaccines Pfizer and Moderna. 
He said a decision on that spacing between doses will likely be made next week at the earliest. 
"The first decision and the crucial decision is whether we can use the Johnson & Johnson vaccine on the under-60s, which I hope that we can," he said.
We're going to rely on NIAC advice on that. It will be be a shame to have hundreds and thousands of vaccines and not be able to use them. 
Speaking about the government's plans for the loosening of Covid-19 restrictions, Varadkar said he "likes to offer hope" but that some caution is required due to cases "leveling out and increasing slightly" over the past couple of days.
"That's not unexpected, there's been a lot of extra movements in the last week or two, everyone going back to school, the 5km rule being dropped, we are now seeing evidence of cases starting to rise again," he said.
Varadkar said that Ireland's Covid-19 situation would have to be monitored ahead of a government meeting to discuss the possible re-opening of the economy from May.
The Fine Gael leader warned that despite positive signals from health officials in recent days, the epidemiological situation could change in the coming days. 
The government is set to meet towards the end of next week to discuss an easing of Covid-19 restrictions over the summer, with guidance for the re-opening of non-essential retail, construction and other sectors expected in May.
Speaking about the potential for inter-county travel in June and whether people should book holidays in Ireland, Varadkar said it's too early to give an indication on that. 
"I can't at this stage, I'd just say to anyone who is booking, fair enough book, make a booking but make sure it's refundable and you've read the terms and conditions," he said.
Inter-county travel is currently not possible, this virus keeps surprising us and June is a long way away. Six weeks is a long time in a pandemic. I'd love to give people an indication on inter-county travel, I just can't do that at this stage.
Despite Varadkar's reference to case numbers increasingly slightly in recent days, the number of patients being treated for Covid-19 in Irish hospitals has continued to fall.
Data published on the HSE website last night shows that there were 172 people being treated for the virus in hospital at 8pm last night, a number last reached on 8 October.
It represents a fall of three patients from 24 hours previously, with the highest number of patients being treated in hospitals in Dublin and Limerick.
According to the same figures, there were 47 patients being treated for Covid-19 in intensive care units at 6.30pm yesterday evening. Of these, 28 were being given ventilation care.
#Open journalism No news is bad news Support The Journal

Your contributions will help us continue to deliver the stories that are important to you

Support us now
Varadkar told Today FM's Dermot and Dave Show this morning that health officials had reported positive news in recent days, but warned that the situation would be monitored over the next week before a decision about re-opening the economy was made.
He said if case numbers and the vaccine rollout remained on track by next week, the government hoped to allow personal services such as barbers and hairdressers, outdoor activities, and some religious services to return in May.
"I'm hoping there'll be no setbacks, but just the last day or two would give you pause for thought," he added.
-