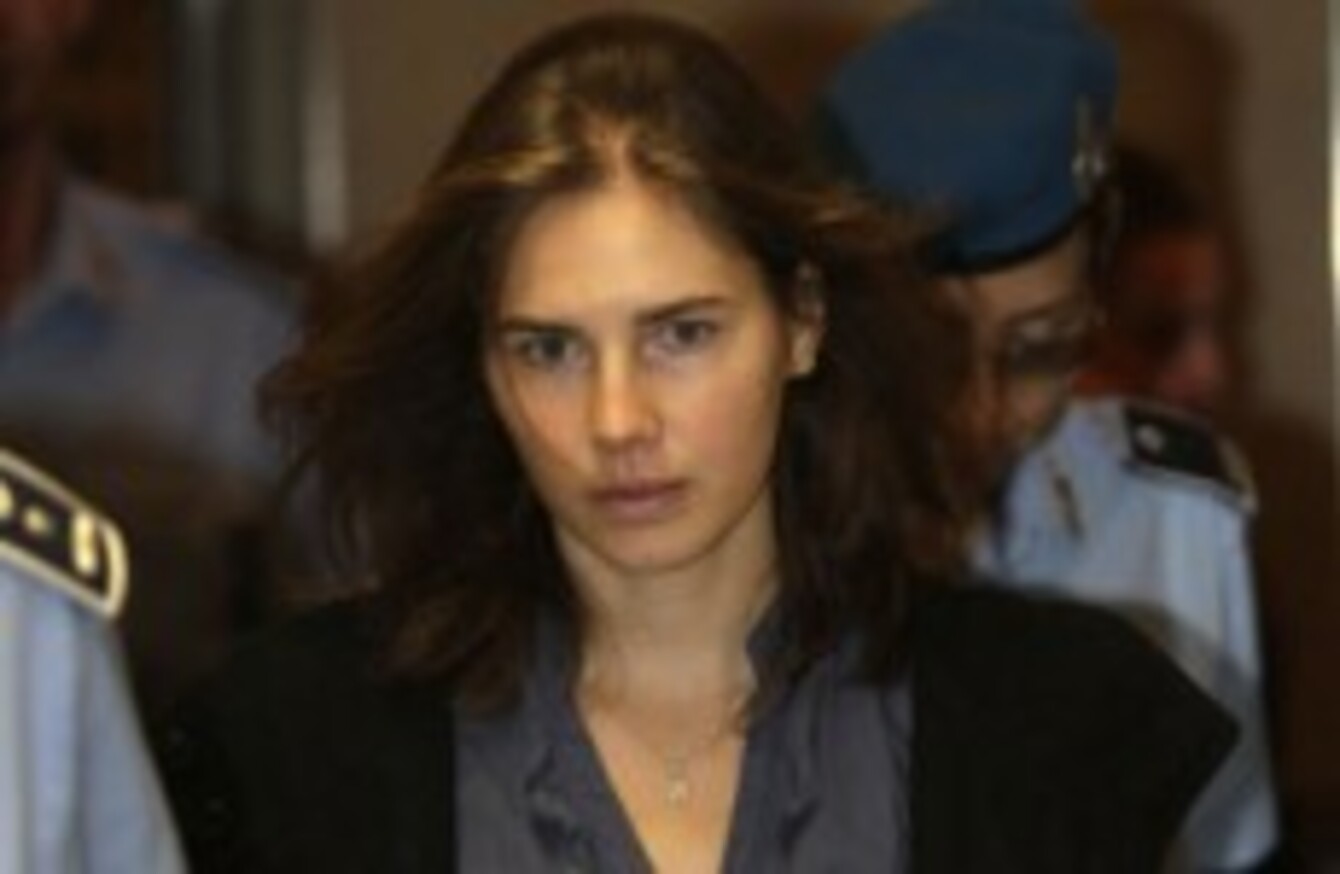 Amanda Knox at the court in Perugia, Italy on Friday.
Image: AP Photo/Lee Jin-man/PA
Amanda Knox at the court in Perugia, Italy on Friday.
Image: AP Photo/Lee Jin-man/PA
Updated at 10.20am
AMANDA KNOX and her former boyfriend Raffaele Sollecito are to learn today of the success or failure of their murder appeal.
Both are appealing their conviction for the sexual assault and murder of Knox's flatmate, British student Meredith Kercher, in 2007. Knox was sentenced to 26 years in prison and Sollecito to 25. Both deny any involvement in the murder.
Today, they could be acquitted, or they may have to face longer terms than their original sentencing; the prosecution has called for life sentences to be imposed.
Addressing the court this morning before the jury retired to consider its verdict, Knox and Sollecito insisted they are innocent. Sollecito spoke first and told the court he had never hurt anyone in his life.
Giving her statement in Italian, La Repubblica reports that an emotional Knox said: "I did not kill, I have not raped, I did not steal. I was not present at this crime." She also disputed "the perversion, the violence, the lack of respect for life" which her accusers claim she exhibited.
Knox said she never knew pain before Kercher's death and that she has "always wanted justice for her".
"She had her bedroom next to mine, she was killed in our apartment. If I had been there that night, I would be dead," she said. "But I was not there."
Closing arguments
In their closing arguments, the prosecution criticised an "almost obsessive" media campaign in support of Knox, saying it has forgotten the victim of the crime, Kercher. Reviewing their main evidence in the case, prosecution lawyers showed graphic images of the murder scene and played down a recent independent review of DNA evidence which was crucial to convicting Knox and Sollecito.
The review questioned the quality and possible contamination of DNA samples taken from the scene.
Meanwhile, Knox's defence team also criticised the media focus on the case, saying their client has been unfairly portrayed as manipulative and sex-obsessed. Comparing Knox to the Who Framed Roger Rabbit character Jessica Rabbit, her lawyer Giulia Bongiorno said Knox "is not bad, she's just drawn that way".
'Meredith has been forgotten'
In a recent television interview, Kercher's sister  Stephanie and mother Arline said that their daughter is being forgotten as attention focuses on Knox and Sollecito. "She was lovely and kind and we lost her," Stephanie said of her late sister.
"In this whole case  - going on four years – Meredith has been forgotten. The attention has completely moved from Meredith to Amanda and Raffaele," she said.
Meredith's father John said he has refused to view her body as he wants to hold on to the memories he has of meeting her for the last time, when she was on a trip home from Italy to buy winter clothes a few weeks before her death. He said that although Knox may seem an unlikely killer to some, the Kercher family believes she is guilty.
The verdict for Knox and Sollecito's appeal is expected to be returned this evening.
A third person was convicted for Kercher's murder in a separate proceeding: Rudy Hermann Guede from Ivory Coast. He has been sentenced to 16 years and also denies wrongdoing.
- Additional reporting by the AP