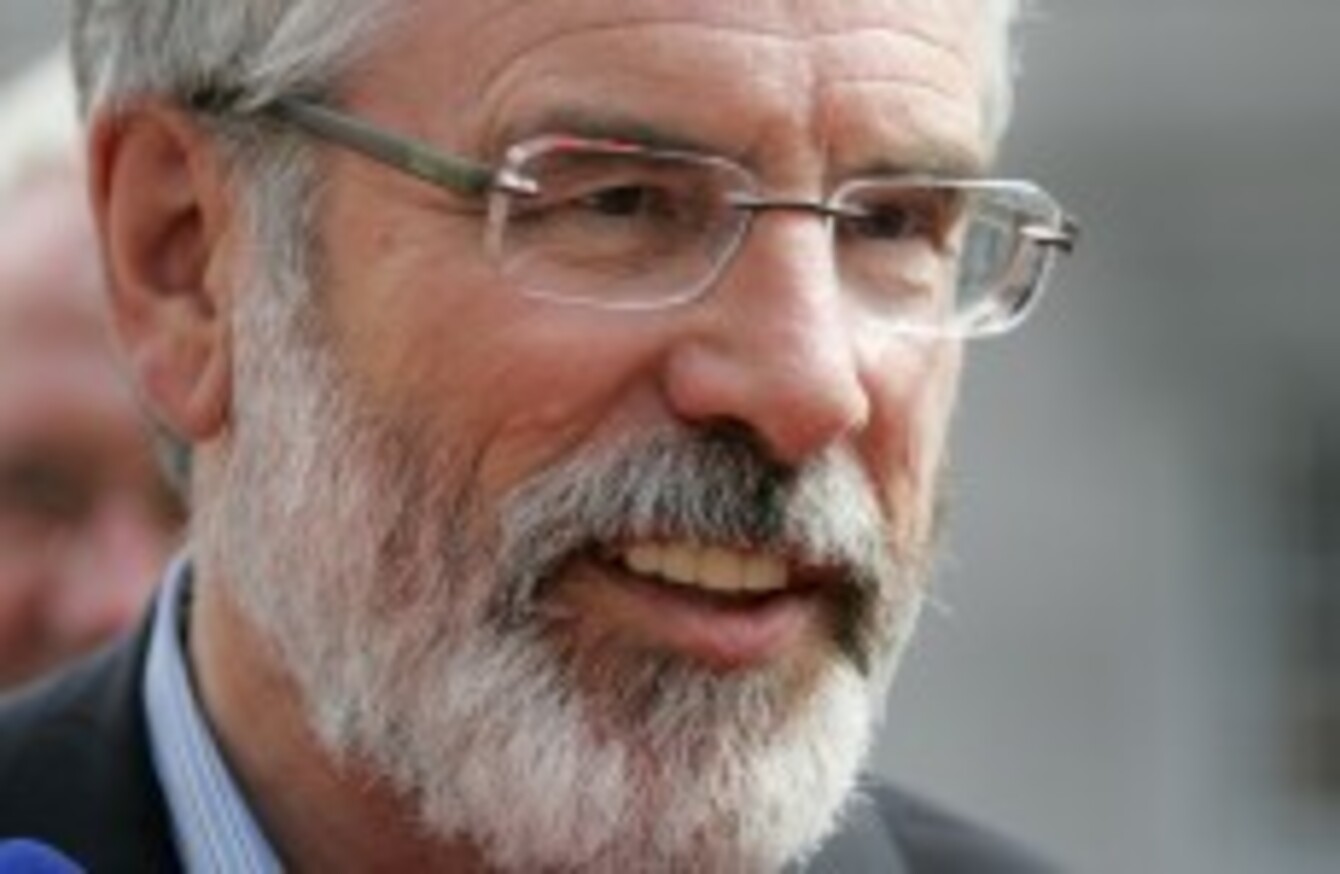 Image: Sam Boal/Photocall Ireland
Image: Sam Boal/Photocall Ireland
SINN FÉIN PRESIDENT Gerry Adams has been challenged over his party's Vote No pamphlets for the Fiscal Compact – which include critical quotes from economists who are overall in favour of the treaty.
Sinn Féin's leaflet includes quotes from four people – SIPTU president Jack O'Connor, the UCD pairing of Karl Whelan and Colm McCarthy, and UCC's Seamus Coffey.
The UCD pair are both quoted as offering criticisms of the treaty in the pamphlet, even though each is arguing in favour of a Yes vote.
The quote attributed to Whelan is as follows:
… the economics of this treaty are pretty terrible …
…but, as Whelan himself points out on his blog, his full quote – taken from an Oireachtas committee hearing on the treaty – was:
All that said, although I think the economics of this treaty are pretty terrible, on balance, the arguments favour Ireland's signing up to it.
The comments attributed to McCarthy include the line, "As an exercise in addressing the eurozone's twin banking and sovereign debt crises, the fiscal compact makes no worthwhile contribution".
This is the opening line from the second paragraph of a piece written by McCarthy for the Irish Independent on February 28, entitled: 'A Yes vote is the correct response, unavoidable and in the country's best interests'.
Although Seamus Coffey has not indicated whether he supports the treaty or not, he has written that there is "little to be gained from rejecting the treaty".
The leaflet quotes him as telling an Oireachtas committee in February:
Had the Fiscal Compact been in place since 1999, it could not and would not have prevented the crisis in Ireland.
The pamphlet was raised in an Oireachtas committee by Fine Gael's Paschal Donohue this afternoon, who put it to Adams that Sinn Féin was deliberately using selective quotes because there was a "black hole" in its anti-treaty arguments.
Adams said Donohoe "cannot deny" that the three "eminent" economists had still criticised the economic theory underlying the treaty, and insisted all the quotes were accurate.
"The fact is, he [Coffey] made a judgement on it," Adams said.
Adams challenged Donohoe to offer counterarguments to the statements included on the leaflet.
"I do acknowledge that – but what I draw to your attention is that they have drawn a value judgement on the treaty," Adams said.
The economics are pretty terrible, it would not have prevented the crisis, and it makes no worthwhile contribution to addressing the Eurozone's twin banking and sovereign debt crises.