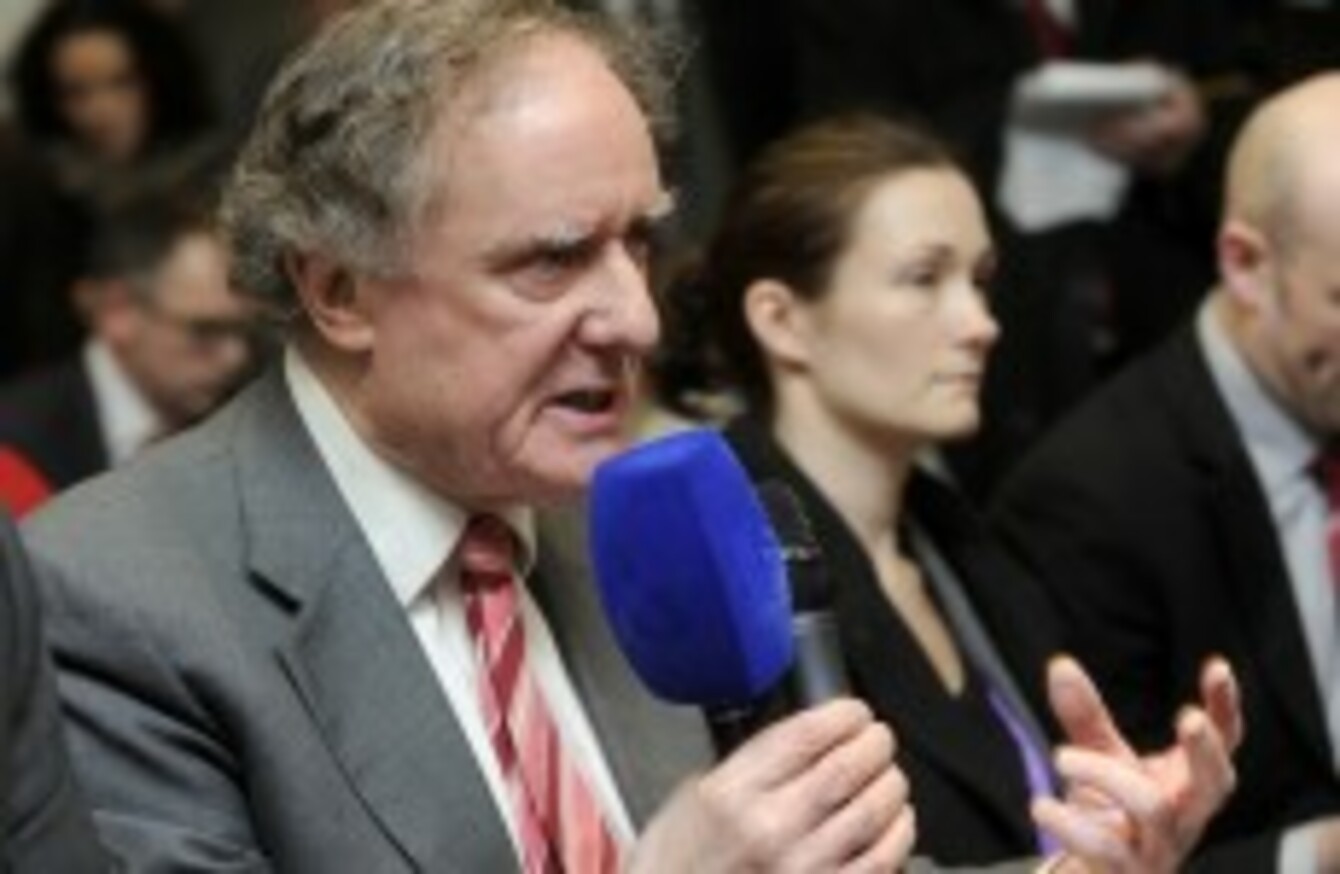 Image: Laura Hutton/Photocall Ireland
Image: Laura Hutton/Photocall Ireland
BROADCASTER AND JOURNALIST Vincent Browne has accused telecoms and media magnate Denis O'Brien of seeking to use his personal "considerable wealth to stifle criticism" from journalists.
In correspondence between the two – published today by Politico.ie, a website co-founded by Browne – the TV3 broadcaster says threats by O'Brien to personally sue him over comments made on his show, and in his Irish Times column, are "an abuse of the wealth and the attendant power you have acquired".
"I will do what I can to resist that," Browne says.
The comments from Browne come at the end of a letter issued in response to a five-page missive from O'Brien, in which the Esat Digifone founder takes issue with comments made by Browne on the subject of the Moriarty Tribunal.
O'Brien comments that while he had "always respected your right to freely express your views and opinions", he believed Browne had "cast balance and factual accuracy aside" in his written and broadcast remarks.
In particular, O'Brien contests Browne's claim – in an Irish Times article of June 13 – that O'Brien had moved to Portugal shortly after the sale of Esat Telecom to BT, from which O'Brien received IR£289 million, "in order to avoid paying the capital gains tax bill of €70 million".
O'Brien responded:
I had moved to Portugal some time before the sale of Esat Telecom to British Telecom, and did so for perfectly valid and legitimate personal and business reasons. Once again you are guilty of perpetrating the lazy version of history.
In his response, however, Browne said he had personally visited O'Brien in his office on a previous occasion to discuss a separate matter, when the latter had opened a file of articles Browne had written about him.
[I]nstead of claiming there was no connection with your move to Portugal and the avoidance of capital gains, you said you did not want to pay capital gains tax because you believed the government would misuse the proceeds.

We discussed then the amount of capital gains tax you avoided paying, and you did not then demur from my estimation of [IR]£50 million.
O'Brien's letter, dated June 21, sees the businessman inform Browne "on good notice" that he would be left "with no other avenue but to sue you personally" if Browne continued to libel him on his TV show and in his newspaper columns.
He also outlines his belief that the people of Ireland "really let ourselves down in allowing these Tribunals to act as they did" – describing them as "our own version of the Salem Witch Hunts or the 1950's McCarthy Senate Subcommittee hearings".
"These Tribunals had no regard for proper procedure, rules of evidence or even for fundamental principles of fairness of procedure and natural justice," he argues, later adding:
"I can assure you the final chapter on the Moriarty Tribunal remains unwritten."
Browne closes his response by offering O'Brien the opportunity to come onto his TV3 programme for a full interview on the matters raised, as well as the right of reply through Browne's Irish Times column.