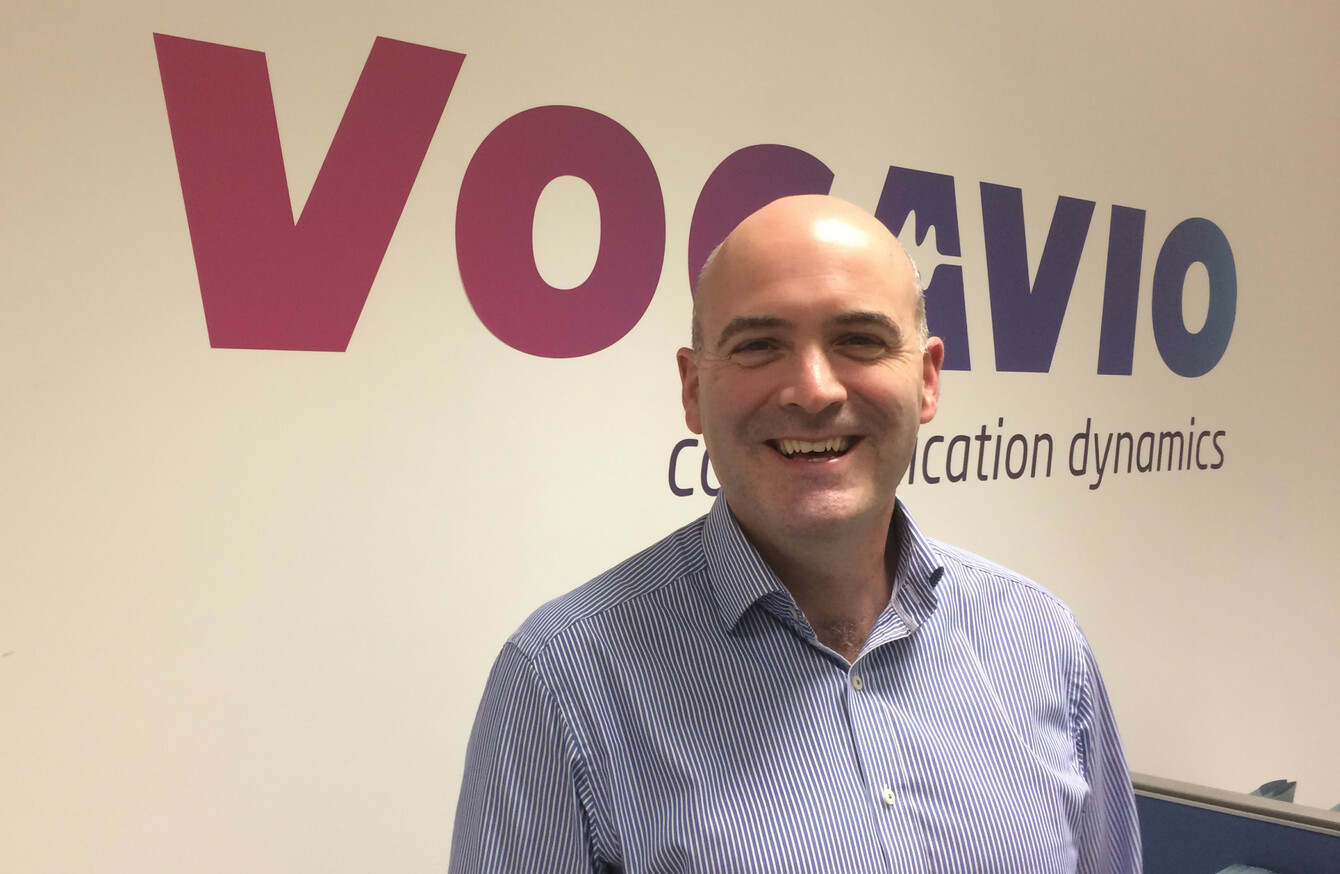 Image: Vocavio
Image: Vocavio
SOME STARTUPS ARE simple to explain – be they the Uber for cakes or Airbnb for dogs. Conor McKenna's early-stage company, Vocavio, is a bit more complex.
By this stage, however, McKenna is well-accustomed to delivering the long explanation needed to set out exactly what his nearly four-year-old business does.
Based out of Trinity College Dublin, Vocavio is investigating what we can learn from the tune and rhythm of speech in pressurised situations.
As McKenna explains, the measurement of speech signals has been around for decades, but the major breakthrough at Trinity College has been the development of software that can measure how speech signals change depending on context and environment.
Vocavio is trying to spin the research out into a business and has already made some inroads with well-known international airlines and even the Irish Air Corps.
McKenna says Vocavio wants to be part of the next wave of virtual training and simulation by providing assessment of an individual's performance by analysing speech.
"We are interested in communication … and we grade those communications based on the different phases of a task.
"We can assess a training event, the workload, external stress events on a team and how that team is performing by monitoring dialogue."
McKenna says Vocavio's software picks up non-verbal signals in people's speech – such as their tones and method of delivery – to highlight points when something went wrong in a high-pressure situation.
"We're able to measure the impact of stress or being startled using speech communication, and that enables us to isolate whether it was a technical or non-technical error," he says.
"A technical error means someone wasn't able to operate their equipment, so you now know that staff member needs to read up on a module.
"But we can also see if people need to grow resilience. Maybe in the case of fire crew, they haven't been exposed to loud explosions before."
Billion-dollar industry
This level of team and individual assessment is already a massive industry. Military simulation training alone is worth more than $10 billion in the US and will swell to $15 billion by 2025.
Simulation tools are also widely used by pilots across the Atlantic, where they are required by law to be assessed under pressure every six months.
McKenna says Vocavio's system will sit alongside other tools – such as eye-tracking, infrared and biometric assessment tech – that can assess people's performance in simulated training events.
"A lot of the training is moving online where people will be practicing a task. It could be as simple as a fire crew practicing a task on how to enter and exit a building.
"This is a massive growth area, because to deploy a group of men or women into a live environment creates a lot of risk. We want to help mitigate the risk."
Plans
Since the business was set up by the trio of McKenna, Brian Vaughan and Celine de Looze, major airlines such as Aer Lingus, Etihad, Turkish Airlines and Ryanair have road tested Vocavio's tech.
That data has helped the startup, which has six staff at present, to collect a critical mass of speech information that it can use as a reference for its software.
Following a lot of development and testing, the startup signed its first overseas customer last year, Memorial University in Newfoundland, which is now using Vocavio to analyse command-and-control scenarios for fire crews.
According to McKenna, Vocavio has several million dollars of sales in the pipeline and is in the middle of raising a €1.5 million funding round to fuel its expansion.
He says the money would be put towards launching a US office in Orlando – the hub of the simulation industry.
"If I could achieve one thing this year, it would be to launch that Florida office and hire that US sales director.
"The way the nature of government contracts are, you need to have a US entity, but we also just want to get closer to a lot of folks in the US."
This article is part of a weekly series featuring Ireland's most promising startups. If you would like to see your company featured email news@fora.ie.
Written by Killian Woods and posted on Fora.ie