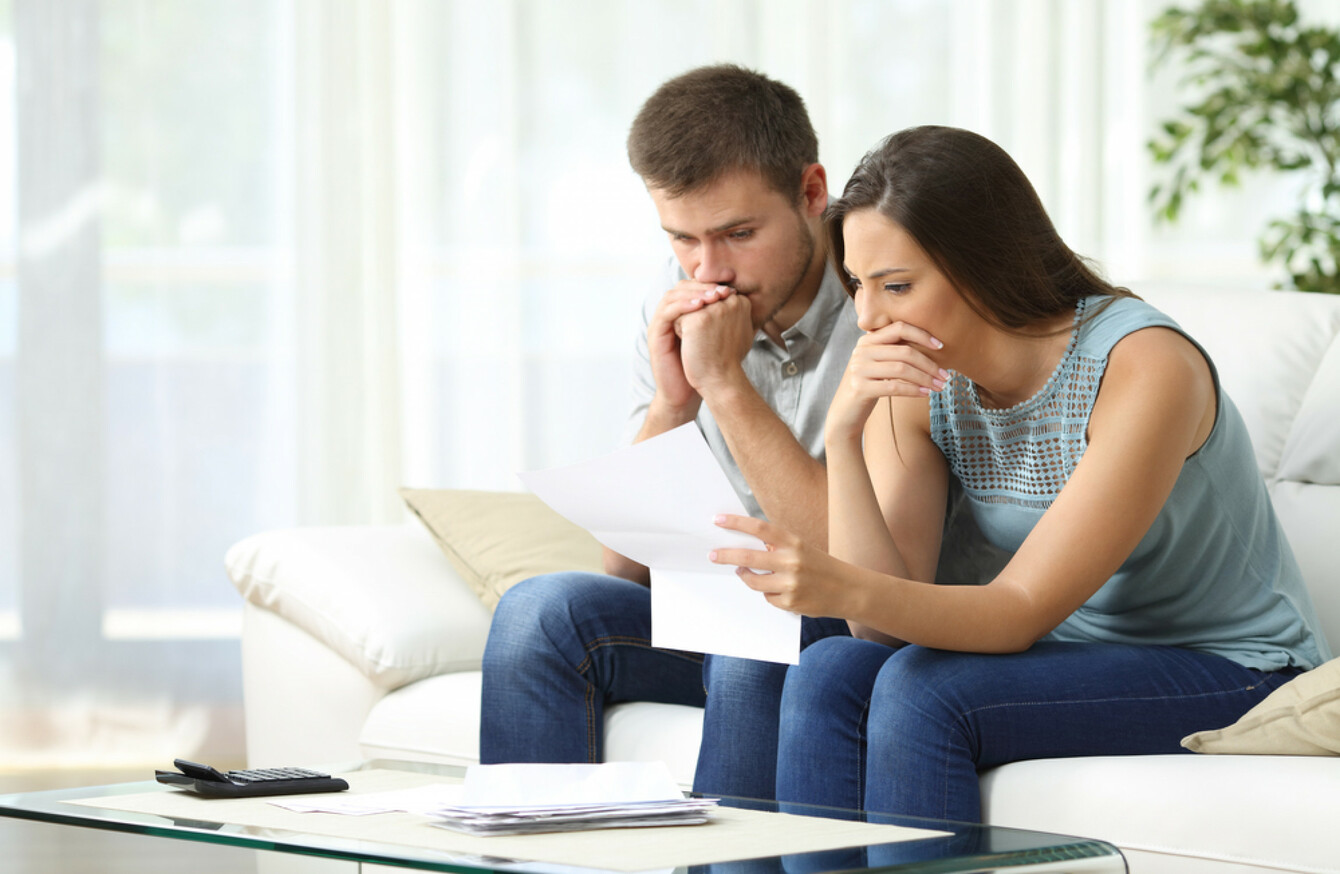 Image: Shutterstock/Antonio Guillem
Image: Shutterstock/Antonio Guillem
ANDREW* BOUGHT A house in Munster just before the crash.
Shortly after the birth of their first child, his wife fell ill and was no longer able to work. Self-employed Andrew took some time to help his wife recover and their mortgage fell into arrears in 2011.
Their mortgage was bought by vulture fund Tanager in 2014.
"We knew they'd probably have bought it at a discount rate," Andrew told TheJournal.ie. "We thought maybe they'd take it easy on us. We were wrong."
He said: "From October 2013 to August 2017, I never missed one payment (over €1,000 a month).
We'd been paying off the interest and had then increased that over time in each repayment. On that last payment, we were €25 short. A few days later we got a letter in the door saying that house would be repossessed.
In a week when the issue of vulture funds and mortgage arrears topped the political agenda, Andrew had this advice for PTSB customers who may face their mortgage being sold off to a vulture fund:
Fight tooth and nail so that it doesn't happen. It's the same if you miss one payment or 60. [The vulture fund] wants your house, that's all.
Political controversy
Over the past week, PTSB's plans to sell off billions worth of customers' mortgages has been raised in the Dáil on numerous occasions. This was followed by the news yesterday that Ulster Bank was also planning to sell off a significant chunk of under-performing mortgage loans.
Fianna Fáil has said it would introduce a bill to regulate vulture funds, while the Master of the High Court proposed his own piece of legislation that would give the State greater powers to protect those in mortgage arrears.
And, on Wednesday 21 February, in the midst of controversy over the proposed sale of the PTSB loans, the bank initiated legal proceedings against seven individuals and couples in the High Court.
Commenting on the actions of vulture funds operating in the sector, a legal source recently told TheJournal.ie that when a vulture fund purchases the mortgage debt from bank, the deal that the mortgage holder has made with that bank often goes "out the window".
This week, Minister for Finance Paschal Donohoe conceded that homeowners who engaged with PTSB may not have their deals honoured by whoever buys the €3.7 billion worth of loans it's selling.
Andrew said that he'd sought financial advice and was told he'd have been treated far differently by a bank.
He's since been in court three times, with another appearance due later in the spring.
"When you call them up, they say we have no information for you, there's no decision makers available," he said. "With the bank we'd ring in and say we're on our knees and ask if they can help us. And we could arrange to just pay the interest.
We don't have that option here.
'They were nicey nicey at the start'
John* bought a house with his wife in Dublin for a substantial amount in 2007.
The self-employed man fell into difficulties in and around 2011, and fell into arrears on his mortgage. From 2014, however, business started to pick up he started to pay in full and began to chip away at his arrears. He still owes hundreds of thousands of euro on the mortgage.
A vulture fund became involved in 2013 and, at first, they were "very nicey nicey" according to John.
He said: "I never got any kind of threatening correspondence from them until the end of 2016. It was a letter demanding the repossession of my house."
John said he made numerous attempts to reach out to offer different ways of paying the money back – including small lump sums – but they'd gone unanswered.
"The stress only started really when I got that letter," he said. "It was always in the back of my head. It's caused stress at home – myself and my wife have young kids.
It's the uncertainty. If I was dealing with Bank of Ireland, or the like, they would do some sort of deal. They'd leave you alone if you're paying.
He said that, in his trips to court, officials there have been supportive.
"I sought advice before going, so I had an idea what to expect," he said. "The courts are quite sympathetic to people that are paying on.
But it could take me years to pay off my arrears. I'm back in court now in the next while. It's stressful. I don't how long this can go on for.
'Nothing will give me that time back'
Laura* and her husband's mortgage went into arrears several years ago. Due to a change in circumstance, her husband could no longer work so she returned to work full-time.
"We paid back an amount well over €1,000 for a couple of years, and then increased it to just under €2,000 a month," she said.
It was roughly three years ago that the vulture fund got involved. The couple had a significant mortgage on their home, but due to upturn in property prices, the home actually increased in value.
"They came down really hard on us," she said. "I would spend hours on the phone, trying to do deals, explain the stress it was causing, but it was the same conversation again and again."
Her family gave been brought to court by Tanager on a number of occasions.
She explained that she was issued with a repossession order and fought it in the courts. Laura sought advice from Mabs (Money Advice and Budgeting Service).
"Mabs saw we had no credit cards, no car loans, no debt to speak of (apart from the mortgage)," she said. "Mabs couldn't understand why they were coming down so hard on us."
Laura said she'd been paying a considerable amount back to the vulture fund, and that the ensuing court battles had had a hugely detrimental effect on her family.
Many Tanager customers got letters just before Christmas to inform them they were actually overcharged on their repayments. The US-fund that bought over 2,000 distressed loans from Bank of Scotland Ireland subsequently withdrew court proceedings against a number of people over the miscalculation, the Irish Independent reported.
At the time, it said that "following a review of its practice for recalculating a customer's constant monthly instalment payment for customers who are in arrears, Tanager DAC is updating this practice".
It added that repossession cases had been dropped, when the revised arrears were substantially reduced. It also said no one lost their home as a result of the miscalculation.
"I feel safe enough now," Laura said. "But it doesn't take away the stress we have had in the past few years.
Nothing will take back that time. I even fell ill with a respiratory illness last year. I have no history of it, and doctors couldn't determine what caused it. I don't know for sure, but stress definitely played a role.
'Once I went into positive equity, everything changed' 
Paul Conroy appeared on TV3′s The Pat Kenny Show during the week. Another mortgage holder dealing with Tanager, he spoke about how the impact on the recession had led to him falling behind on his mortgage.
As business improved, however, he was able to restore the amount of money he was repaying on his west Dublin home by the time Tanager got involved in 2014.
"For the first couple of years, everything was fine," he told TheJournal.ie. "We stepped up the repayments until we reached a figure where, if we kept paying that, it would pay our mortgage right up to the end of its term."
After 18 months of paying this high figure consistently to the fund, Conroy put in a request to have his arrears and the loan consolidated. This was denied.
He said: "A crucial point was that we'd gone from negative equity to positive equity. There's that switch where the house is now worth what we owe.
I don't think it's a coincidence they went from happy to take my repayments to then wanting the keys to the house.
Over 12 months ago, Conroy received a letter from the fund to say that it was exercising its entitlement to repossess the property. "They even told us they'd send a van free of charge to the house and it'd take us wherever we wanted to go," he said.
After refusing this, he received a court summons, and has so far appeared on two occasions, with the case adjourned both times. He's not due to appear again until October, which has given a bit of "breathing room", he said.
'Government must act'
The homeowners we spoke to all said that, even though they are paying back they money they owe, the vulture fund has still made attempts to get their home off them.
For its part, PTSB defended the sale of the loans known as Project Glas, of which around €2 billion are private home loans, as from customers who haven't been paying the money back.
It said the loans were "typically owned by customers who have not engaged with the bank, whose mortgages are unsustainable or who have been unable to meet the terms of various treatments put in place".
Of this portion of Project Glas, some account holders have not engaged with the Bank for over 7 years and on average the loans are over 3.5 years in arrears.
Many have made no payments at all for years.
Despite this, political pressure has been on the government to try to block this sale, given the common tactics of vulture funds in how it approaches distressed homeowners.
Speaking to TheJournal.ie, Fianna Fáil finance spokesperson Michael McGrath said: "The stories from many of the homeowners who have had their loans bought by vulture funds, such as Tanager, are heart breaking.
The stress and pressure they have been put under makes the case for proper and full regulation of these funds clear cut for me. The Oireachtas would be failing in its duties if it doesn't deal with this issue.
These funds need to be urgently brought under the ambit of the Central Bank and we need to see a review of the 2013 Code of Conduct on Mortgage Arrears.
And, speaking on RTÉ's Morning Ireland yesterday, Sinn Féin's Pearse Doherty said that if Ulster Bank's loans get sold to vulture funds, "we all know it will end in tears".
Commenting on how he'd approach it if his mortgage was being bought by a vulture fund now, John said that he'd "probably dropped the ball before the vulture fund came in".
He said: "I probably could have paid more when things were bad. I chose to go on a holiday with my family.
I thought they [the vulture fund] would be keen to do a deal. But the only deal they're keen to do is the deal to get your home.
Conroy said: "I don't like the term vulture fund. They're more hyenas. The vulture has the decency of waiting till you're dead until picking at your bones."
He added that these are simply companies trying to make money, and that it is up to the government to regulate them and stop them repossessing homes.
"It's not their problem," Conroy said. "It comes from government and from society to create a situation that allows them to act the way they do… You can't buy families."
Andrew said that, although his wife's condition is improving, it has put an enormous strain on their young family.
"It's dragging on so long now," he said. "I've organised a meeting in Dáil Éireann. We met [FF's] Michael McGrath before Christmas. He's really trying to help us.
It's so important we get new laws in to protect homeowners. I've met people like me. It's so important to us. Many are terrified about what's going to happen. They're afraid to speak. But you shouldn't have to go it alone.
*Names have been changed to protect the identity of those involved