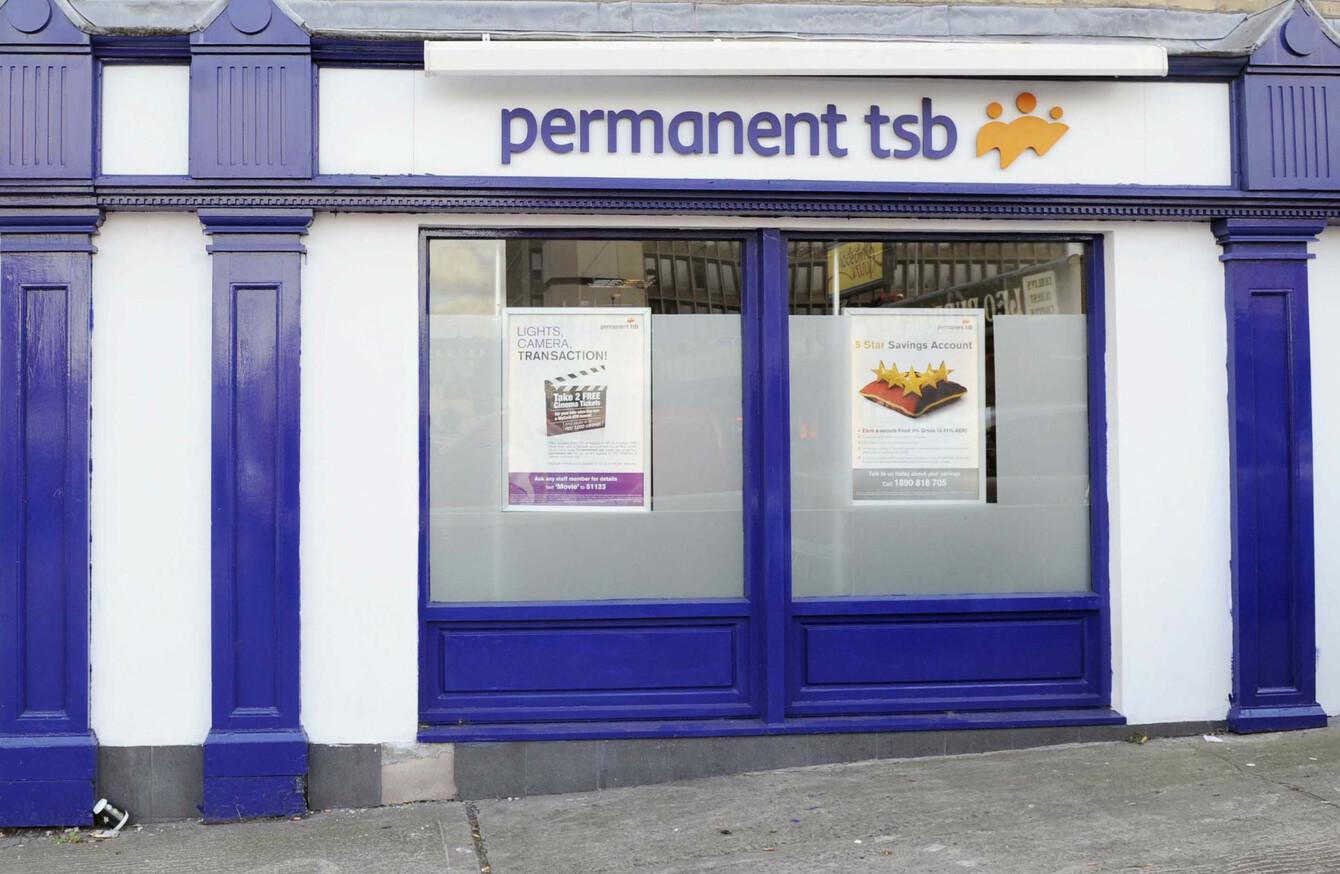 PTSB
Image: RollingNews.ie
PTSB
Image: RollingNews.ie
THE GOVERNMENT WAS slammed by the opposition benches today for not doing more to protect homeowners following an announcement by Permanent TSB that it is to sell-off a €4 billion portfolio loan book.
The bank, which is 75% owned by the State, is selling off non-performing loans.
The bank states these loans are in default or close to default. PTSB said these loans make up 28% of its loan books.
Fianna Fáil's Dara Calleary said 20,000 family loans are now up for grabs, and called on the government to step in to protect homeowners and halt the sale.
"These aren't entities, these are families," said Calleary during Leaders' Questions in the Dáil today.
"Think about the families who are facing an uncertain future," he told the Dáil, stating that the Tánaiste Simon Coveney and the government appear to be "obsessed" with trying to "fix the system" but are failing to think about the families impacted.
Coveney said the government was recently briefed about the loan sale by the Finance Minister Paschal Donohoe. He said the bank has informed them that the sale is necessary.
He assured mortgage-holders that they still have the same rights, even if their loans are sold on to a vulture fund.
Vulture funds 
However, Michael McGrath, Fianna Fáil finance spokesperson, said the plans to sell to "unregulated and unaccountable vulture funds" should be scrapped.
Coveney told the Dáil that despite the bank being majority-owned by the State, the financial institution does not need the minister's permission to sell loans.
The Tánaiste said he understood why many customers would have concerns about who will be dealing with their mortgage debt in the future.
"You are not keeping the people safe, you are throwing them to the vulture funds," said Fianna Fáil's John McGuinness.
He called for emergency legislation to be introduced, and called on the government to tell the banks that they are not allowed to sell on the loans.
At the very least, McGuinness said the PTSB should be instructed to give the mortgage-holder the right to buy the loan for the same price it is being offered to the vulture fund.
He said homeowners should have first refusal on their own loan and the bargain price it is being sold for.
"Will you take the action, now, to ensure they loans are not sold on to vulture funds.
Your reply was nothing short of a disgrace," he told Coveney.
McGrath said there is "no compelling reason" why the bank wants to sell on the loans, stating that it should work through their loan books, and deal with their customers.
He pointed out that criticism has been levelled at the government from all sides of the House on the issue and urged to government to take action to protect its citizens.