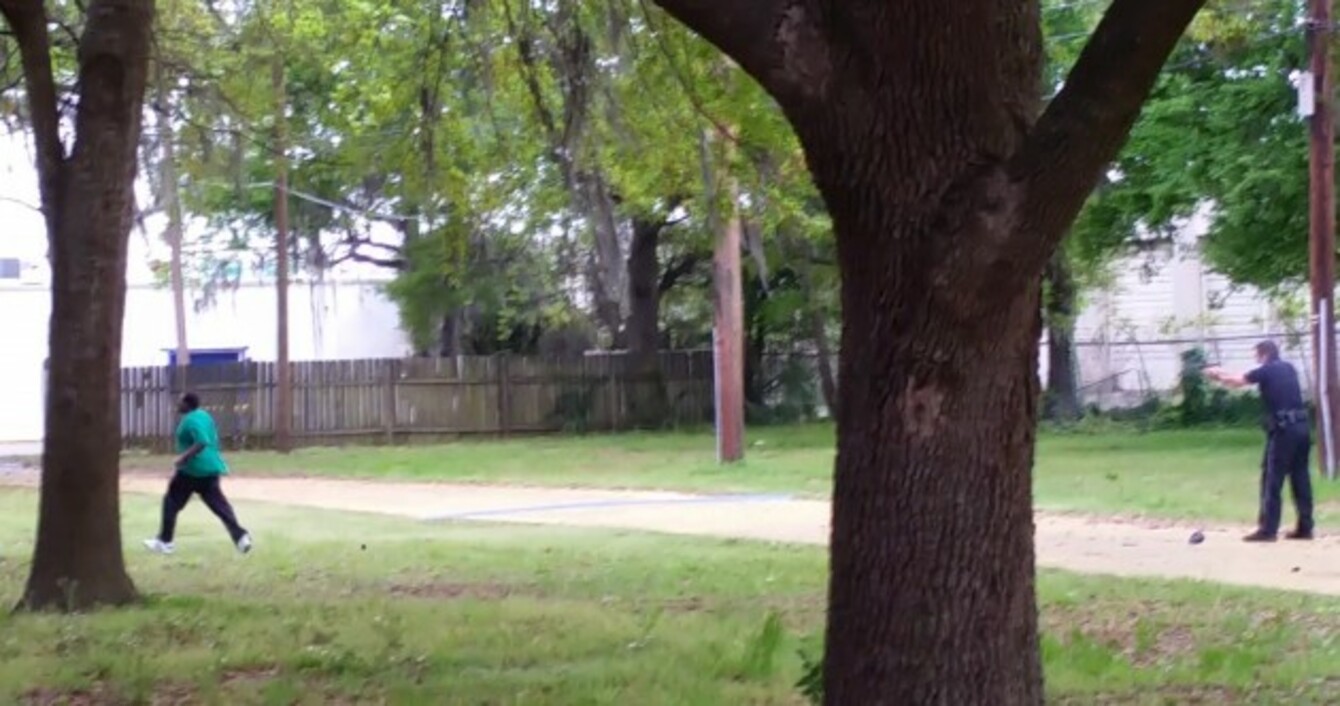 Video of the shooting has led to the officer being charged.
Image: AP
Video of the shooting has led to the officer being charged.
Image: AP
THE PARENTS OF Walter Scott who was shot dead by a police officer in South Carolina have spoken of their anguish after his killing.
The dead man's father, Walter Scott sr. said today the officer "looked like he was trying to kill a deer running through the woods."
He also told NBC's "Today Show" that his son may have tried to flee because he owed child support and didn't want to go back to jail.
The video is "the most horrible thing I've ever seen," mother Judy Scott told ABC's "Good Morning America."
"I almost couldn't look at it to see my son running defencelessly, being shot. It just tore my heart to pieces," she said.
North Charleston Mayor Keith Summey has said the police officer has now been fired after being charged with murder yesterday.
Patrolman Michael Thomas Slager was charged after a video emerged showing him firing eight times at black motorist Walter Scott who attempted to run away after a traffic stop.
He has claimed he was acting in self-defence.
The video recorded by an unidentified bystander shows Slager dropping his stun gun, pulling out his handgun and firing at Scott from a distance as he runs away. The 50-year-old man falls after the eighth shot, fired after a brief pause.
The local police chief has said at the same conference that he was 'sickened' by the video.
About 75 people gathered outside City Hall in North Charleston, led by a Black Lives Matter, a group formed after the fatal shooting of another black man in Ferguson, Missouri.
"Eight shots in the back!" local organiser Muhiydin D'Baha shouted through a bullhorn, and the crowd yelled "In the back!" in response.
Announcing the murder charge yesterday, Mayor Summey said, "when you're wrong, you're wrong."
"When you make a bad decision, don't care if you're behind the shield or a citizen on the street, you have to live with that decision," the mayor said.
Police initially released a statement that promised a full investigation but relied largely on the officer's description of the confrontation, which began with a traffic stop Saturday as Slager pulled Scott  over for a faulty brake light.
Slager's then-attorney David Aylor released another statement Monday saying the officer felt threatened and fired because Scott was trying to grab his stun gun.
Aylor dropped Slager as a client after the video surfaced, and the officer, a five-year veteran with the North Charleston police, appeared without a lawyer yesterday. He was denied bond and could face 30 years to life in prison if convicted of murder.
- With reporting from Rónán Duffy