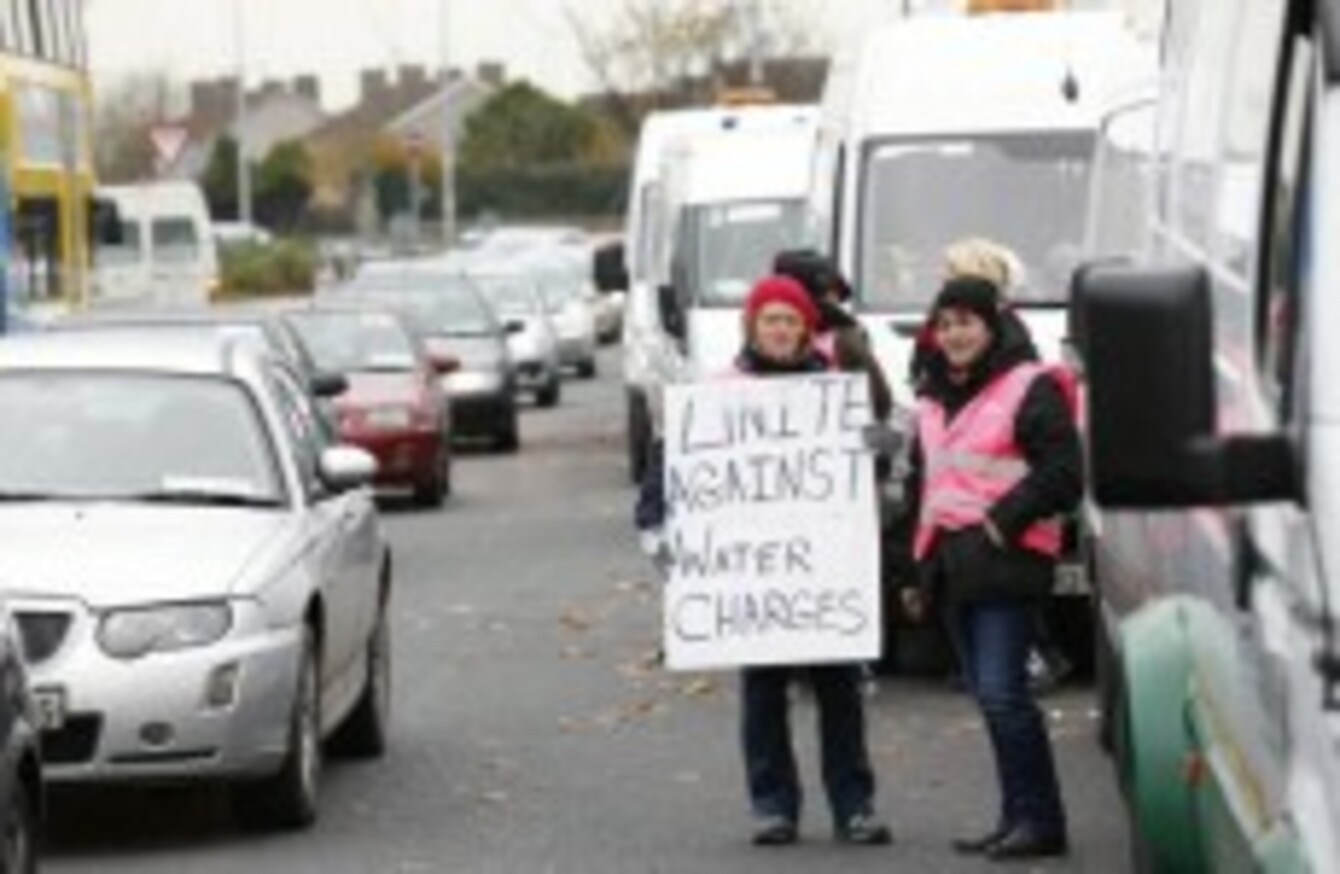 Irish Water protesters in Donaghmede earlier this month
Image: Photocall Ireland
Irish Water protesters in Donaghmede earlier this month
Image: Photocall Ireland
DOMESTIC PROPERTIES ACROSS Northern Ireland have had 35,000 water meters installed in the last 7 years.
This comes despite assurances that the region is not set to have domestic charges introduced.
The information, revealed in The Irish News this morning, has shown that the cost of introducing the meters has come to €16.4 million (£13 million).
Sinn Féin 
Speaking to TheJournal.ie, Sinn Féin TD and Spokesperson on the Environment, Brian Stanley, said that the new information did not compromise his party's stand on the issue of charges in the Republic.
"In relation to the meters, at current Sinn Fein doesn't have responsibility for [the Department for Regional Development]. In 2007 the bills that the British Government had ready to go – that was stopped in the tracks by Conor Murphy [Minister for Regional Development at the time]," said Stanley
Sinn Féin can only do what it can do at any point in time being in the power-sharing Executive… and that situation changes – that is the game of politics. While we have abolished them and we have stopped them – we are only one party of five in the Executive.
It is on the record – in 2007 – the plan was for water charge bills to land through the letter box  - we gave the commitment – we have managed to maintain that position.
Non-domestic properties 
Northern Ireland Water has been in existence since 2007 with the purpose of providing water and sewage services. The company currently charges all non-domestic properties.
The charges for these are measured by the meters, or on the value of the property, in cases where no meter has been installed.
The company has been ordered to continuing fitting the meters to houses in compliance to legislation introduced in 2007 – which covers properties being connected to the water supply for the first time.
In May, a NI Water lorry was attacked with a petrol bomb while installing one of the devices in north Belfast.
Public ownership 
Northern Ireland Water is a public company under the control of the Department of Regional Development. The introduction of water charges would be dependent on a decision by the Northern Irish Executive.
There is currently a commitment in place that charges will not be introduced during the lifetime of the current Executive – which is expected to run until May 2016.
In response to a query from TheJournal.ie, Northern Irish Water stated:
NI Water would like to categorically state once more that it is not installing meters to facilitate charging; it has no plans to do so; it is not being instructed or financed to do so and suggestions to the contrary are erroneous.  Only the NI Executive has the power to introduce water charges. 
The spokesperson went on to specify that the meters are used to identify leakages in the system.