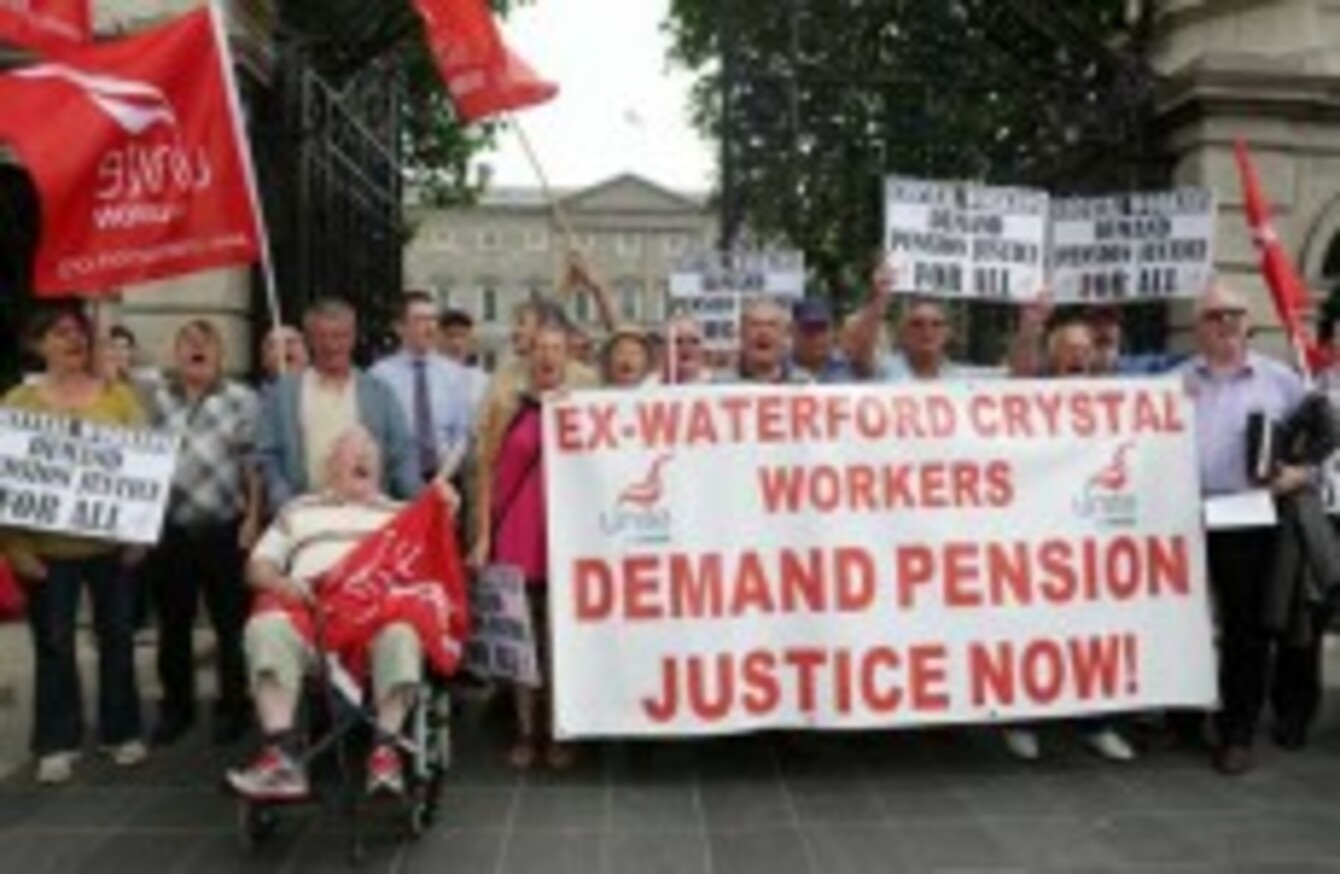 File Photo: Waterford Crystal Pensions Protest outside Leinster House in 2013
Image: Sam Boal via Photocall Ireland
File Photo: Waterford Crystal Pensions Protest outside Leinster House in 2013
Image: Sam Boal via Photocall Ireland
THE FORMER WORKERS of Waterford Crystal will receive significant pensions and a tax-free lump sum after a settlement was approved by government.
The cabinet has agreed to pay €178 million to the workers by way of compensation for the delay and stress involved in bringing Irish and European Court cases to resolve the matter.
It comes after a lengthy legal dispute- the workers took on the case when they were laid off from Waterford Crystal in 2009 and both the company and the pension scheme became insolvent.
The European Court of Justice found that the state had to step in to pay their pensions after their private scheme went bust.
The settlement will benefit all 1,774 deferred members of the Waterford Crystal Staff and Factory Pension Schemes and will also include the families of some members who have died since the company went into receivership.
The Tánaiste Joan Burton said, "I hope this will bring security and peace of mind for the workers and their families in the certain knowledge that their pension entitlements are now secure.
The average payments are relatively modest and the average lump sum payment will be in the region of about €20,000 so people with 40 years service will get more.
The workers will vote on the deal on Saturday. If they vote no – the case will go to the High Court in January.
If they agree to the deal, some €40 million is expected to be paid out in the first quarter of 2015.
A number of legislative and procedural issues are being put in place and will be finalised early in the New Year.
Additional reporting by Órla Ryan