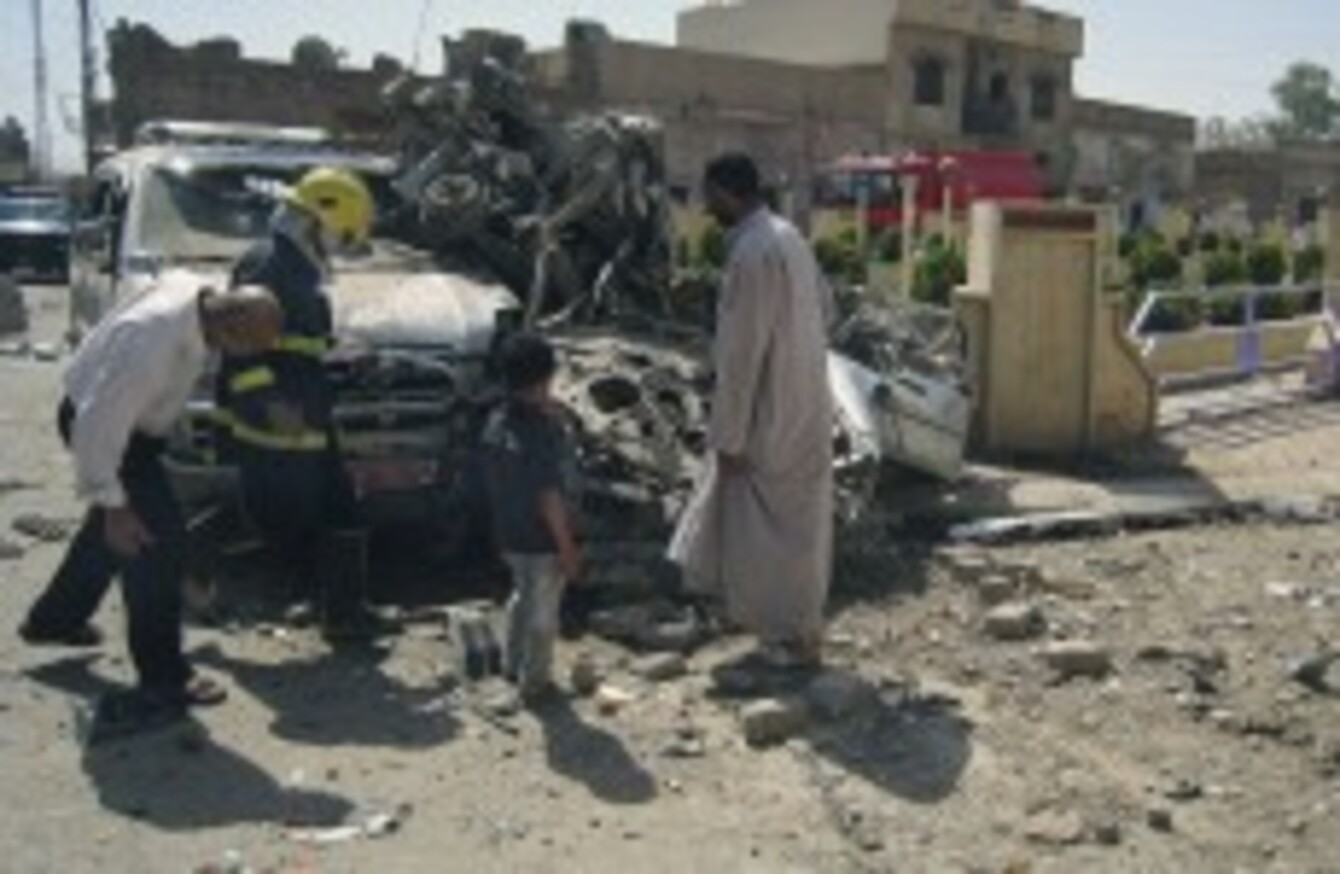 Citizens and security forces inspect the scene of a car bomb attack in Kirkuk, 290 kilometers (180 miles) north of Baghdad, Iraq
Image: AP Photo/Emad Matti
Citizens and security forces inspect the scene of a car bomb attack in Kirkuk, 290 kilometers (180 miles) north of Baghdad, Iraq
Image: AP Photo/Emad Matti
INSURGENTS KILLED AT least 39 people in a wave of attacks against Iraqi security forces on Sunday, gunning down soldiers at an army post and bombing police recruits waiting in line to apply for jobs, officials said.
The violence, which struck at least 10 cities across the nation, highlighted militant attempts to sow havoc in the country and undermine the government. There was no immediate claim of responsibility for the attacks, although security forces are a frequent target of al-Qaeda's Iraqi franchise, which has vowed to reassert itself and take back areas it was forced from before US troops withdrew from the country last year.
In Sunday's deadliest attack, gunmen stormed a small Iraqi Army outpost in the town of Dujail before dawn, killing at least 10 soldiers and wounding eight more, according to police and hospital officials in the nearby city of Balad, some 80 kilometres north of Baghdad. The officials spoke on condition of anonymity as they were not authorized to release the information.
String of attacks
Hours later, a car bomb struck a group of police recruits waiting in line to apply for jobs with the state-run Northern Oil Co. outside the northern city of Kirkuk. City police commander Brig. Gen. Sarhad Qadir said seven recruits were killed and 17 wounded. He said all the recruits were Sunni Muslims and blamed the early morning attack on al-Qaida, but did not provide details.
The carnage even stretched into the country's south, where bombs stuck to two parked cars exploded in the city of Nasiriyah, some 320 kilometres southeast of Baghdad. The blasts were near the French consulate and a local hotel in the city, although the consulate did not appear to be the target of the attack.
Local deputy health director Dr. Adnan al-Musharifawi said two people were killed and three wounded at the hotel, and one Iraqi policeman was wounded at the consulate. He said no French diplomats were among the casualties.
A string of smaller attacks also struck eight other cities, including Baghdad.
In the capital's eastern Shiite neighborhood of Husseniyah, roadside bombs killed a policeman and a passer-by, security and health officials said. Another eight people — including four soldiers — were wounded, the officials said.
The rest of the attacks were car bombs that hit cities stretching from the southern port city of Basra, Iraq's second largest, to the city of Tal Afar northwest of Baghdad near the Syrian border.
Basra
The blast in Basra killed three people and wounded 24, while the bomb in Tal Afar killed two passers-by and wounded seven, officials said. Bombings in the Sunni towns of Hawija and Ar Riyad, outside the flashpoint city of Kirkuk north of Baghdad, wounded seven people.
In Tuz Khormato near the city of Kirkuk, some 290 kilometres north of Baghdad, a car bomb outside of a market killed four and wounded 41, said Salahuddin provincial health director Raeed Ibrahim.
Car bombs also struck two Sunni towns outside Kirkuk — Hawija and Ar Riyad — wounding seven people. Kirkuk has been a flashpoint city for years. Iraqi Sunni Arabs, Kurds and Turkomen all claim rights to the city and the oil-rich land that surrounds it.
In Kirkuk, Qadir said three midmorning explosions — two car bombs and a roadside bomb — killed seven and wounded about 70. Also, a roadside bomb in Taji, just north of Baghdad, left two passers-by dead and 11 injured.
Kurdish leaders long have sought to draw Kirkuk into their self-rule region of Iraq's three northernmost provinces, and have pushed for a census to determine the city's ethnic majority. But the majority Arab central government in Baghdad has delayed the census, which could incite widespread ethnic violence over Kirkuk's future.