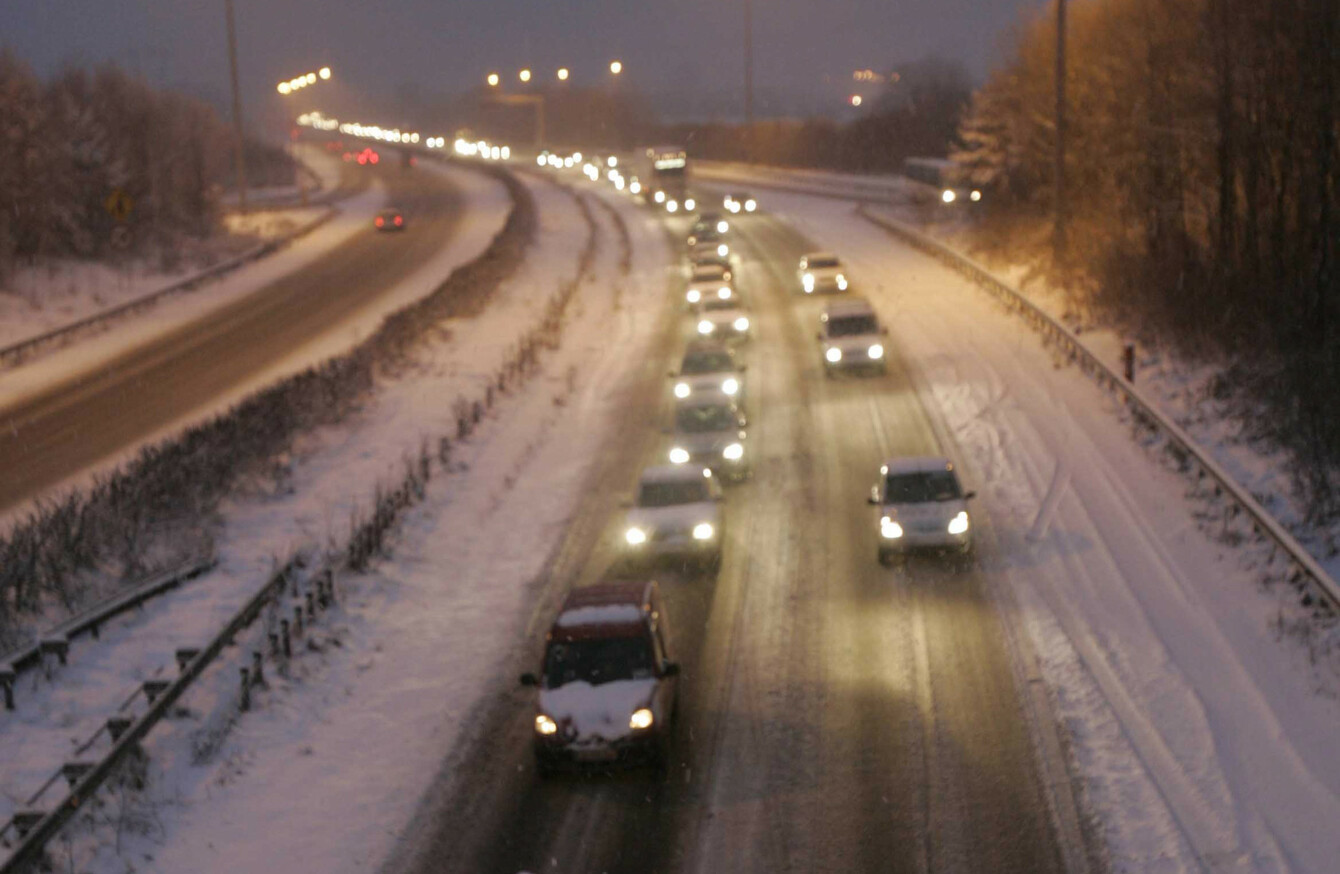 Image: Eamonn Farrell
Image: Eamonn Farrell
Updated 8.42am
"THE BEAST FROM the East is coming our way," warned Taoiseach Leo Varadkar, who asked people to pay "close attention" to any weather warnings that are issued in the coming days.
Yesterday, the Taoiseach said any advice issued in relation to workplaces, travel and whether people should turn up for work "will be clear".
The polar vortex from Siberia, referred to as "the beast", is expected to bring heavy snowfall and blizzard conditions on Thursday and Friday.
Speaking on RTÉ's Morning Ireland, Minister for Housing, Planning and Local Government Eoghan Murphy said that the forecast is "looking increasingly as predicted", and the snowfall starting this evening "could potentially cause severe disruption for the country".
The National Emergency Coordination Group (NECG) outlined its preparation plans yesterday.
It's predicted that a red weather alert could be put in place for later in the week. The last time a code red was issued was for Storm Ophelia in October 2017.
At the time, the NECG advised people to remain indoors and stay safe.
However, there was confusion as to whether all businesses should close, and if people should go to work or remain at home.
In the aftermath of the storm, Labour's Brendan Howlin said there were lessons to be learned, and said the government should commit to issuing guidelines to the private sector as to what a red alert means for them and their employees.
'Genuine confusion' 
At the time, the Taoiseach admitted that there was "genuine confusion for some people in the private sector because it was unclear to people as to whether they were to go into work or not".
He also acknowledged that a "better understanding of what a red alert means beyond the public sector and what it means in the private sector" needed to be developed.
As a result, the government said in future, employers in the private sector will have to set our specific policy and guidelines as to whether they should remain open during red alerts.
However, progress on mandatory guidelines has not yet been reached to date.
When asked about the issue yesterday, the Taoiseach suggested that the NECG advice issued later in the week could include advising people not to travel to work.
"As it stands, the weather warning has not yet been issued, but I would ask people to pay close attention to any weather warnings and advice that is issued in the coming days.
"Where advice is issued in relation to workplaces and travel, that will be clear and we'll either be asking people to stay at home and not make unnecessary journeys or if they are in work already to stay in work and not make unnecessary journeys. But as I said, we are not in that position yet to issue that weather warning," Varadkar told reporters.
Speaking today, Murphy reinforced that no advisories were being issued as of yet. He said: "We try to be as clear as possible.
Businesses need more direction. We can't tell a business how to operate [but] the onus is on the employer to put the safety of staff at their forefront.
Potential schools closure
Murphy was asked about the possibility of schools closing due to the bad weather.
He said that, if the current orange and yellow warnings were upgraded to a nationwide red alert, that would mean a directive would be issued to close all schools.
"We keep very much a close eye," the Minister said. "When we had Storm Ophelia, we went to a national red. That was a decision that had to be made."
He said that, as conditions change throughout the week, the advice issued would be updated.
On the potential of school and road closures, Murphy said: "It's a different type of weather event [to Storm Ophelia].
We want to keep the country as open as we can. It's too soon to make that call now.
Duty of care to employees
Business group Isme, meanwhile, has advised employers that they have a duty of care to their employees under the Safety Health and Welfare at Work Act.
It said businesses need to consider if it is safe to ask employees to travel to work during a code red, adding that employers should consider how it will decide if it is necessary to close, and whether a red weather alert will mean an automatic closure.
Isme also said that where a business closure does not occur, employers should ensure employees are aware who they should contact in the event that they are unable make it into work due to the weather conditions.
"Flexibility should be allowed for employees, especially those who have some distance to travel. Where employees are present in the workplace, care should be taken to remain vigilant for any worsening conditions. Consideration should also be given to how long it will take somebody to commute home safely," it added.
With reporting from Sean Murray