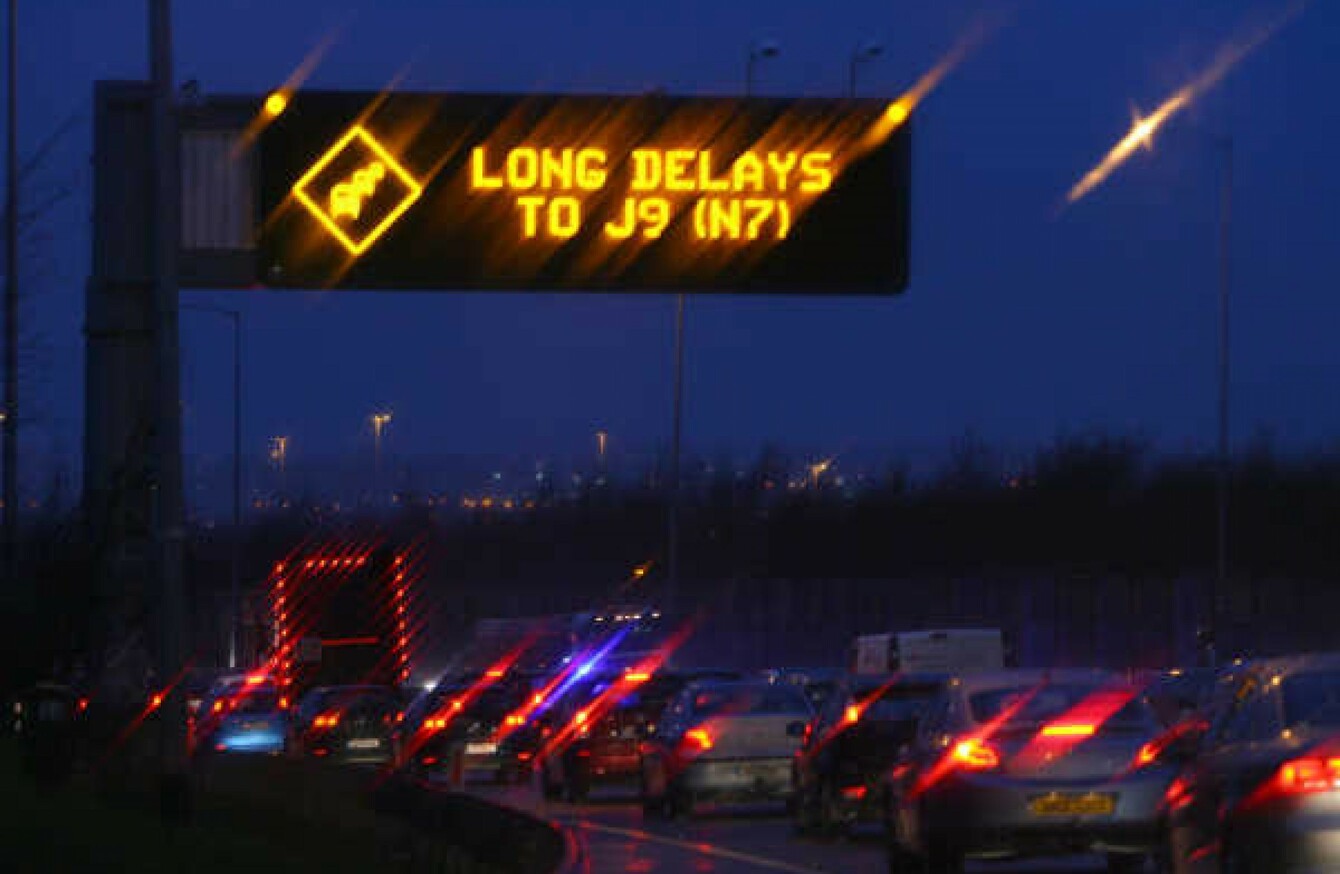 File picture of delays on the M50.
File picture of delays on the M50.
IT'S GOING TO be a cold, wet, windy day, with a Status Yellow rainfall warning in effect for the northwest, and the risk of hail, thunder and sleet across the country.
That's just for starters – tonight will see temperatures plummet to 0 degrees, while the forecast for the weekend has worsened considerably, with temperatures as low as -4 degrees forecast.
Met Éireann is forecasting "prolonged heavy rain" today, with showers turning into hail and sleet in places.
Northern and western hills could see snow, while thunderstorms are also forecast.
Afternoon temperatures will be as low as 5 degrees, with strong westerly gusts blowing in off the Atlantic.
The weather will continue to get colder and wetter tomorrow, although the showers will begin to ease up over the weekend, with some dry, cold weather expected over the weekend.
The worsening weather conditions are taking its toll on the roads – a breakdown on the M50 is causing delays, while a three-car crash on the N11 heading towards Dublin is also leading to traffic problems.
There is also surface water reporting along long stretches of the M7 south of Portlaoise, and along much of the M50 between the M1 and M4 junctions at Santry and Lucan respectively.
There are delays on the M6 in Galway and Roscommon, while commuters on Dart and commuter trains are experiencing delays of up to 20 minutes. A service between Malahide and Dún Laoghaire has terminated at Pearse Station in Dublin, according to Irish Rail.
TII say an incident on the N11/M11 in Wicklow has now been cleared.
AA Roadwatch are reporting two collisions in Dublin, two in Galway, and one in Kilkenny, meanwhile.
In Dublin, a collision on Ratoath Road at the River Road junction in Dublin is blocking outbound traffic, while emergency services are at the scene of another incident on Sarsfield Road in Ballyfermot, the AA added.
There is also an incident on the freeflow slip road from the N3 inbound to the M50 northbound, although traffic can now get by, Transport Infrastructure Ireland said.
Commuters on rail lines around the capital, meanwhile, are experiencing delays.
Traffic is heavy on the approach to a three-car crash on the N11 northbound near Greystones in Co Wicklow, meanwhile.
In Galway, traffic on the M6 eastbound between Ballinasloe and Athlone was down to one lane earlier due to a crash, although that has just now been cleared, TII added.
AA Roadwatch added that emergency services are dealing with a collision on Sarsfield Road at the Landen Road Junction in Ballyfermot, meanwhile.