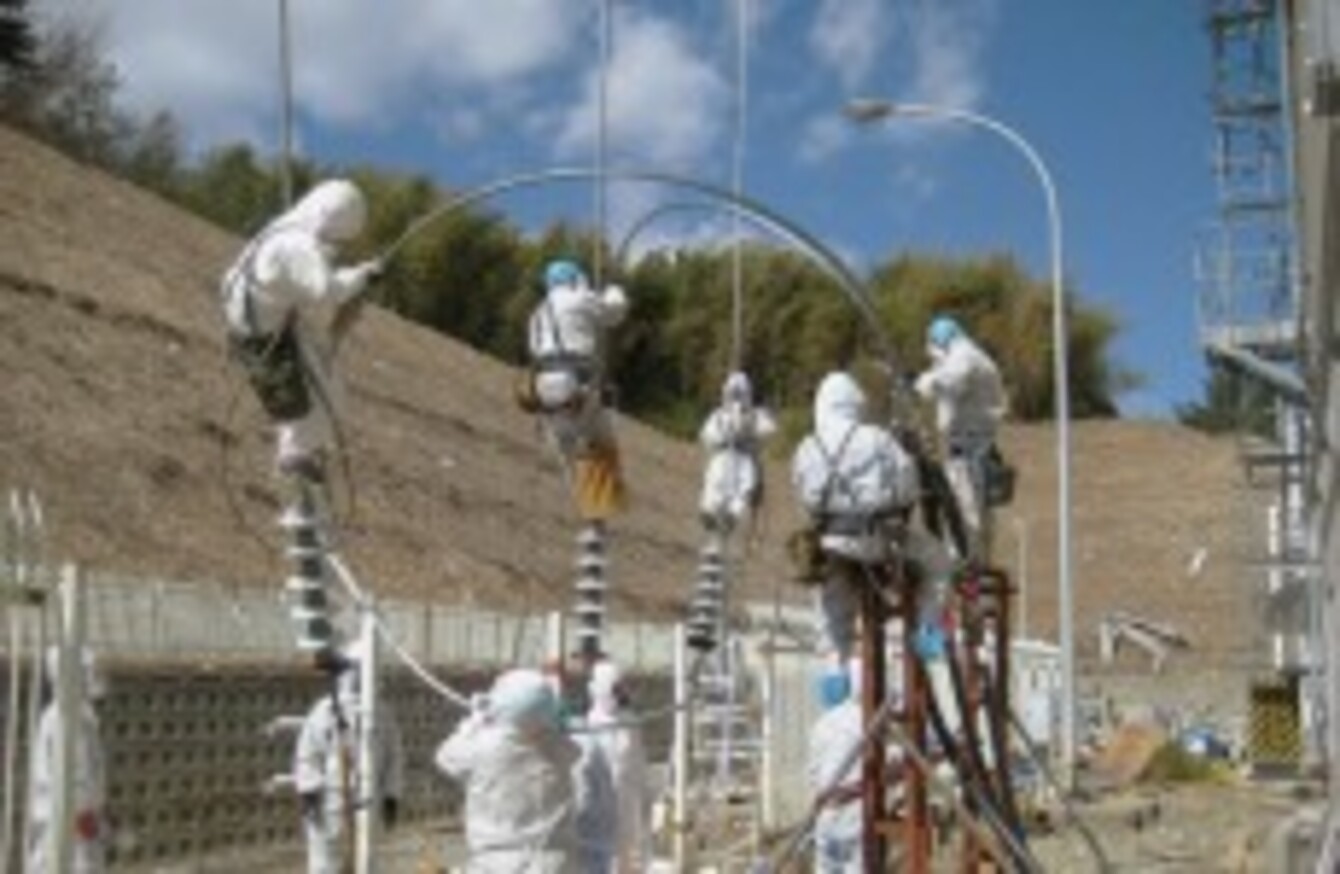 Workers wearing protective suits work to restore electricity at the Fukushima nuclear power plant.
Image: AP
Workers wearing protective suits work to restore electricity at the Fukushima nuclear power plant.
Image: AP
IRELAND'S RADIOLOGICAL INSTITUTE has said that weather conditions will determine whether the radiation leaked from the Fukushima I nuclear power plant reaches these shores.
The admission came as Iceland's nuclear watchdog said radioactive iodine – emitted from the stricken nuclear power plant at Fukushima in Japan – has reached its airspace.
The plume – which has a concentration of 'less than a millionth' of what was registered in Europe in the aftermath of the Chernobyl disaster – was registered by Iceland's Radiation Safety Authority earlier today.
David Dawson of the Radiological Protection Institute of Ireland told TheJournal.ie that the centre had stepped up its monitoring for radioactive particles - but stressed that the potential amount would be so small as to be possibly indistinguishable.
"The levels are about a thousand times lower than the fallout which reached California, which was so tiny it was classed as background radiation," he said. "There's absolutely no chance of it posing a threat to anyone in Ireland."
Dawson also said that weather would play a part in the detection of any fallout present: Ireland is surrounded by high pressure at the moment, he explained, which could lead to particles present in Iceland bypassing Ireland and arriving at Scandinavian countries instead.
The Icelandic declaration came as its French equivalent said it also expected to record a faint trace of radioactivity over French airspace.
Both the Iceland and French authorities stressed, however, that the level of radioactivity being recorded would be almost negligible, and would pose zero health risk.
"There is no reason to worry about radioactivity levels in Iceland, nor anywhere else in Europe, resulting from the nuclear accident in Japan," Sigurdur Emil Palsson, the head of Iceland's emergency preparations, asserted.
Germany's nuclear authorities has also said that while it is similarly prepared to declare some of the Fukushima fallout as being present over Germany, the measurements would be "much lower than those after the Chernobyl disaster" and would pose no health problems.
The International Atomic Energy Agency, the UN's international nuclear watchdog, has admitted that the Fukushima I plant has continued to leak radiation, but says that only people living within the exclusion zone around the plant needed to worry about the health effects of the leak.
Earlier today, municipal authorities in Tokyo said the level of radioactive iodine observed in some of the city's water supply had breached the levels that were safe for infants to drink.
Additional reporting by Jennifer Wade