Ariel Sharon
Image: AP Photo/Oded Balilty/File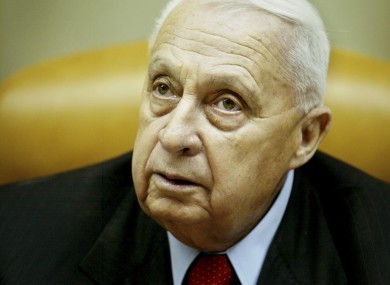 Ariel Sharon
Image: AP Photo/Oded Balilty/File
EVERY WEEK, TheJournal.ie offers a selection of statistics and numerical nuggets to help you digest the week that has just passed.
1,500,000,000: The approximate number of adults in the world who are obese, according to a new report.
231,000,000: The amount of Irish punts the Central Bank says are still hanging around under mattresses or in old piggy banks, twelve years after Ireland switched to the euro.
80,000: The approximate number of households which have been fitted with water meters so far ahead of October's introduction of water charges.
3,000: The approximate number of applications for bankruptcy the Minister for Justice expects to see over the next twelve months following the introduction of new laws.
650: The number of people waiting on transplant lists in Ireland, despite 2013 being a record year for transplants being carried out.
52: The number of passengers – including scientists, journalists and tourists – rescued from a research ship in the Antarctic on Thursday which had been trapped in ice since Christmas Day.
28 – The percentage price differential between house prices in Dublin compared to the rest of the country, according to new property research.
18 – The number of countries using the euro now after Latvia became the latest country to join the single currency on New Year's Day.
17.5 – The percentage increase in the number of people who died on Ireland's roads in 2013 compared to the number of deaths the previous year.
8: The number of years that former Israeli Prime Minister Ariel Sharon has been in a coma after suffering a massive stroke. The 85-year-old's condition deteriorated significantly during the week.
5: The number of seconds into the new year when the first baby born in Ireland in 2014 entered the world.
4: The percentage of primary school children who never get any help at all with their homework from parents, according to the Central Statistics Office.
0 – The salary claimed by Capuchin monk Brother Kevin Crowley who runs the Capuchin Day Centre for the homeless in Dublin city centre.