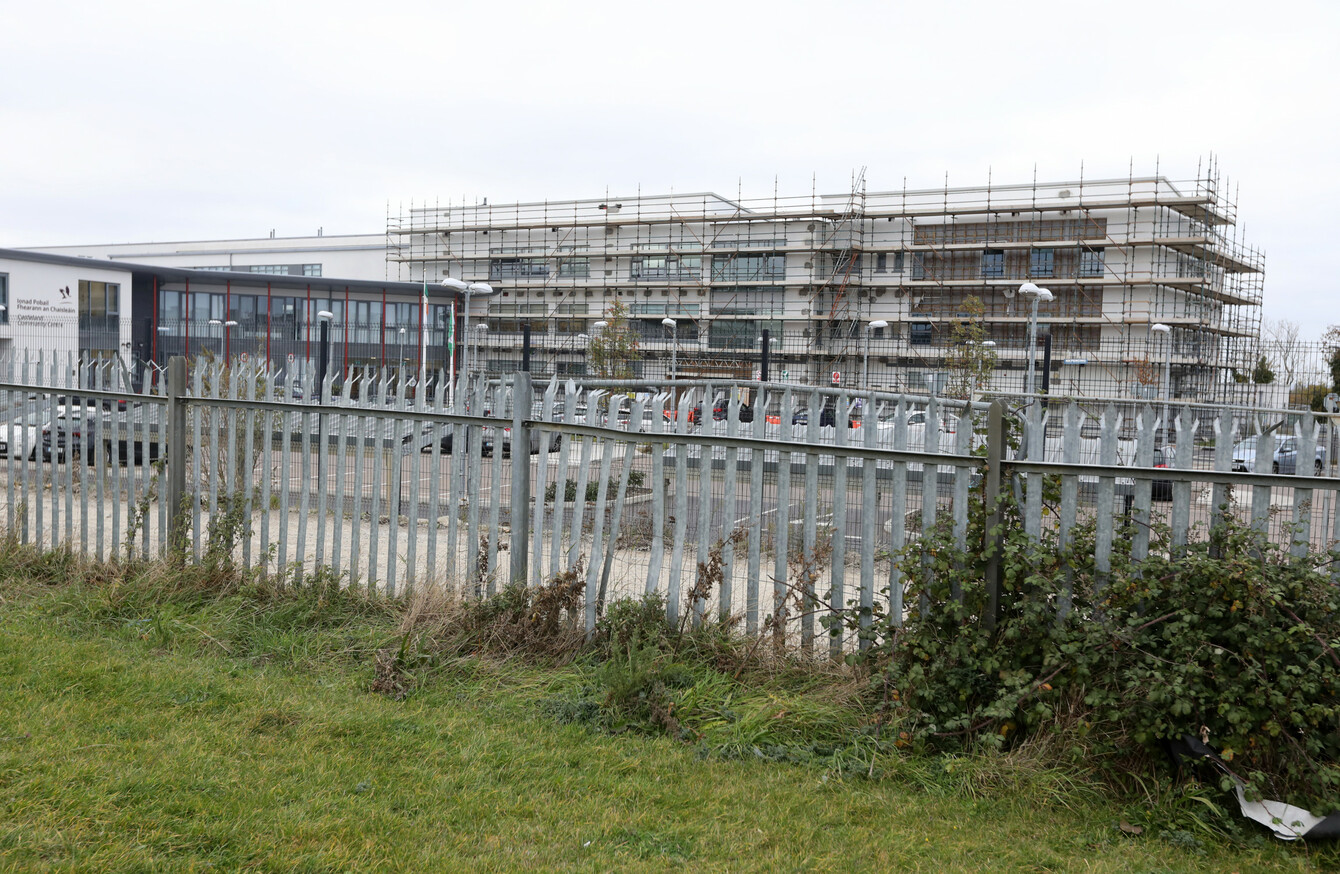 Ardgillan Community College in Balbriggan
Image: Eamonn Farrell/RollingNews.ie
Ardgillan Community College in Balbriggan
Image: Eamonn Farrell/RollingNews.ie
Updated Oct 26th 2018, 7:35 PM
SCHOOLS WHICH WERE shut down earlier this week due to safety concerns are to partially reopen after the midterm break.
The Department of Education said the ground floors of Tyrrelstown Educate Together National School and St Luke's National School will be operational by 5 November. 
The department said this will facilitate about half the classrooms in each school, adding that special needs children will be prioritised. 
Work is ongoing, in consultation with the school principals, to confirm the interim accommodation arrangements for the remainder of the classes. The school principals will keep staff, students and parents fully informed as this is confirmed.  
A spokesperson for the department said: "The department wishes to set out further detail on the strategy which is underpinning its approach to interim accommodation for the schools in Tyrrelstown, and for any other schools which may require interim accommodation following the ongoing structural assessments. 
"Again, the department wishes to emphasise that school buildings will only be closed where it is considered necessary, on the basis of the structural assessment, to do so.
"In all cases where students are required to decant to alternative sites, transport will be arranged from the current school building and additional supervision will be provided as required. This is to minimise disruption to pupils and their families."
Arrangements have been put in place by Dún Laoghaire Education and Training Boards to ensure that Ardgillan Community College will be able to accommodate all students when it reopens after the midterm break, using the shared community hall and some facilities in a neighbouring school.
A further 39 schools are being inspected.
Earlier today, the construction company which built the schools said it has only been invited to visit four of the 42 schools identified as needing assessment. 
Representatives from Western Building Systems met with representatives from the Department of Education and three schools yesterday, and have requested a meeting with Education Minister Joe McHugh.
WBS has questioned why the Department of Education previously gave the green light to the buildings in question. A spokesperson said WBS has written to the department "outlining our position and repeating our request to meet with the minister".
In a statement, the spokesperson noted: "It remains an immediate priority for pupils, parents and teachers to establish facts to better understand why schools, previously deemed compliant by the Department, are now fully or partially closed.
"We have still to receive all reports from previous Department inspections. We have only been invited to visit four of the 42 schools identified."
Education Minister Joe McHugh told reporters earlier this week it is likely more schools will have to close, but said there are no indications all 42 schools will face such drastic action.
The WBS statement added that on over 80 occasions since 2005, the company has submitted proposals in response to Department of Education and Skills tenders.
"On 42 of those 80 occasions, our tender was successful without a single question or clarification sought in relation to the particular building system proposed and selected.
"For our unsuccessful tenders, we never received feedback expressing concerns with the building system proposed."
Fire defects
Dún Laoghaire TD Richard Boyd Barrett this week told the Dáil he raised concerns about WBS in September 2017 and specifically asked why contracts continued to be awarded to the company when fire defects in schools had been identified.
Speaking at an Oireachtas Education Committee meeting last year, the Solidarity–People Before Profit TD also raised concerns about the same company being involved in the construction of the extension to Beaumont Hospital, Poppintree rapid-build homes, and Temple Street Children's Hospital.
The HSE this week confirmed it is reviewing these hospitals but said there are "currently no safety concerns regarding the integrity of its buildings".
"I stated that Western Building Systems should be excluded from getting public contracts. It has taken until now for us to get to that discussion because nothing was done and we were ignored and told these are the rules and that is the way it is. It is a disaster," Boyd-Barrett said on Wednesday.
At the same Education Committee meeting in September 2017, then Education Minister Richard said: "We are now doing a full audit of all of the WBS schools. It is important for me to say this is not based on a concern that we have. We believe that the premises have been to the highest standards but we just want to make doubly sure."
No criminal conviction 
The company was awarded contracts under the public procurement process. When asked about the tendering process on Wednesday, McHugh said the company continued to tender for projects.
"When you don't have a criminal conviction anyone can tender for a tender process," he said, stating that an analysis will now be done. He said fire safety defects have been identified since 2008, but the department was only informed last Friday about structural defects in the buildings. 
The minister added that a number of litigation cases are ongoing between the government and the company in relation to some projects.
With reporting by Christina Finn