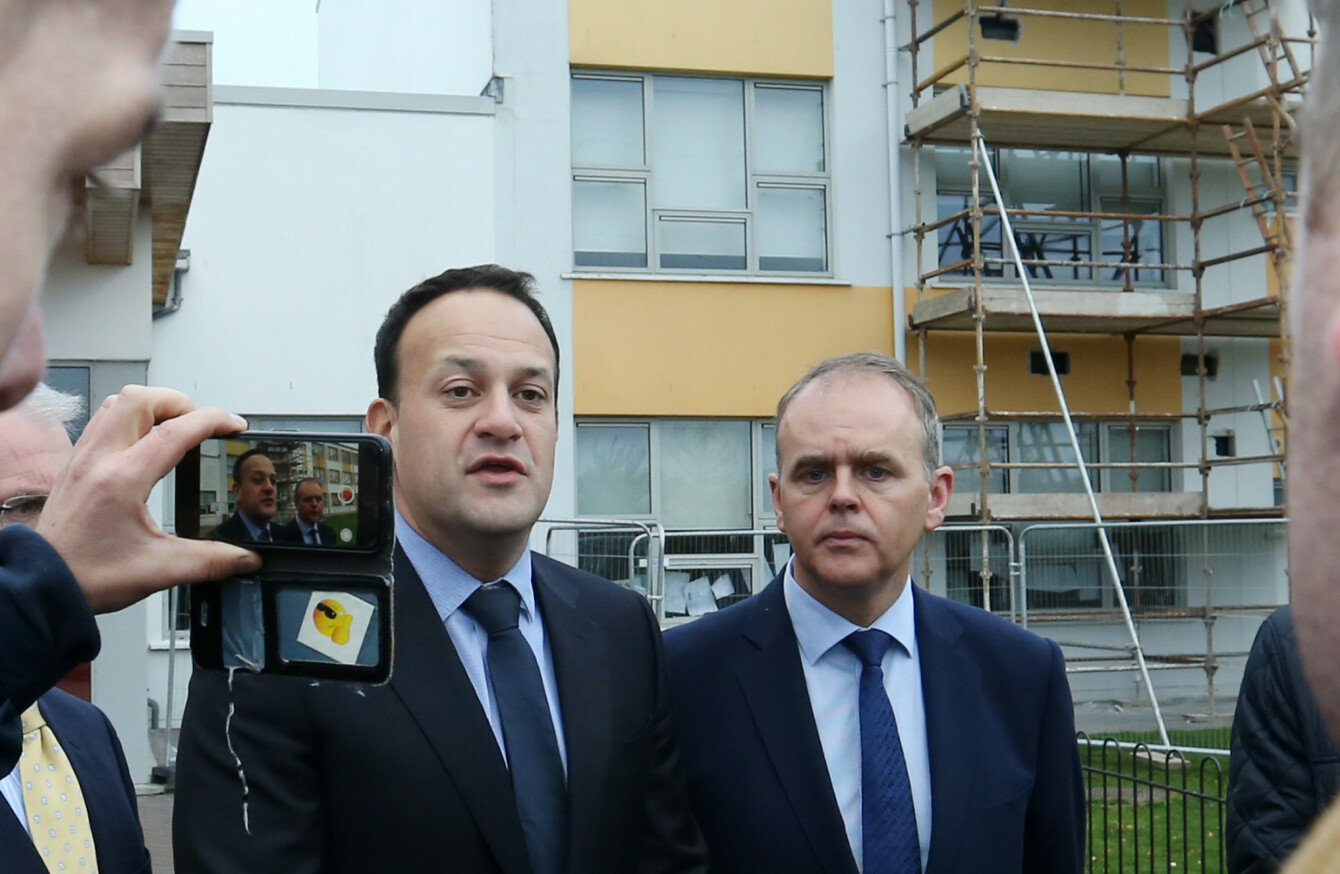 Taoiseach Leo Varadkar and Minister for Education and Skills Joe McHugh speaking outside Tyrrelstown Educate Together School in Dublin
Image: Sam Boal
Taoiseach Leo Varadkar and Minister for Education and Skills Joe McHugh speaking outside Tyrrelstown Educate Together School in Dublin
Image: Sam Boal
HOSPITAL UNITS THAT were built by Western Building Services (WBS) are now being examined. 
Concerns had been raised about the company's involvement in construction of the extension to Beaumont Hospital, as well as Crumlin's Children's Hospital  
In a statement, the HSE has confirmed that "there are currently no safety concerns regarding the integrity of its buildings in relation to construction works carried out by Western Buildings Systems at this time".
It added:
"Having undertaken an initial review, it would appear that different forms of construction are involved. However, we are carrying out a comprehensive assessment of the relevant healthcare facilities to provide complete assurance."
Speaking to reporters today he Taoiseach said initial findings at Beaumont are that the buildings "are not affected".
Tánaiste Simon Coveney was also asked during Leaders' Questions about other buildings being assessed. He confirmed that the HSE has no concerns at this stage, but a review is underway in order to ensure safety. 
"There is no reason to believe that hospitals are impacted," said Coveney, who added that the HSE and health department will "of course follow-up" on concerns. 
Healthcare buildings
According to the WBS website, the company has been involved in a number of healthcare projects in Ireland. 
It constructed the acute psychiatric unit at Our Lady of Lourdes Hospital in Drogheda and also in Beaumont Hospital.
Other projects include the Cystic Fibrosis unit in Beaumont Hospital,the MRI Nuclear Medical Facility and the Oncology Building at Our Lady's Hospital for Sick Children in Crumlin, and the installation of 20-section steel framed modular prefabricated building at St Finbarr's Hospital in Cork. 
It was confirmed yesterday that approximately 40 schools will be inspected amidst concerns about structural issues at a number of schools that were built by WBS. 
Two schools and a building at a third, all in Dublin, have been closed so far this week following inspections by the Department of Education, with a number of other schools expected to close in the coming days. 
Coveney confirmed that three teams have been mobilised to carry out the assessments on all 42 schools over the next two weeks. Education Minister Joe McHugh said yesterday that if additional workers are needed from the UK, they should be drafted in. 
Speaking in the Dáil this morning, People Before Profit-Solidarity TD Paul Murphy accused the government of putting children's lives at risk by accepting the cheapest tender.
He asked the Tánaiste why the Department of Education kept the fire safety audits secret for over a year and why the government continued to use WBS for state contracts after fire safety concerns were identified. 
#Open journalism No news is bad news Support The Journal

Your contributions will help us continue to deliver the stories that are important to you

Support us now
'Slagging match' 
Coveney said he was not interested in getting into a "party political slagging match" with Murphy, stating that the government were focused on getting answers for parents and children. 
He added that these cases related to a time that was "pre-Grenfell" and was of another time. Since 2014, he said new inspection and sign off procedures were put in place. Since those new rules kicked in WBS was awarded 18 contracts for school building projects under public procurement processes, the Department of Education confirmed. 
These projects are included on the inspection list released by the department yesterday.
One of the schools which was completed more recently, in 2017, was inspected yesterday, said Coveney.
Early indicators show that no concerns have arisen from the inspection at Firhouse Educate Together National School in Dublin. 
Many schools are unlikely to have serious safety issues, said Coveney, adding: "But we need to be sure."
Coveney acknowledged that in some cases, schools will be closed However, he added that no school "will be left on its own" here. He said the department will work with communities and the schools to find alternative accommodation for students impacted. 
WBS is to meet with Minister McHugh today to discuss the ongoing issues. It's latest statements says that in the case of the three schools currently closed, the Department of Education and Skills' contract stipulated that they be completed within a timeframe of 20-26 weeks.
We met these timelines as per our contractual obligations. The Department itself deemed each project to be fully compliant, issuing the supporting certificates of completion…
Mindful of pupils, parents and teachers, we are determined to work with the Department to get to the bottom of this matter.