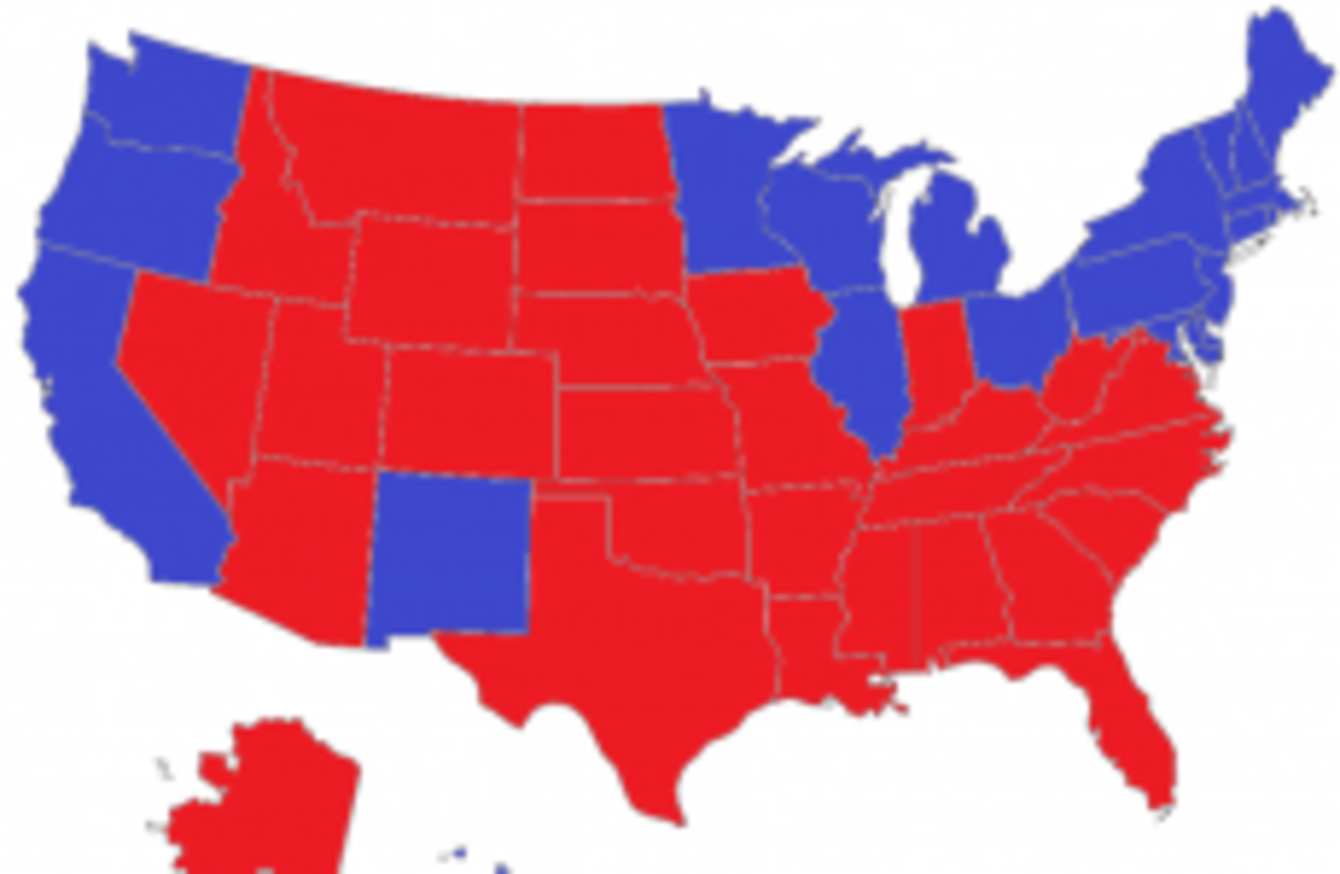 New York Times polling guru Nate Silver says this is a particularly likely 269-269 scenario.
New York Times polling guru Nate Silver says this is a particularly likely 269-269 scenario.
EAGLE-EYED READERS among you awaiting the chance to parse tonight's Electoral College results may have noticed that it's possible for the results to end in a dead heat.
Because the US election deals with electoral college votes and not the popular vote – assigning each state a fixed number of votes, awarded (at least in theory) in bulk to the outright winner – it's possible for the 538 votes to be split evenly, 269 to 269.
So – what happens if this happens tonight? Well, that's where the fun politicking happens – and this wouldn't even be the first time.
It's not '270′, it's 'a majority'
Firstly, it's important to bear in mind that the people who wrote the US constitution didn't necessarily have a two-party system in mind.
The electoral college system – which is written into the US Constitution itself – demands that one candidate get a majority of the electoral votes cast. In a two-way race (as it's been in pretty much every modern election) this just means that 270 is the magic number.
If there's a significant third party running, and that person was to win at least one state, things get more complicated – because it's possible for all three candidates to finish below the figure of 270.
Because tonight we're only looking at a two-party system – no offence to Gary Johnson, Virgil Goode, Rocky Anderson or or Jill Stein, but they're really not going to feature this evening – the only way for someone not to get 270 is if it's a 269-269 tie.
The constitution has a built-in get-out clause in this case: the House of Representatives elects the President, while the Senate elects the vice-president.
It's not quite as straight-forward as that, though: in the House vote, it's not just a case that every member gets one vote. Instead, every state gets one vote – with a maximum of 50 votes.
It's assumed in modern times that the vote of each state would simply be representative of the members its elects. This is easier said than done in some states: Maine, for example, has eight congressmen and women – and the eight members are equally split, four Democrats and four Republicans. (At least, that's what they were before tonight.)
So, California's 53 representatives would get into one room, decide how they're going to vote (for Obama, based on the state's political demography) and cast one vote. Meanwhile, Vermont's single congressman gets to pick the vote all by himself.
Anyway, the current makeup of Congress means a 269-269 tie would almost certainly mean a victory for Romney, as the House of Representatives is dominated by the Republicans.
This would be awkward, though, because the Senate is controlled by the Democrats – who would put Joe Biden back in Number One Observatory Circle.
Hang on, that could still be a tie
Yeah, you noticed: because there are 50 states, it's possible that this could also lead to a tie, and the House would be unable to elect a president.
#Open journalism No news is bad news Support The Journal

Your contributions will help us continue to deliver the stories that are important to you

Support us now
This would mean Biden would be elected vice-president, and step up as Acting President to fulfil the duties of the office while the whole thing is sorted out.
Something to watch out for
This year's election is the first of the so-called 'Super PAC' era, where a landmark Supreme Court ruling meant that private bodies could spend unlimited funds buying advertisements to favour their preferred candidates.
This could become crucial if the electoral college vote is set for a 269-269 tie. In the US there are such things as 'faithless electors' – people who are elected on the basis that they pledge to vote for Obama or Romney in the electoral college, but who don't.
This happens more often than you might think: it happened in both 2000 or 2004, though the latter time is thought to have been an accident.
The prospect remains, however: if the electoral college vote, which actually takes place on December 17, looks like it's going to be a 269-269 draw then the spending power of the SuperPACs could be huge.
It would only take one flaky elector – out of a total of 538 – to decide the election.