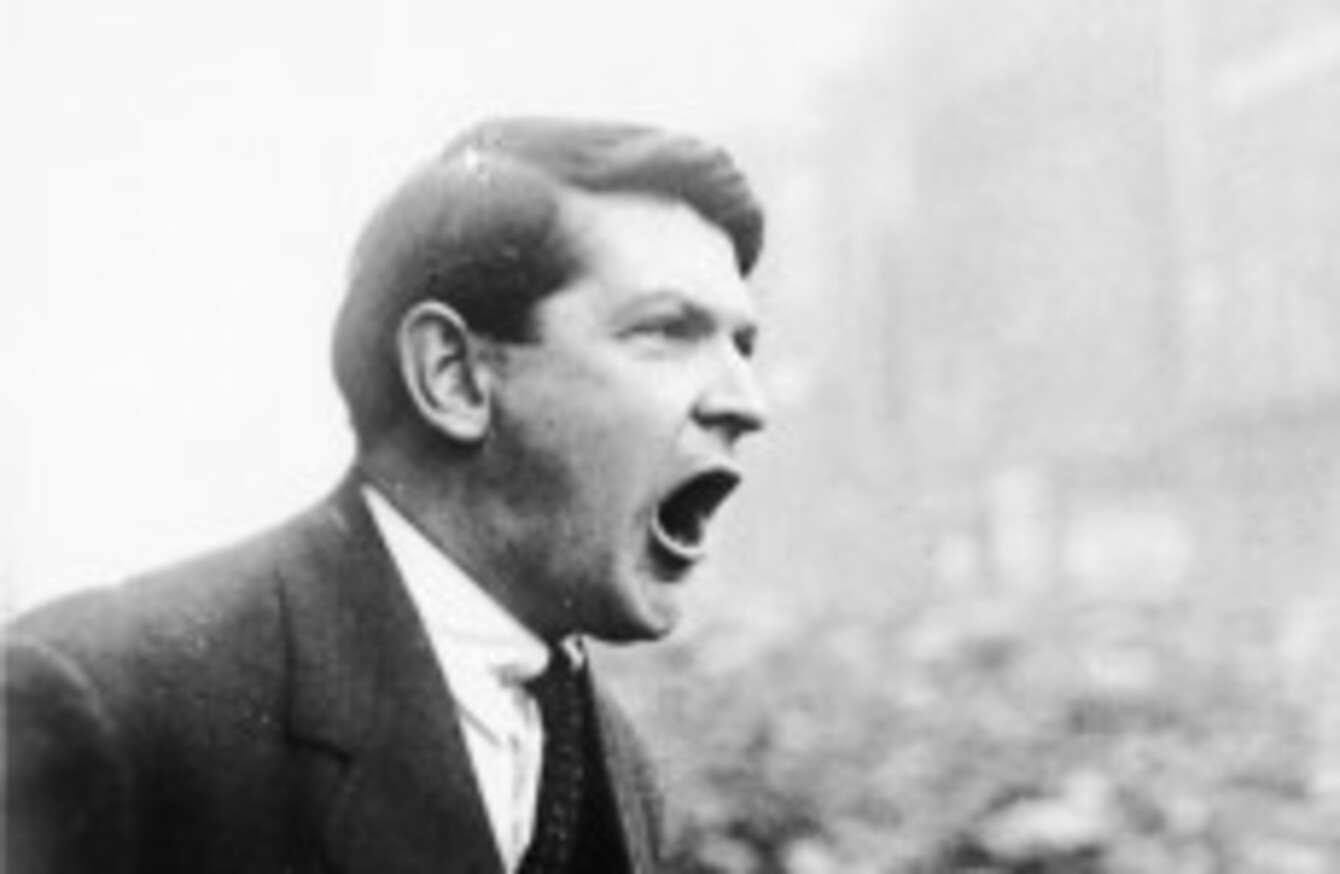 Michael Collins addressing crowds at Dublin's College Green after signing the Anglo Irish Treaty in late 1921.
Image: AP/Press Association Images
Michael Collins addressing crowds at Dublin's College Green after signing the Anglo Irish Treaty in late 1921.
Image: AP/Press Association Images
MICHAEL COLLINS was appointed Ireland's Minister for Finance in April 1919 by Éamon de Valera, replacing Eoin MacNeill who had been in the new post for just a few months before he was made the new Minister for Industries.
Collins retained the finance role throughout the controversial Anglo Irish Treaty negotiations and the foundation of the Provisional Government, until his death in August 1922 during the Civil War.
One of Collins' primary tasks upon his appointment as finance minister was to organise fundraising for the first Dáil Éireann, and he subsequently organised the issuing of bonds called the 'National Loan'. Given that the War of Independence was underway at the time of his Loan project, all monies raised had to be secreted away in homes and hiding places.
But what would Collins make of Ireland's banking methods and financial institutions today?
As part of its series celebrating Irish patriots, Glasnevin Cemetery is hosting a lecture by historian and author Tim Pat Coogan later this month which looks at how Collins could have viewed Ireland's current economic situation, given his work as finance minister.
"I think it's safe to assume he would not have allowed us to lose our economic sovereignty to the EU and to the IMF," Coogan told TheJournal.ie.
"He would not have allowed it to happen in the first place because he would have been watching things. The laxity that crept in would not have occurred – and it if the situation had somehow developed, he would have taken pretty strong action, there would be people in jail by now."
"Collins was a man with a short fuse who was quick to anger and he was very moved by injustice," the historian added. "He would have been bereft over the situation in Ireland now."
Coogan says his lecture will focus on "what Collins would have countenanced and what he wouldn't have" in Irish banking.
"He hated waste," Coogan said, "and there was a reverence for his prudence and economy and balancing the books."
"His National Loan project was enormously successful. He was taking on and defeating the British secret service, the British Army and the RIC at the same time. No one who subscribed to the Irish National Loan failed to get a certificate despite the circumstances."
Entry to the 19 August event costs €10 and proceeds will go towards the cemetery's maintenance. The lecture will begin at 2.30pm and places can be reserved by contacting the museum on 01 8826550.
Throughout this month, a group of actors is re-enacting the rousing oration Pádraig Pearse gave at the graveside of Irish Republican Jeremiah O'Donovan Rossa. Further events celebrating other pivotal figures in the push for Irish independents who are buried at the cemetery, such as Éamon de Valera, are also planned.
Collins was shot dead during an ambush at Béal na mBlath in Co Cork on 22 August 1922 during the Civil War between those who supported the Anglo Irish Treaty and those who opposed it. Around half a million people attended his funeral at Dublin's Pro Cathedral:
Video: footage from Collins' funeral in 1922

YouTube credit: floriangeyer72