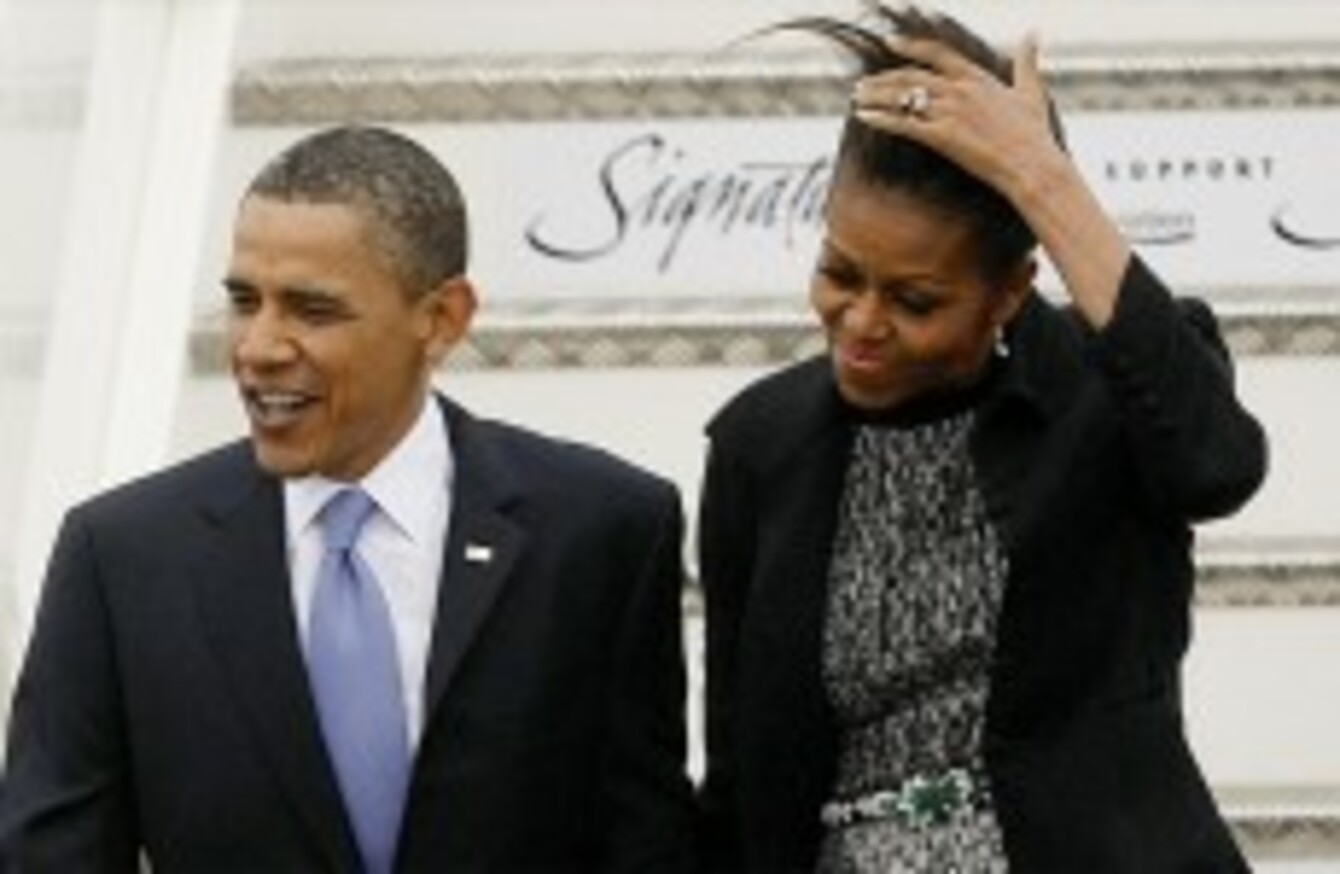 Barack and Michelle Obama step off Air Force One at Dublin Airport this morning.
Image: Julien Behal/PA Wire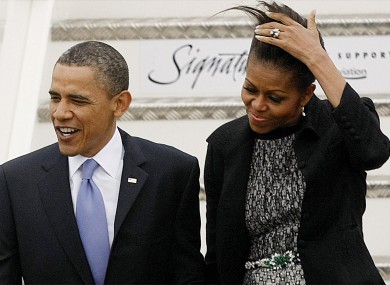 Barack and Michelle Obama step off Air Force One at Dublin Airport this morning.
Image: Julien Behal/PA Wire
THE PRESIDENT of the United States of America, Barack Obama, and his first lady Michelle Obama have arrived in Ireland for a 24-hour flying visit – with some of the plans up in the air as a result of the harsh weather.
Air Force One touched down at Dublin Airport at 9:28am this morning, having travelled overnight from Andrews Air Force base just outside Washington – with the First Couple stepping off at 9:39am.
The couple were met on arrival by Tánaiste and Foreign Affairs minister Eamon Gilmore and his wife Carol, before being shepherded to a waiting US Air Force helicopter – using the call sign Marine One – which airlifted the couple to Áras an Úachtaráin.
There had been some concerns about whether the helicopter would have been able to fly, given the wet and windy conditions in Dublin this morning which caused Air Force One to land slightly behind its anticipate arrival, though ahead of the official schedule.
Indeed, wind had been so severe that for some time it remained unclear whether the First Couple would in fact be able to step off the President's Boeing 747, though ultimately the helicopter was able to depart at 9:46am.
It is still unclear whether the President's original plans of being able to fly by air to Moneygall in Co Offaly can be pursued, given the inhospitable weather conditions.
Authorities have stressed that alternative arrangements are in place to bring the Obamas to Moneygall, the hometown of the President's great-great-great-grandfather Fulmouth Kearney, should the airborne route not be appropriate.
The Obamas will meet President Mary McAleese and her husband Senator Martin McAleese, before travelling to nearby Farmleigh House where the Obamas will meet Taoiseach Enda Kenny and the rest of the cabinet.
On returning from Offaly, the President will stop off for a private event at the US Embassy in Ballsbridge, before his public event at College Green later this afternoon.
The Obamas are due to depart Ireland tomorrow morning for a two-day state visit to the United Kingdom – though those plans may be disrupted by the onset of a new volcanic ash cloud as a result of the eruption of the Grimsvotn volcano.
The cloud from that volcano is set to arrive in this part of the world in the early hours of tomorrow morning.
Internal commercial flights to Dublin Airport were diverted to Shannon for a brief period while Air Force One was arriving, and before Marine One departed to the city centre to bring the Obamas to the Phoenix Park.