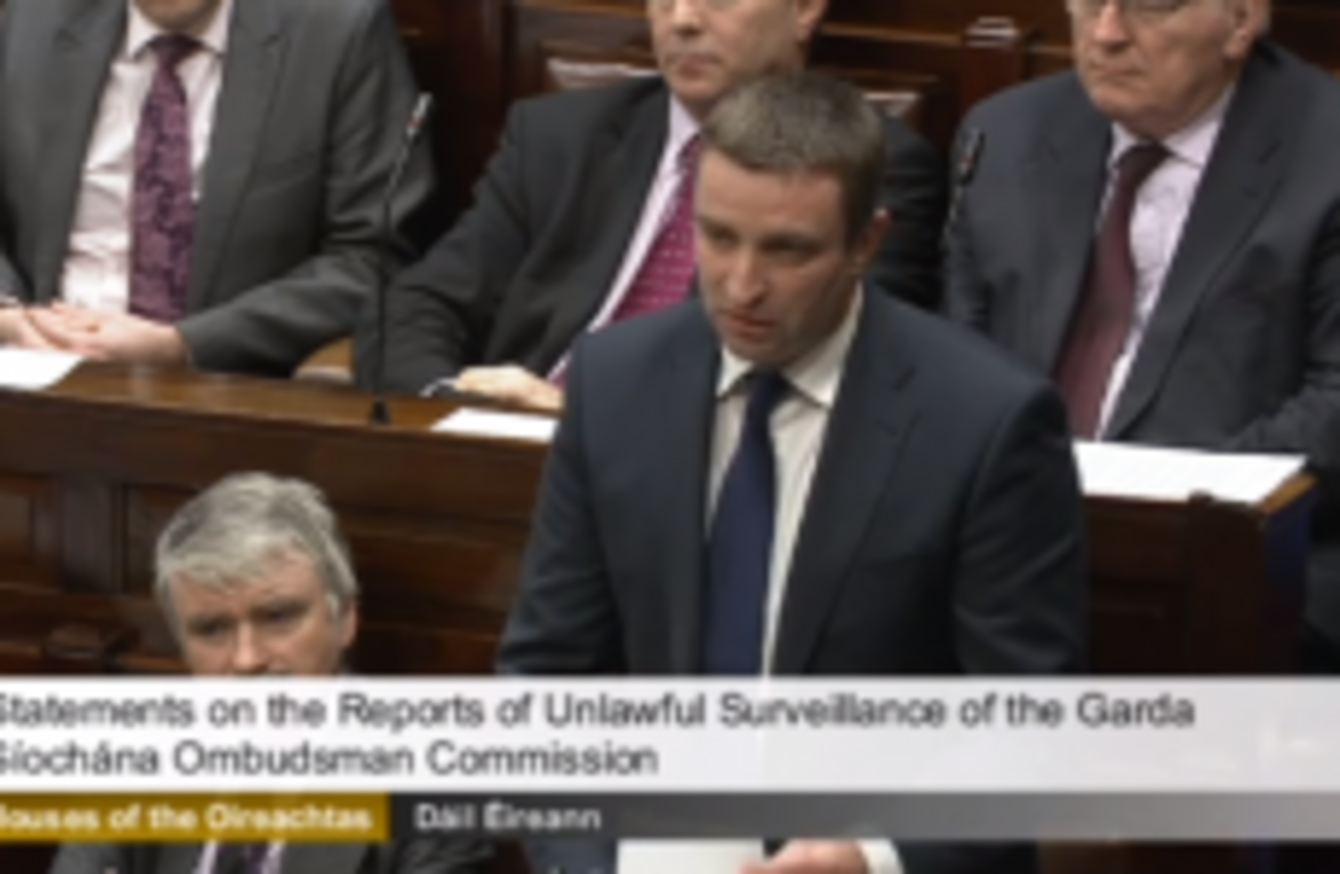 Niall Collins in the Dáil last night
Image: Screengrab via Oireachtas TV
Niall Collins in the Dáil last night
Image: Screengrab via Oireachtas TV
DURING THE LENGTHY debate on the reports of alleged bugging of the Garda Ombudman's offices last night, Fianna Fáil TD Niall Collins raised concerns about the role of the confidential recipient within the gardaí.
The confidential recipient system was set up in An Garda Síochána by the Minister for Justice Michael McDowell in 2007 and came into force in 2008. There is scant detail about how it works.
Indeed, during his evidence to the Public Accounts Committee last month, Garda Commissioner Martin Callinan refused to say how many times it has been used in its six years in operation. (It later emerged that 12 complaints have been made through the system up to 2012).
Callinan did say the system had been used in April 2012 for the disclosure of an allegation that a garda superintendent cancelled four fixed-charge notices. The allegation came from Maurice McCabe, the garda sergeant who later gave evidence in private session to the PAC.
Last night, Collins read into the Dáil record parts of a transcript from one alleged conversation between McCabe and his confidential recipient – an issue first raised by independent TD Mick Wallace last week during questions to Shatter.
Here's what Collins said last night about the transcript of a conversation with the whistleblower, McCabe:
"I believe it is of fundamental importance, given that this person was appointed by the Minister to this office. It is on the public record that he was also a supporter of the Minister's party. This is a very important officeholder.
"The whistleblower contacted this man, and got the response he got, which he has transcribed. An audio of this transcript is also available and is held in the office of Maurice McCabe's solicitor for safe keeping. The transcript states:
… and you go in there looking for the numbers and whatever else you want, you get it, and if the stuff was to get out into the public, the print media, it must come with what happens in the courtroom. I'll tell you something, Maurice, and this is just personal advice to you, if Shatter thinks you're screwing him, you're finished.
#Open journalism No news is bad news Support The Journal

Your contributions will help us continue to deliver the stories that are important to you

Support us now
"It goes on:
If stuff is to get into print, broadcast media, it becomes public before the court and not any other way. If Shatter thinks it's you, or if he thinks that it is told by the Commissioner or the gardaí, here's this guy again trying another route to put you under pressure, he'll go after you.
"This was brought into the public domain last week, was raised again today and I am raising it now. It is necessary for us to get a response in respect of the comments made by the confidential recipient to the whistleblower. It is simply not good enough."
In his response, Shatter said said that he was "very curious" about the issue but said he was "not privy to the transcript" and did not know about the meeting. He stated:
There's no question in any circumstances of me threatening anyone, or authorising anyone to threaten anyone and the suggestion is outrageous, absolutely outrageous."
He said it was not appropriate that he, as Minister for Justice, would start accessing private conversations that allegedly took place between a confidential recipient and a member of the gardaí.