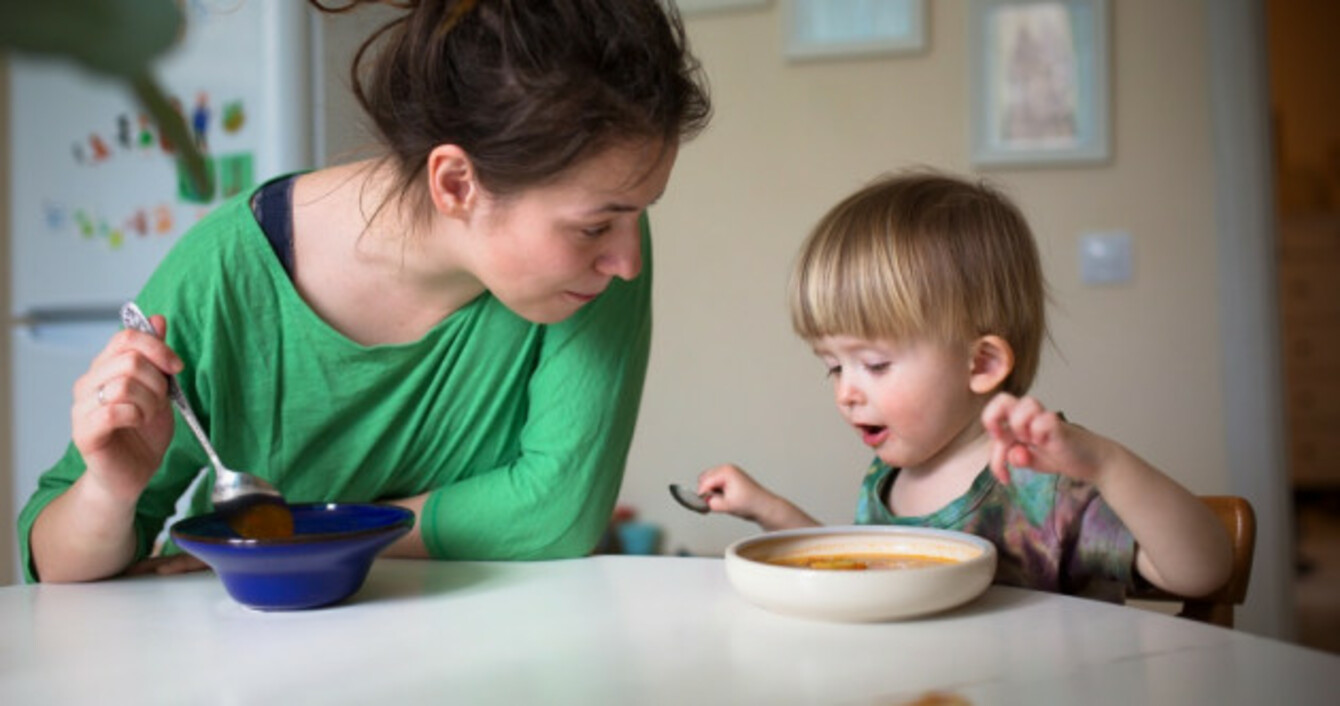 Image: Shutterstock
Image: Shutterstock
IT'S NOT JUST kids who have the monopoly on asking 'why' questions.
If you're the parent of a one, two or three year-old there'll be plenty of times you'll find yourself silently pondering the unanswerable questions.
Questions like…
1. Why do you only need the loo when I'm in it?
During potty training (and for quite some time afterwards) you will find yourself asking your child, "Do you need to go to the toilet?" about 729 times a day. The answer will almost always be in the negative. Until you decide to use the facilities yourself. Then they will need to go URGENTLY, especially if you live in a house with just the one loo.
2. Why will you eat rocks, but not broccoli?
Seriously. My toddler will ingest rocks and shove huge fistfuls of soil in his face, but he flat out refuses to open his mouth for a piece of lettuce or broccoli. What's with the discerning palate, kid?
3. Why can't we coordinate our sleep cycles?
You pray for them to sleep and can barely keep your eyes open on a daily basis. And yet inevitably, on those rare nights your child does sleep through, you will find yourself wide awake and staring at the ceiling at 3am, 5am, 5.30am… By 6.30am, you might drift off, just as your toddler enters the room fully refreshed.
4. Why did I put you in control?
This question could be applied to MANY aspects of parenting, but most specifically it applies to letting your toddler take control of the baby-trolley in the supermarket. They only look cute when they're immobile folks. I mean the trolleys. And the kids.
5. Why do you save your worst behaviour for me?
All day long they've been a little darling for the crèche staff, granny, the nanny, aunty Val but as soon as mummy walks in the door your toddler will turn into the whiniest, clingy-est most demanding version of himself or herself. "Ah, there's that one that loves me the most," they're thinking. "Time to put that unconditional love to the test."
6. How did you hear that sweep wrapper rustling?
My child seems to have some strange ear condition that causes him to go completely deaf should I try to chat to him when he's playing or watching TV, and yet he can hear a bar of chocolate being covertly opened in the kitchen, two rooms away. Is there a cure for this?
7. Why am I engaging in this ridiculous discussion with you?
At many points during your toddler parenting journey, you will find yourself locked in some insane argument where you futilely fight the side of logic. No, bees DON'T want honey to fuel their cars. No you CAN'T sit on clouds. Yes there IS a 3 o'clock in the nighttime as well as in the day time. While you wage these wars of factual-correctness, the sensible part of your brain will be silently screaming, "Stop the madness! Let him think you can sit on clouds, it really doesn't matter. You could be spending this time drinking coffee." Parenting, eh?
8. Why am I suddenly a Paw Patrol expert?
Your TV screen is filled with the familiar image of Paw Patrol. But wait, something's wrong, the kids are in bed and you're watching alone. Please tell me I'm not the only one who absentmindedly finds themselves watching entire episodes of kids' TV because my brain has failed to register that the children aren't there?
9. Why do you love chewing my iPhone so much?
There's a whole toy industry built around kiddy phones and fake TV remotes, but my child knows they're not the real thing and wants no part of it. Even if it's just to chew on, he wants an iPhone.
10. Why on earth do you think 5.30am is the morning?
Sunrise is not morning. If you're not sitting on a branch belting out the dawn chorus then get back to bed.
11. Why can't I remember my child's birthday?
You'd think that evacuating a small person from your body would make a date somewhat memorable. But every single time I have to fill in some admin, I struggle to remember my kid's date of birth. Bad mum.
12. Why are you so loud?
You know how the amp on Spinal Tap went up to 11? Toddlers go up to 111 and there's no volume control.
13. Why am I the only one…
Getting it wrong, the only one whose child isn't sleeping, the only one dishing out frozen food instead of fresh, the only one who sometimes feels like screaming… There's a raft of "Why am I…" thoughts that will run through your head as you parent a toddler. Rest assured, everyone else is thinking the same thing.
Want to win an overnight family getaway in the luxury surrounds of the Powerscourt Hotel Resort & Spa? Enter here – and subscribe to our Family Newsletter below!