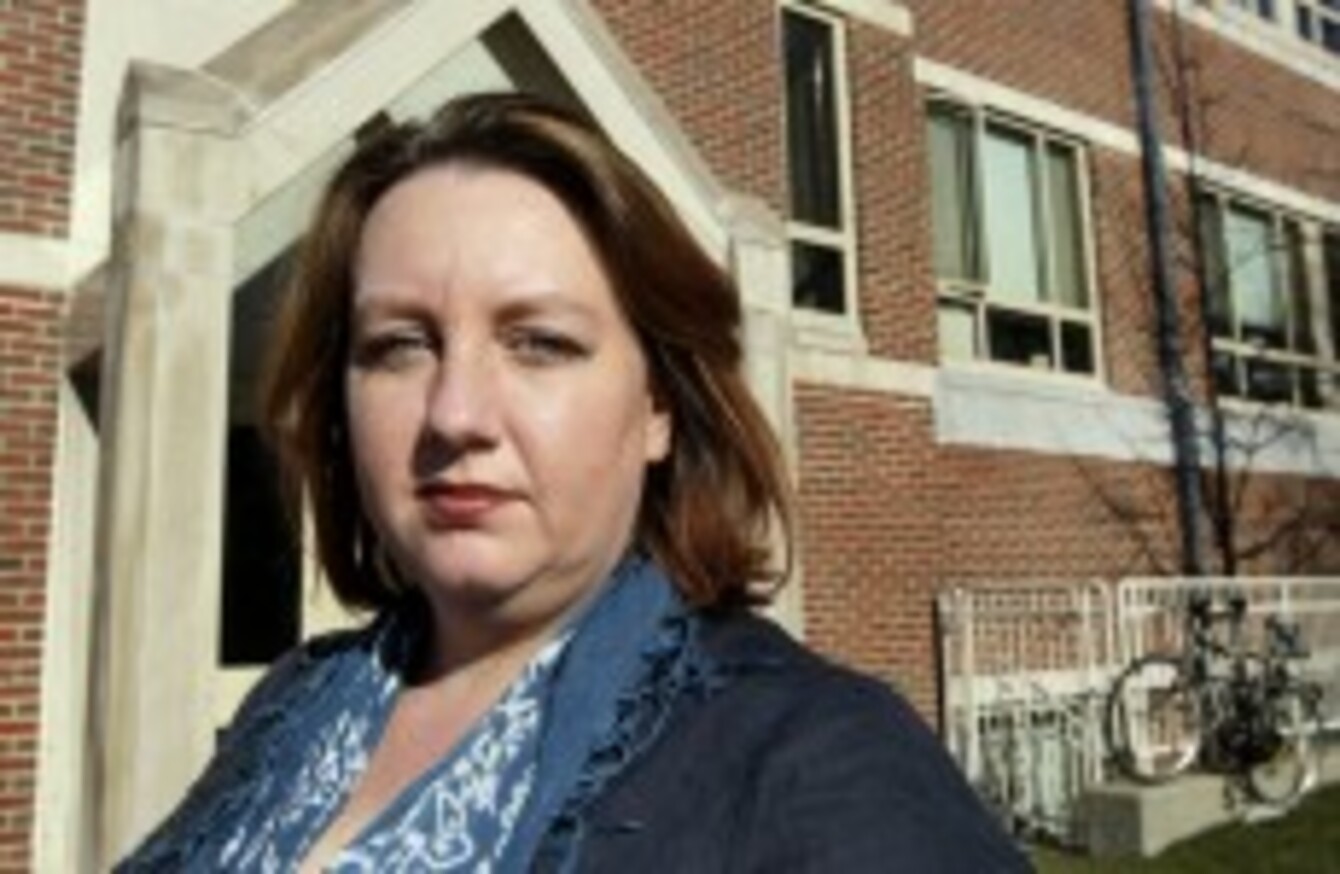 Carrie Twomey wants the USA to block the release of taped interviews carried out by her husband, saying their release puts her family in danger.
Image: Steven Senne/AP
Carrie Twomey wants the USA to block the release of taped interviews carried out by her husband, saying their release puts her family in danger.
Image: Steven Senne/AP
A COURT IN BOSTON will this morning hear arguments from two people who conducted a series of interviews with former members of the IRA, seeking to block the release of the tapes from a college there to the PSNI.
The 1st US Circuit Court of appeals will hear appeals from journalist Ed Moloney and former IRA member Anthony McIntyre, who conducted the interviews for an oral history project at Boston College.
The PSNI request to access the interviews has turned into a complicated court battle. And for Carrie Twomey, McIntyre's wife, the legal fight is personal.
Twomey has played a key role in trying to convince US politicians that turning over the recordings could endanger her family. "This isn't just some dusty old papers in a library," Twomey says. "This is people's lives. This is my family."
Twomey has managed to get backing from some powerful people. Seven US politicians, including senators John Kerry and Chuck Schumer, have written letters to Hillary Clinton and US attorney-general Eric Holder urging them to persuade the PSNI to withdraw its request.
The history project, which began in 2001 and was completed in 2006, is intended as a resource for journalists, scholars and historians after the death of the participants.
The PSNI, however, want access to the documents as part of their investigations into the death of Jean McConville, one of the IRA's "disappeared victims", who was killed in 1972.
Moloney says the recordings are explosive enough to damage Northern Ireland's power-sharing government, and says the interviewees include many IRA members who name the current Sinn Féin leader and Louth TD, Gerry Adams, as a former colleague.
He argues that the public release of the testimony could lead to a victims' lawsuit against Adams, one of the senior figures in the reconciliation following the Troubles.
'The penalty is death'
Twomey worries her husband and other former IRA members could be attacked or killed if the recordings are turned over and then used in prosecutions. Some in Ireland have already branded her husband as a "tout" – an informer – because of his role in the Boston College project, she says.
"My husband isn't an informer, nor are the people who participated in this project – it's a history project – but police using it as evidence, that changes it dramatically and makes it very dangerous," says Twomey, 41. "Traditionally, the penalty for informing is death."
Twomey grew up in southern California. She met her husband – who spent 17 years in prison for the drive-by shooting of a Protestant militant in 1976 – about 12 years ago after reading critical commentary he had published on the way the peace process was being managed and wrote him a letter.
The couple initially lived in West Belfast but moved to the south five years ago when McIntyre found a job in construction in Drogheda, Co Louth. They've been married for almost 10 years and have two children, an 11-year-old girl and a 6-year-old boy.
McIntyre, who left the IRA when the 1998 Good Friday agreement was signed, said their neighbour's house in Drogheda was smeared with pig excrement in 2010, after portions of the memoir of former IRA member Brendan Hughes – one of the people McIntyre interviewed – were published in a British newspaper.
The vandals probably meant to send him a threatening message but got the wrong address, McIntyre says.
"Carrie wasn't involved in the project, nor were our children," McIntyre says. "Her fear and my fear, too, would be the morphing of research into evidence substantially changes the ballgame and would open up the possibility of an attack."
Back-and-forth
Twomey's husband is not allowed to travel to the United States because of his IRA conviction. So for the past three months, she has shuttled between the United States and Ireland, hoping to pressure the US government to refuse the PSNI request.
Kerry and other US politicians say they are concerned that release of the recordings could undermine peace in Northern Ireland.
"It would be a tragedy if this process were to upset the delicate balance that has kept the peace and allowed for so much progress in the past fourteen years," Kerry wrote in his letter to Hillary Clinton on January 23.
Prosecutors declined to talk about the case before Wednesday's hearing, though in an interview in January, Assistant US Attorney John McNeil said American authorities must provide IRA testimony about McConville's killing to British authorities as part of treaty commitments to aid each other's criminal investigations.
"The UK is investigating serious crimes: murder, kidnapping, McNeil said. "The court has already found that it's a bona fide investigation and that there's no other source for this material."
McIntyre and Moloney say Boston College promised the interview subjects strict confidentiality until their deaths, while Boston College officials say they made it clear they would protect the confidentiality only to the extent allowed under US law.
Boston College initially tried to quash summonses from US prosecutors seeking the recordings, but later decided not to appeal a judge's order to turn over the interviews of convicted car bomber Delours Price. The same judge dismissed a separate lawsuit by Moloney and McIntyre.
Spokesman Jack Dunn said Boston College decided not to appeal because Price had given a widely distributed newspaper interview in which she implicated herself and Adams in McConville's abduction and murder. Adams has denied that.
- Denise Lavoie; additional reporting by Gavan Reilly.