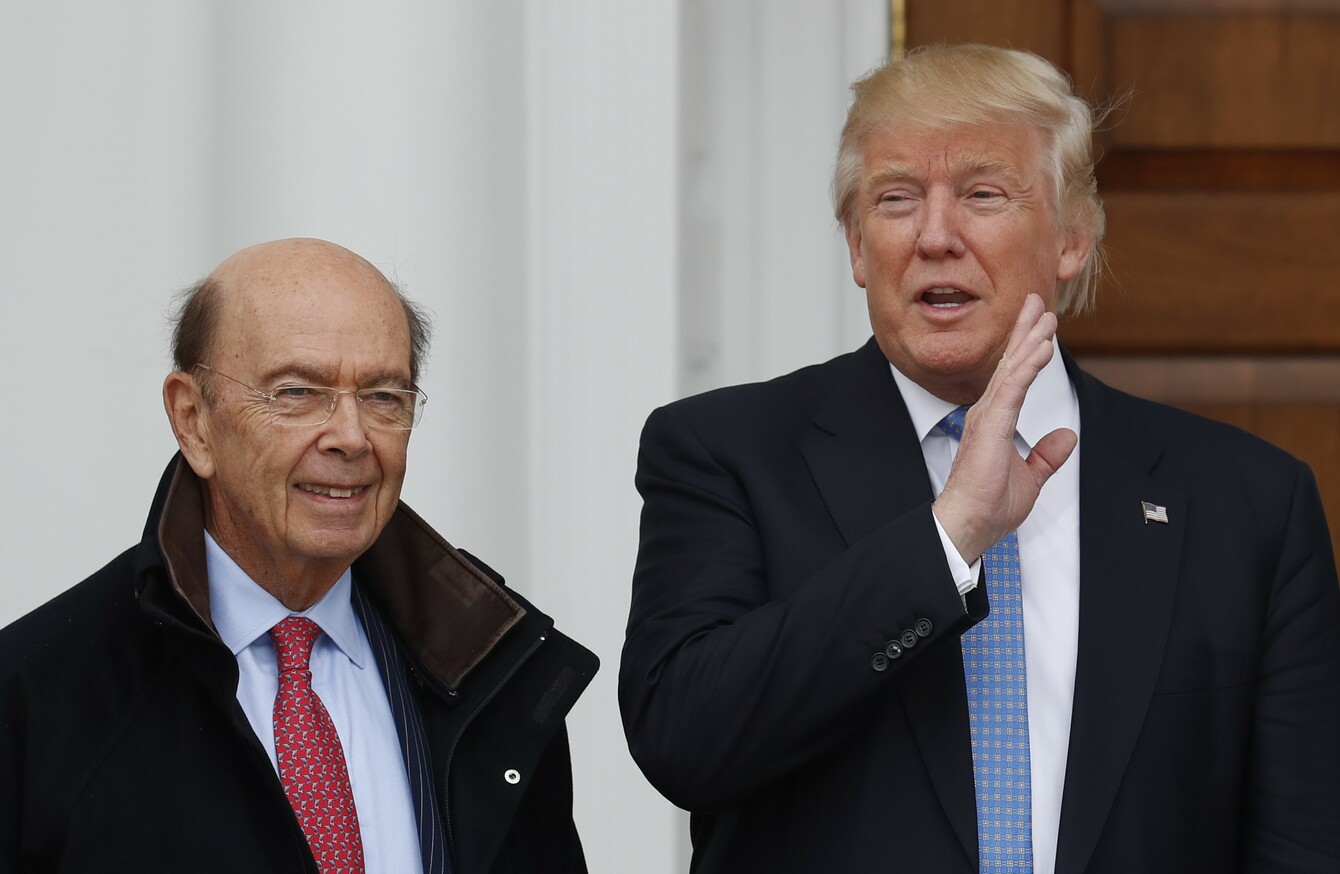 Wilbur Ross with Donald Trump
Image: Carolyn Kaster/Press Association Images
Wilbur Ross with Donald Trump
Image: Carolyn Kaster/Press Association Images
FAMED US INVESTOR Wilbur Ross, best known here for his involvement with Bank of Ireland, is expected to land a key role in Donald Trump's new cabinet.
A host of influential publications, including the New York Times, the Financial Times and the Wall Street Journal, have all reported in the last day or so that the US President-elected is likely to choose Ross to be his commerce secretary.
The job, one of the most important roles in the US government, is in charge of promoting US industry and business and would be key in negotiating US trade deals.
Although Ross has declined to comment in the past week or so, Trump himself has also indicated that he is considering making the appointment.
Ross met with Trump on Sunday at the New York billionaire's New Jersey golf course. Asked before the meeting if he was considering Ross for the position, Trump gestured to Ross saying, "Commerce Secretary, that's what we're looking for."
Carl Icahn, another billionaire investor who has expressed support for Trump, recently tweeted that he had spoken to the US President-elect and that Ross was being considered for the commerce role.
The 78-year-old billionaire is the chairman and chief strategist of private-equity firm W.L. Ross & Co and was one of Trump's most high-profile supporters during Trump's tilt for the White House.
Distressed investor
Ross is well known for a series of high-profile corporate turnarounds, buying into distressed companies and selling out when they are performing better.
He is best known in Ireland for his involvement with Bank of Ireland. He led a group of five investors that acquired a 35% stake in the bank in 2011 for the knock-down price of €1.1 billion.
This helped to save the bank from being fully nationalised. Bank of Ireland was also kept afloat by the state, which sank €4.8 billion into the organisation between 2009 and 2011. Bank of Ireland later repaid €6 billion to the state.
Bank of Ireland profit
Ross was estimated to have originally invested €290 million for a 9.9% stake. In March 2014 he made €345 million by offloading 1.1 billion of the bank's shares at 33c each and then pocketed an additional €477 million from the sale of the remainder of his shares in June.
This likely left the billionaire with a profit of more than €500 million.
Ross has continued to take an interest in Ireland since selling out of Bank of Ireland and is an investor in the Cardinal Capital Group, a fund which provides loans to property companies.
Written by Paul O'Donoghue and posted on Fora.ie